Plan your China tour? As you know, China is huge, so where to start your trip and what to be covered in your China trip? It largely depends on your personal taste. If you are interested in popular places in China, you may check Top 10 Places in China for more information.
If you like mountains, this post will be surely arouse your interest. Here you will be taken on the virtual trip to the top 10 most beautiful mountains in China. Are you a benevolent man? In China we have a saying that "The wise find joy in water; the benevolent find joy in mountains.".
1. Mt. Everest in Tibet 珠穆朗玛峰
Location: Mt.Everest is located in the Himalayan mountains between China's Tibet and Nepal with its north side in China and South side in Nepal. In China Mt.Everest is called Zhumulangma or Qomolangma which derived from Tibet, the highest mountain in the world, 8844.86m.
Best Travel Time: September and October
Check out 10 Days Tour To Mount Everest and Tingri to Mt.Everest – Mt.Everest Base Camp Trip for more information.
On August 25, 2011, together with 24 group members on a 35-seat bus, after 5 hours'bumpy drive, we successfully reached the Mt.Everest Base Camp and (EBC) and saw the unparalleled beauty of the snow covered peak of Mt.Everest under a clear sky. I've made a trip report on our exciting trip, which may be helpful for those who have the same dream to view the highest mountain in the world at a shortest distance as a common tourist.
2. Mt.Kailash in Tibet 冈仁波齐峰
Location: Mt.Kailash is located in the north of Pulan county in Tibet. It is the second highest peak (6721m) in the Gangdisê Mountains which runs parallel to the Himalayan mountains. Mt.Kailash is considered to be the "Holy Mountain" for the four religions: Bön, Buddhism, Hinduism, Jainism and prayed by the pilgrims from the neighbouring countries like Tibet, Nepal, India. Best Travel time; May – October
Check out 14 Days Adventure Tour To Mount Kailash for more travel information.
In the hearts of the pilgrims, Mt.Kailash is a holy place or the Buddha or God itself. Each year thousands of pilgrims made visits to the holy mountain and keep the tradition of walking around the mountain. It is said that circumambulating Mount Kailash on foot is a holy ritual that will bring good fortune. The path around Mt.Kailash is about 52km. People in good shape take 15 hours to complete the 52 km trek.
Mt.Kailash also attracts the International Mountaineering. A number of mountaineers have prospected the mountain with a view to climbing. But up to now Mt.Kailash has not been climbed for various reasons. The main reason is that nobody wants to offend the holy peak.
3. Namcha Barwa in Tibet 南迦巴瓦峰
Location: Namcha Barwa ( or Mt.Namjabarwa, Namchabarwa ) is located in Nyingchi in the southeast of Tibet, at the height of 7782m. Nyingchi, which literally means "throne of the sun" in Tibetan has a relatively lower altitude bestowed with the green mountain slopes, snow-capped peaks and crystal-clear rivers. Nyingchi is dubbed as "Switzerland of Tibet". The county boasts the Namcha Barwa Peak, and the Yarlung Zangbo Great Canyon, and the abundant nature resources.
Mt.Namjabarwa is famed as "the father of icebergs". The foot of the peak is teemed with a number of hot springs and rich vegetation, which is an ideal place for both leisure and exploration.
Check out the links: 12 Days Cultural and Natural Tibetan Treasures Discovery Tour and Lhasa – Bayi – Lulang – Ranwu 4 Wheel Drive Trip for more information.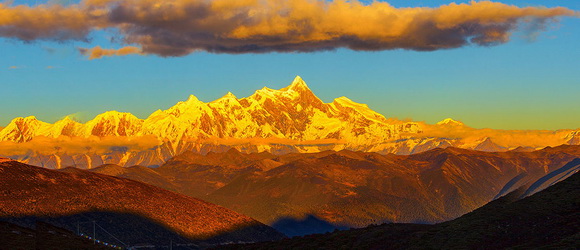 Its colossal triangle body is capped with snow and mists all year around and people find it hard to see its true face. In 1992 that the Sino-Japan Mountain Climbing Team conquered Mt.Nanjiabawa. Today it has become a very popular and challenging destination for leisure travelers and professional mountain climbers from both home and abroad.
4. Mt.Tianshan in Xinjiang 天山山脉
Location: Tianshan Mountains are located in the middle of Xinjiang which divides Xinjiang into two parts – Northen Xinjiang and Southern Xinjiang; the Junggar Basin to its north and Tarim Basin to its south. Best Travel Time: June – August.
The colossal mountain ranges snake at the length of 2500km and the width of 250km – 300k with average sea-level 0f 5000m. The highest peak in Mt.Tianshan is Bogeda Peak (about 5445m). Here there are a plethoral of snow capped peaks; beautiful alpine meadows; numerous sheep and oxen and mesmerising lakes – Narat Grassland, Heavenly Lake, and Sayram lake.
5. Mt.Gongga in Sichuan 贡嘎山
Location: Mt. Gongga is also known as Mt.Konka and Mt. Minya Konka. It is located on the eastern edge of Tibetan – Qinghai Plateau among the border area of the four counties including Kanding, Luding, Shimian and Jiulong. It is 60km long from north to south and 30km wide from east to west with its main peak as high as 7556m, making it the highest mountain in Sichua Province. Best Visit Time: May and June.
Check out my another article Camp No.04 at Hailuogou Glacier on Mt.Gongga for more information.
"Gongga" in Tibetan means the highest snow mountain. There are over 10 alpine lakes and 45 snow capped peaks surrounding the main peak, which look gorgeous, up the mountains capped in snow and down immersed in the green vegetation. Every year it attract a great number of leisure travers and professional mountaineers to challenge the extreme limits and pleasure.
6. Changbai Mountains 长白山
Location: Mt.Changbai is a mountain range on the border between China and North Korea. Its highest peak is on the North Koreas' side – Jiangjun Peak (2750m) and within China's border the highest peak is Baiyun Peak(2691m).
Best Travel Time: July – September.
Mt.Changbai is considered the "No.01 Mountaini in Northeast China" as well as the highest mountain. It boasts the thousand years' snow mountains, gleaming lakes, gorgeous volcanos, snow pines, rare aninmals.
7. Meri Snow Mountain 梅里雪山
Location: Meri Snow Mountain is located on the main ridge of Nushan between Nujiang (Nu River) and Lanchangjiang (lanchang River). It is on the southern edge of Tibetan – Qinghai Plateau in the area between Yunnan and Tibet. Best Travel Time: October – next May.
Read my another article Kawagarbo Viewed from Feilaisi for more information.
Meri Snow Mountain is grandeous and brilliant with 13 high peaks over 6000m, which are nicknamed "13 Prince Peaks" with its highest peak Khawa Karpo Peak (Kawagarbo) (6740m), the highest peak in Yunnan Province.
An American scholar – Mt.Rock praised it as "the most beautiful mountain in the world". It beauty and sanctity attracts more and more travelers home and abroad trying to see its true face which is very often lost in snow and mist.
8. Jade Dragon Snow Mountain 玉龙雪山
Location: Jade Dragon Snow Mountain is ten miles from Lijiang, piercing to the elevation of 5,596m and standing aloft on southwest plateau of Yunnan in the south of the Hengduan Mountains. Best Travel Time: February – June.
Check out the link Lijiang Yunnan Tour for more travel information.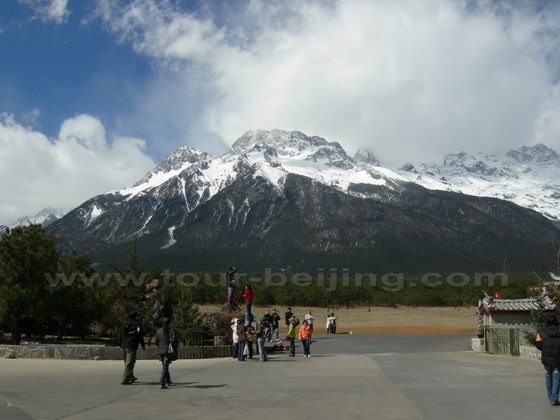 Its landscape includes one of the southernmost glaciers in the modern world. Shanzidou, the main peak of the mountain at 18,000 feet above sea level, looks like a gigantic dragon twist in white snow all year round. Access to the mountain is provided by a cable lift to Dragon Spruce Meadow, halfway to the glacier peak.
9. Huangshan Mountain 黄山
Huangshan is the most beautiful mountain in China. It is located 240km to the west of Hangzhou and 40 minute flight from Shanghai. Huangshan Mountain is well known for its sunrise and sunset, granite peaks, the gnarled forms of ubiquitous Huangshan pine trees, and the other-worldly sea of the clouds.
Also much of Mount Huang's reputation comes from its significance in Chinese art, literature and profound cultural resources.
Check out the following links for more information:
Huangshan Tour
When is the best time to visit Huangshan
Top 10 Attractions in Huangshan
Hongcun Village
The World Heritage Committee of UNESCO listed Mt. Huangshan as Natural and Cultural Heritage in 1990. The nearby villages of Hongcun and Xidi were also named part of a UNESCO World Heritage Site in 2000. In 2002, Mount Huang was named the "sister mountain" of Jungfrau in the Swiss Alps.
10. Mount Emei 峨眉山
Location: Mount Emei is located southwest of Sichuan Basin, on the upper reaches of Yangtze River and stands between Dadu River and Qingyi River. Mt. Emei is one of China's four sacred Buddhist Mountains and has been a popular place of pilgrimage for the past 1800 years.
Emei literally means "Delicate Eyebrow Mountain"- it derives its name from two peaks which face each other and look like the delicate eyebrows of a Chinese classic beauty. Best Travel Time: March – May and July – September.
Mt. Emei is famous for its enjoyable natural scenery, extensive Buddhist culture, abundant range of species and unique landform. Thus it gets such titles as "Kingdom of Plants", "Geological Museum", "Animals' Paradise" and "Buddhist Celestial Mountain".
Read my another article Mt.Emei Trip for more information.
Continuous ranges of peaks and tall trees cover the mountain. Water flows swiftly as if it were flying. Birds are singing and pretty butterflies are dancing. Monkeys are the soul of Mt. Emei, they are lovely, naughty but friendly to people. See my Mt.Emei Trip Report.
Hassle-free China Guided Tours
If you don't want to go the do-it-yourself route and prefer the hassle-free escorted tours, here are some options for China guided tours:
Top China Private Tours
Top China Small Group Tours
Top China Train Tour
Top China Yangtze Cruise Tour
Top China Silk Road Tour
Further Readings
---
Top 10 Places to Visit in China
10 Fascinating Facts about China
How to Pack for your China Trip
Plugs and Sockets in China
China Tour Packages
Learning Useful Chinese Phrases for Travellers
How to Recognise Chinese Currency
Top 10 Travel Experiences in China
10 Most Scenic Drives in China
Top 10 Most Beautiful Mountains in China
Top 10 Most Beautiful Lakes in China
Top 10 Most Beautiful Grasslands in China
Top 10 Most Beautiful Rivers in China
Top 10 most beautiful waterfalls in China
Top 10 Places to See Autumn Leaves in China
Top 10 Most Beautiful Villages in China
Top 10 Old Towns in China
The 10 Most Beautiful Museums in China
Top 10 China Tourist Scams
Top 10 Souvenirs in China
Any questions, just drop a line.