Plan your Beijing night tour? Beijing has a vibrant nightlife teeming with numerous attractions to see and things to do. I round up my list of the top 10 things to do at night in Beijing, which might offer some useful tips for planning your own Beijing night trip.
1. Night view of Chang'An Avenue & Tiananmen Square
Chang'An Avenue is regarded as the longest and widest street in the world of this kind. It is also reputed as "The First Street in China", one of the most significant streets in China.
Beijing Tiananmen Square is located on the south of the mid Chang' An Avenue while Tiananmen Tower on the north. Shortly after the sun is setting over Tiananmen Square, most of the buildings in or surrounding Tiananmen Square will be lit up, turning the square a multi-coloured wonderland.
Come to Tiananmen Square and Chang'An Avenue at night to feel the vibe and mix with the locals!

Check out my other two articles below for more information:
Night View of Tiananmen Square
How to Visit Tiananmen Square

2. Night View of Beijing CBD
Beijing CBD area refers to Beijing Central Business Centre, a cluster of domestic and international firms and the centre of trade, finance, creativity industry and media in Beijing. It is also a primary area of modern buildings and starchitectures.
Beijing CBD is located on the east of Beijing between the 3rd Ring Road and the 4th Ring Road. Personally, I think China World Hotel is the centre of Beijing CBD. China World Trade Centre Tower III used to be the tallest skyscraper in Beijing with 81 floors, 4 underground floors, and 30 elevators. Now It is surpassed by China Zun.
Designed by architecture firm Farrells, China Zun is 528 meters high, ranking the 9th in the world, the 5th in China and the 1st in Beijing among all the completed skyscrapers in the world.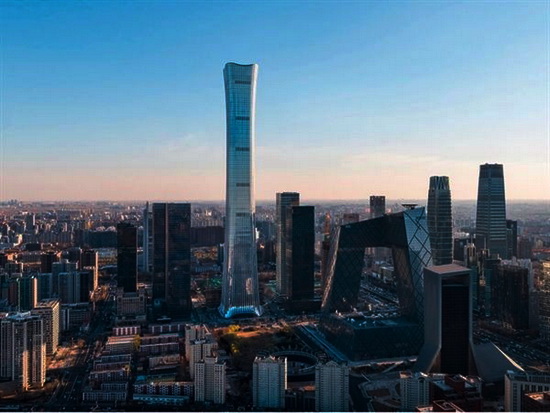 You can easily get to the core of Beijing CBD by taking Subway No.01 or No.10 and get off at the station of Guomao and using either Exit A or B, where you are just next to China World Hotel and Guomao Bridge.
If you want to see the CCTV Building, China Zun and neon-lit CBD, you may come to Blue Frog ( Gumao ) on the 6th floor of the North Section China World Mall, an amazing place to view the CBD area.
Check out my two articles below for more information:
A Good Place to See Beijing's changing skyline.
The Night View of Beijing CBD
3. Hanging out in the evening at Shichahai (Back Lake)

If you like to hang out in the evening, Shichahai is a great place to kill your time, drinking and gossiping. Shichahai is shot through with chic bars and restaurants. Hiding yourself in one of the bars and escaping the hustle and bustle of the crazy world temporarily.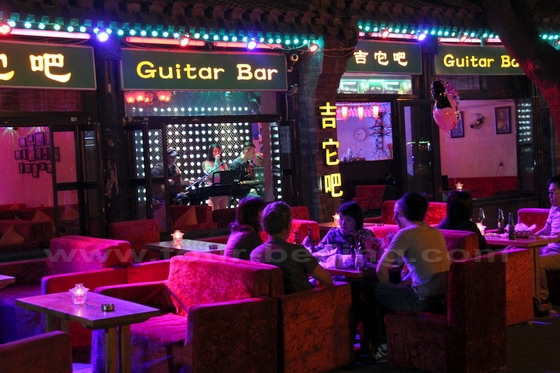 If you would like have a window shopping for a flea-market type of experience, Yandai Xiejie Street at Shichahai is a perfect place. Yandai Byway or Old Pipe Street is one of such old commercial streets that showcase Beijing's past.
Check out my following articles for more information:
How to visit Shichahai
Shichahai, a nice place to walk at night in Beijing
How to Visit Yandai Xiejie
Night View of Shichahai
The Old World Charm in Beijing
4. Catch the vibe in the illuminated Qianmen Street
"Qianmen" literally means "Front Gate". Qiamen Street is located south of Qianmen Tower to the south of Tiananmen Square, hence the name of the street. It lies on the north and south axis of Beijing. Qianmen Street runs south from Tiananmen Square, just along the Beijing central axis. It is one of the last remnants of the business centers of old Beijing.
Strolling along Qianmen Street and its branch-off alleys in the evening is a pleasant familiarization and sightseeing walk, getting yourself closer to the local people and their life.
Check out my following articles for more information:
Qianmen Street
Night View of Qianmen Street
Central Axis of Beijing
5. Snacking & Shopping in the neon-lit Wangfujing Street
The 810-meter Wangujing walking Street is packed with shops, stores,and restaurants including several big shopping malls, such Oriental Plaza, Beijing Department Store, Sun Dong An Plaza, the New China Woman and Children Department etc. It also has two large bookstores – the Wangfujing Xinhua Bookstore and the Beijing Foreign Languages Bookstore.
One highlight on Wangfujing Street is Wangfujing Snack Street (王府井小吃街)which is set on a narrow alley off the main walking street.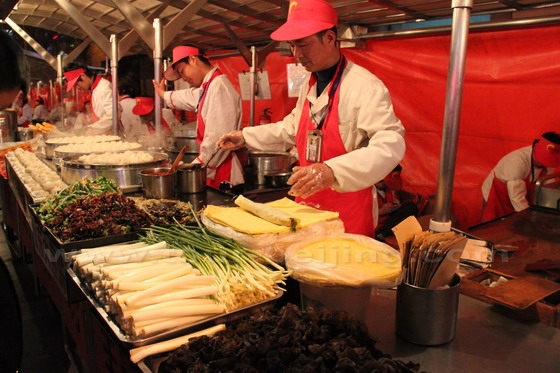 Take subway line 2, get off at the station of Wangfujing and use Exit C. Follow the throng into the Wangfujing Pedestrian Street. Walking north  for about 50 meters, you will see a KFC on your right side, and opposite the KFC is a decorated archway, the east entrance to Wangfujing Snack Street.
Check out my following articles for more information:
Wangfujing Street, a famous pedestrian street in Beijing
Stroll on Wangfujing Snack Street
6. Hanging out at TaiKoo Li Sanlitun in the evening
It is dubbed as one the capital's hottest fashion destination and the coolest place to hang out.
Taikoo Li Sanlitun is an open shopping district consisting of 19 low-density contemporary buildings. Sanlitun Taikoo Li itself represents a cultural gathering, so it's all about people: creating art and leading fashion as well as enjoying food, shopping and fun.
Add: Courtyard 19, Sanlitun Road, Sanlitun
Tel: 10-6417 6110 / 010-6417 7110
Web: www.taikoolisanlitun.com/en/
Opening Hours: 10am-10pm
Subway: take subway line 10 and get off at at the station of Tuanjiehu (团结湖), and exit from Exit A, 500 meters to the west; take Line 6 to Dongdaqiao Station (东大桥), exit B, 700 meters to the north.;take Line 2 to Dongsishitiao (东四十条)Station, exit from Exit C.
7. Night View of Bird's Nest and Water Cube
Beijing National Stadium, nicknamed "Bird's Nest", is located in the center of Beijing Olympic Park. It was the site for the opening and closing ceremony for the Olympic Games in 2008.
Beijing National Aquatics Center,nicknamed "Water Cube", is west of Bird's Nest in the Olympic Park. It is dubbed "cube" because of its semi-transparent "bubbles" spread out all over its surface with a shape very similar to the structure of "H2O".
Of course, during the daytime, you can have a close look at their true faces. But the bird's nest is so much concrete and the water cube looks lifeless. Just too little shade and shelter provided by trees, very hot in summer!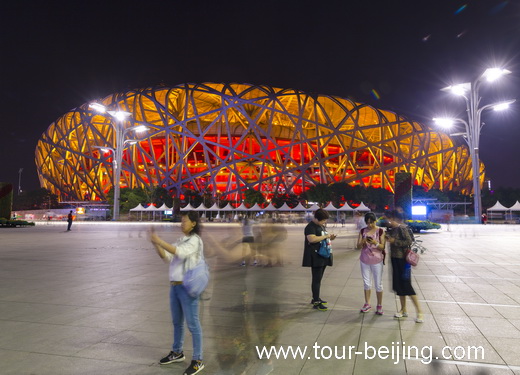 If you come here in the evening, things are a world of difference! The Water Cube displays a different colour pattern each evening, looking like a fantastic magic box.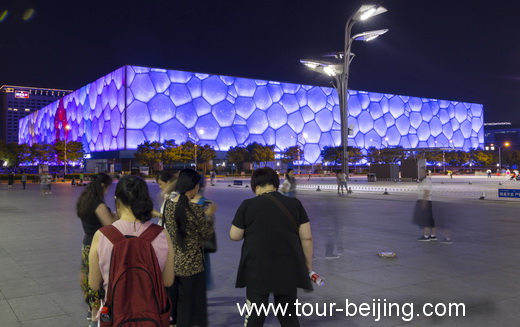 It is said that solar panel inside the nest collects the sun's rays by the daytime and light the bird's nest by night. An illuminated bird's-nest gives you much for thinking
Check out my another article How to visit Bird's Nest and Water Cube for more information.
8. Eating at Ghost Food Street
If you want to eat out in the evening after a daytime trip, you are recommended to stroll Gui Jie ( Ghost Street 簋街), an almost 24-hour food street lined with numerous eateries on both sides. It is quite popular with local Beijing people, expats, tourists as well.
Almost all the restaurants here are decorated in red – red store-front plaques, red lanterns and red lights with great vibe, a great place for friends, families and couples all to meet for dinner or just for the vibe here.
Check out my following articles for more information:
Night View of Gui Jie (the Ghost Food Street) in Beijing
Ghost Street by Night
9. Beijing Kungfu Show
This show is put on in the Red Theater located on the east of Tiantan Hotel in Xing Fu Dajie, Dongcheng District. CHC has collected a group of the best Kung Fu practitioners of China and invited the best directors and designers of the country. The show is a must-see production in Beijing for tourists and Kung Fu lovers.
This is a great show. It tells a story of Chin Yu entering the monastery and making his way through life to finally becoming the Abbott. There are many demonstrations of Kungfu and strength throughout the show. The costumes and the choreography are great.

Add: 44 Xing Fu Da Jie ( Xingfu Street ), Dongcheng District, Beijing 北京东城区幸福大街44号
Check out the following links for more information:
Discount Kung Fu Show Ticket Booking
Beijing Chinese Kung Fu Show
Beijing Evening Dinner & Shows
10. Beijing Opera Show
Experience the nightlife of Beijing by watching Beijing Opera show dubbed as "Moulin Rouge in China". Peking Opera has entertained Beijingers for over 200 years with its elaborate costumes, ear-splitting arias, dazzling martial arts and musical dialogue.
Beijing Opera is quite a cultural experience, completely different of the western opera. The ritual of the dressing, the make up and the masks are unique. The stories are interesting, they play several short performances with very different characters.
Check out the following links for more information:
Peking (Beijing) Opera
Peking Opera Make-ups
Beijing Evening Dinner & Shows
Tip: Hassle-free Beijing Guided Tours
If you don't want to go the do-it-yourself route and prefer the hassle-free escorted tours, here are some options for guided tours to Beijing:
Beijing Night Tour
Beijing Evening Tour
Mutianyu Great Wall Half Day Tour
Hike from Jiankou to Mutianyu Great Wall Day Tour
Mutianyu Great Wall Layover Tour
Beijing Highlight Layover Tour
Car Rental in Beijing
Beijing Day Tour
Beijing Tour Packages
Beijing Winter Tour
Great Wall Tour
Beijing Tours
China City Tours
China Tour
Further Readings
---
Best Time to Visit Beijing
How to plan a trip to Beijing
Top 10 Attractions in Beijing
Top 10 Tourist Scams Beijing
How to Visit Forbidden City
How to Visit Temple of Heaven
How to Visit Summer Palace
How to Visit Ming Tombs
How to Visit the Great Wall of China
How to Visit Tiananmen Square
How to Visit Hutongs
How to Visit Olympic Sites
Top 10 Markets in Beijing
Top 10 Shopping Malls in Beijing
Beijing Shopping
Wangfujing Night Snack Street
Qianmen Commercial Street
Beijing Huguosi Street
Any questions, just drop a line.
Chinese version of the travel guide: