If you are interested in Beijing's changing skyline or its amazing cityscape on your Beijing tour, you shouldn't  miss the opportunity to have a glimpse of or take pictures of Rem Koolhass's CCTV Headquarters ( China Central Television Headquarters) and its new neighbour – China Zun (now finished ), the 118-storey, 528 m building which is the tallest in Beijing.
Both the CCTV building and China Zun are visible from most of Beijing. The CCTV Headquarter is designed by OMA as a weird reinvention of the skyscraper as a loop instead of a typical skyscraper's demand for height.
Designed by architecture firm Farrells, China Zun is still under construction and after completion it will surpass the height of the China World Trade Center Tower III by 190 metres and become Beijing's tallest building.
China Zun literally means "ancient China wine vessel", which ignites the imagination for the building design.
There are quite some good places in Beijing to view the CCTV Headquarters and China Zun in different angles at a closer distance. But Blue Frog ( Gumao ), a popular restaurant chain with American style food, is an ideal place to see the CCTV Headquarters and China Zun.
Blue Frog ( Gumao ) is on the 6th floor of the North Section China World Mall, Beijing. The restaurant has an open terrace where customers can dine and drink while viewing the magnificent CCTV building and its new tallest neighbor – China Zun at a closer distance with a good angle.
Blue Frog (Guomao)
NL6005 6/F, North Section China World Mall, No.1 Jianguomen Wai Street, Beijing
+86 10 8535 1186
Business Hours: 10:00-23:00 ( Mon – Sun ).
Come to Blue Frog for brunch or dinner if you are intrigued by the bright CCTV Building, China Zun and neon-lit CBD ( Central Business District ). They have many food and drinks choices on the menu – burgers, beer, wine and their steaks and salads are also very good.
Try to get there early for a table on the open terrace where you can look out at the CCTV Building and China Zun across the third ring road.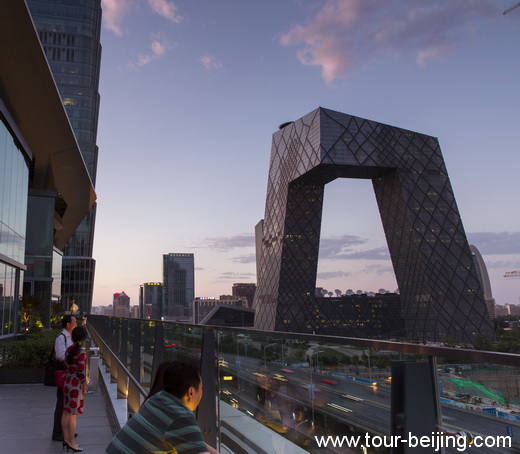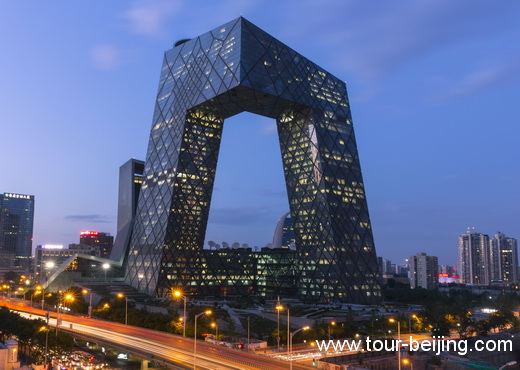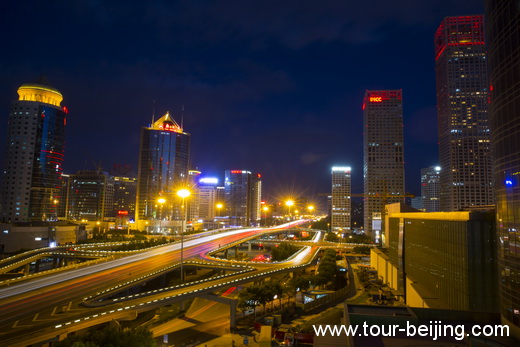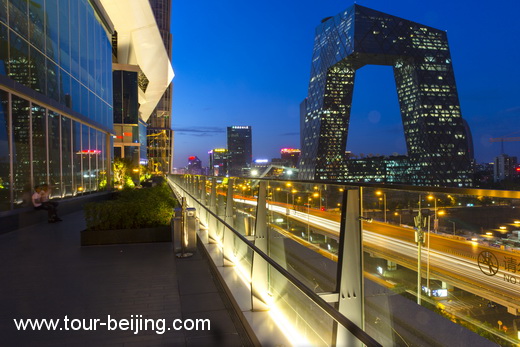 Tip: Hassle-free Beijing Guided Tours
If you don't want to go the do-it-yourself route and prefer the hassle-free escorted tours, here are some options for Beijing guided tours:
Beijing Day Tour
Beijing Tour Packages
Beijing Winter Tour
Beijing Autumn Tour
Great Wall Tour
Car Rental in Beijing
Beijing Tours
China City Tours
China Tour
Further Readings
---
Best Time to Visit Beijing
How to plan a trip to Beijing
Top 10 Attractions in Beijing
How to Visit Forbidden City
How to Visit Temple of Heaven
How to Visit Summer Palace
How to Visit Ming Tombs
How to Visit the Great Wall of China
How to Visit Tiananmen Square
How to Visit Hutongs
How to Visit Olympic Sites
Top 10 Markets in Beijing
Top 10 Shopping Malls in Beijing
Beijing Shopping
Wangfujing Walking Street
Qianmen Commercial Street
Gui Jie ( Ghost Street) Food Street
Any questions, just drop a line.