Plan your Beijing tour? Beijing is awash with natural and historical sites. Taking some amazing pictures of the iconic sites and interesting places in Beijing serves as a kind of good memory or nostalgic reminder of your trip to Beijing.
Almost every corner of Beijing has become the focal point of the lens. Basically different people at different times have different places to choose for their cameras or smartphones.
We have compiled our favourite list of photo-spots which would offer some clues to you either as photographers or travellers visiting Beijing for the first time for a great experience.
1. Jingshan Park
This is a fantastic place to have a panoramic view of Beijing icons with great photo opportunities – Forbidden City, White Pagoda in Beihai Park, the distant CCTV Tower, the northern central axis of Drum Tower and Bell Tower,and the high-rise buildings in Beijing's central business area.
Jingshan Park is also a wonderful place to shoot Beijing's sunrise and sunset.
Jingshan Park is not to be missed during your tour in Beijing. Jingshan Park just sits across the north gate of Forbidden City. After finishing your visit of Forbidden City from south to north, you exit from Forbidden City's north gate. Raising your head, you will spot a pavilion with three-layered eaves perched on a hill. The hill is called Jingshan Hill ( Coal Hill or prospect Hill) in the namesake park.
Enter the south gate and follow your nose up and climb up to the top of the hill and get to the pavilion known as Wanchun Pavilion perched high on the hill. It takes you about 5-10 minutes' walk along a zigzag stone steps up to pavilion on the summit.
Viewing from the pavilion, you are able to have a bird's-eye view of Beijing city at a great distance with the great photo opportunities – Forbidden City, White Pagoda in Beihai Park, the distant CCTV Tower, the northern central axis of Drum Tower and Bell Tower, and the high-rise buildings in Beijing's central business area.
Check out my another article How to Visit Jingshan Park for more travel information.
2. Turrets of Forbidden City and its Moat
The magnificent Forbidden City allows you to bag a load of amazing photos for your gallery. One of the greatest photo spots of Forbidden City, which is often neglected by many visitors, is Forbidden City's turrets.
The four turrets are inaccessible to visitors. After finishing your visit to Forbidden and exit from its north gate. You may turn either right for the northeast turret tower or left for the northwest turret tower outside Forbidden City surrounded by its moat.
The turrets are in full view, with a prominent setting above the moat and the Forbidden City walls running either side. The northwest turret is a perfect spot for taking best photos of the turret at sunrise glow and night view; the northeast turret offers good daytime, night and sunset views.
It is a shame that exiting from the north gate of the Forbidden City, many people even don't bother to look up at the two corners outside Forbidden City where the two magnificent turret stand for great photos.
The different four seasons present different views and photo opportunities. In addition, different time of a day also makes unique and fantastic pictures of the turrets.
Check out my following articles for the photo information on this spot:
My favorite photo spot in Beijing
How to Take the Best Photos of Forbidden City Turret and Moat
3. Shichahai area
Shichahai mainly comprises the area with the three lakes – Qianhai (front lake), Houhai (back lake) and Xihai (west lake). Sometime local people also use the word "Houhai" to refer to Shichahai.
Beijing's featuring urban construction of Hutong system was laid out in Shichahai area during Yuan Dynasty (1279-1368). Today you still can see many local people still live in these alley courtyards (Siheyuan) gradually formed about 800 years ago. This area offers you a chance to snap the interesting pictures of the old Beijing – Hutongs and courtyards, which have been well-preserved.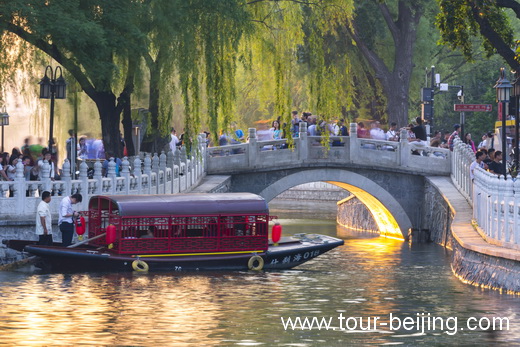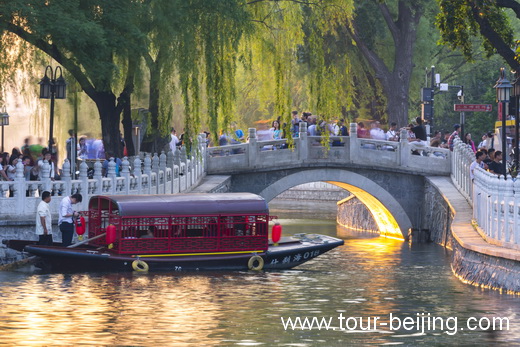 It is a popular hangout for the local people and outside visitors as well – Ice skating in winter; enjoy flower and willow trees in spring; Boating in summer and enjoy lotus in autumn; drinking, eating and shopping at the bars, stalls and boutiques along the banks and alleys all year around.
Check out my following articles for information about Shichahai area:
How to visit Shichahai
The Old World Charm in Beijing
Houhai Winter Ice Skating Rink
Sunset Over Houhai Lake in Beijing
The night view of Shichahai
Shichahai, a nice place to walk at night in Beijing
4. Temple of Heaven in early morning
Temple of Heaven is a big draw in Beijing. The name of the Temple of Heaven is a bit misleading. It is more than just a temple, it is a huge park as well.
Inside the park, there is a lovely temple complex, which is composed of three main parts – Hall of Prayer for Good Harvests, the Imperial Vault of Heaven and Circular Mound Altar sitting along an axis from south to north.
The temple itself produces plenty of wonderful spots for photography – the amazing Hall of Prayer for Good Harvests, the interesting Imperial Vault of Heaven and the grand Circular Mound Altar. What we suggest is that you should get up early to snap some awesome photos of the locals doing all sorts of things in the park.
Though everyday the temple and historical buildings within the park are open to the public from 8:00 till 17:00, the park itself opens at 6:00 till 22:00. Many local people have yearly tickets for easy access to the park. You'd better get there about 7:00 am or 7:30 am, especially on a Sunday morning.
You will see local people, mostly middle-aged or older people doing various kinds of light physical activities you can imagine, like singing, dancing, playing instruments, playing chess, practising Kung Fu, Tai Chi… After 9:30 a.m. it will be packed with group tourists. Mixing with the locals, you can definitely shoot some interesting pictures.
Check out my following articles for more information on this spot:
Tips for Visiting the Temple of Heaven
Morning Stroll in Temple of Heaven
Sunset Glow over Temple of Heaven
Beijing Bird Watching in Temple of Heaven
5. The 17-Arch Bridge at Summer Palace
Summer Palace was once a royal palace in later Qing Dynasty, only secondary to the Forbidden City ( now the Palace Museum ).
Summer Palace is actually not just only a former royal palace in summer where once Princess Dowager Cixi and the emperor lived and handled court affairs, accepting laudations and receiving foreign diplomats during their stay in the Summer Palace, it also epitomizes classical Chinese architecture, in terms of both garden design and construction. It is the largest royal garden in Beijing, now a good retreat for holiday makers today.
The Summer Palace has many classic sites to shoot the beautiful Chinese landscaping and architectures. The 17-arch bridge stands out as one of the great spots for photo in Summer Palace. It is the largest bridge on Kunming Lake in Summer Palace that connects the eastern shore with South Lake Island, representing Penglai.
The beauty of the bridge changes with the four seasons, at sunrise and sunset, and also from different points of view. You can also have a great shot of the Longevity Hill by standing on the bridge. Lions sculptures atop the railings of the bridge with different postures and expressions are also wonderful photos favored by many photographers.
Check out my following articles for information on this spot:
How to visit Summer Palace
Women Summer Dresses & Fashion Beijing, China
Winter Skating in Summer Palace.
Sunset over Summer Palace
6. Tiananmen Square
Tiananmen Square is oft-lauded as the largest public square of this kind in the world, a geological center of Beijing. Apart from the historical events and myths related to the square, Tiananmen Square has much to offer in terms of the significant buildings and solemn red flag raising and lowering ceremonies.
Visiting Tiananmen Square at different times of a day, you get different views of the square – Sunrise View of Tiananmen Square, Sunset View of Tiananmen Square.
Check out my following articles for more information on Tiananmen Square:
How to visit Tiananmen Square
How to Watch Sunrise over Tiananmen Square
Night View of Tiananmen Square
Sunset View from Tiananmen Square
Timetable for National Flag-raising Ceremony at Tiananmen Square
7. Beijing CBD
Beijing CBD refers to Beijing Central Business Center, a cluster of domestic and international firms and the center of trade, finance, creativity industry and media in Beijing.
It is also a primary area of modern buildings and architectures. Beijing CBD is located on the east of Beijing between the 3rd Ring Road and the 4th Ring Road. Personally, We think China World Hotel is the center of Beijing CBD.
You can easily get to the core of Beijing CBD by taking Subway No.01 or No.10 and get off at the station of Guomao and using either Exit A or B, where you are just next to China World Hotel and Guomao Bridge.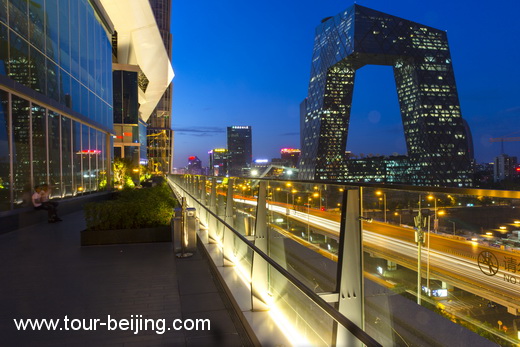 Beijing CBD is a showcase for Beijing's modernity and illuminated night. It is a photogenic spot, especially for a night view of Beijing. You may ascend the nearby high-rise buildings for a panoramic view of CBD or stroll around this area for some great candid opportunities.
Check out my following articles for more information on this spot:
A Good Place to See Beijing's Changing Skyline
Beijing CBD Area at Night

8. Bird's Nest & Water Cube of the Olympic Site
Beijing National Stadium, billed as "Bird's Nest", is located in the center of Beijing Olympic Park. It was the site for the opening and closing ceremony for the Olympic Games in 2008. It was the place where Usain Bolt of Jamaica broke the world record by winning both the 100 and 200 gold medals at the Olympics.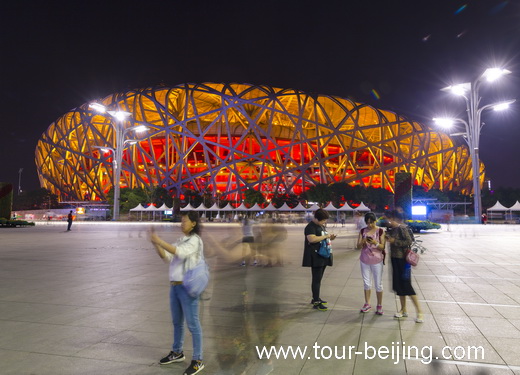 National Aquatics Center, popular known as "Water Cube", is located just beside Bird's Nest. It is "cube" because of its semi-transparent "bubbles" spread out all over its surface with a shape very similar to the structure of "H2O".
The two sites are among the list of the most popular photographic sites in Beijing.
Please read my another article How to visit Bird's Nest and Water Cube for more information.
9. 798 Art Space
The art zone is situated in Dashanzi area, Jiuxianqiao, Chaoyang District, so it is also known as DAD (Dashanzi Art District). It is an avant-garde and trendy space that hosts high-level cultural, artistic and commercial activities in Beijing. 798 is the Chinese equivalent of Greenwich Village and SoHo and has attracted visits from presidents, movie stars, royalty, photographers and visitors.
798 Art Space is set up in an abandoned military factory, which was built under Chairman Mao's leadership to solve the shortage of modern electronic equipment and to help speed up China's industrialization in 1950s. The whole military factory was divided into several small factories such as 706, 751, 761, 797 and 798. Factory 798 was one of largest.
798 Art Space is consist of many design rooms, art gallery, exhibition space, artists' studios, fashion shops, restaurants, bars and many other elements of culture and art.
Walk around this artistic area that guaranteed you some great shots representing the most avant-garde arts in China.
Just read my another article 798 Art Zone – Beijing's New Symbol for more information on this spot.
10. The Great Wall of China
The Great Wall of China is a fantastic location for great photos. There are eight major sections of the Great Wall around Beijing. We think Jiankou Great Wall and Jinshanling Great Wall are most photogenic – wild, ruined, original, but dangerous and treacherous.
Jiankou Great Wall is located in Huairou District, 10 km from Mutianyu Great Wall in the east. Jiankou Great Wall is the most dangerous and ruined section of the great wall around Beijing. This is one of the most scenic stretch of Great Wall around Beijing. This is the real great wall, not something like touristic Disney-style walls restored to please you.
Jinshanling Great Wall is located about 130 km from downtown Beijing. To its east stands the Simatai Great Wall. All the towers were constructed firmly and beautifully.
Each tower has its unique feature and look. Jinshanling Great Wall is relatively less crowded , it is a nice place to explore the Great Wall in Beijing. The Jinshanling Great Wall has become a famous scenic spot attracting many tourists from both home and abroad.
Tip: Hassle-free Beijing Guided Tours
If you don't want to go the do-it-yourself route and prefer the hassle-free escorted tours, here are some options for guided tours to Beijing:
Car Rental in Beijing
Beijing Day Tour
Beijing Tour Packages
Beijing Winter Tour
Great Wall Tour
Beijing Tours
China City Tours
China Tour
Further Readings
---
Best Time to Visit Beijing
How to plan a trip to Beijing
Top 10 Attractions in Beijing
Top 10 Tourist Scams Beijing
How to Visit Forbidden City
How to Visit Temple of Heaven
How to Visit Summer Palace
How to Visit Ming Tombs
How to Visit the Great Wall of China
How to Visit Tiananmen Square
How to Visit Hutongs
How to Visit Olympic Sites
Top 10 Markets in Beijing
Top 10 Shopping Malls in Beijing
Beijing Shopping
Wangfujing Night Snack Street
Qianmen Commercial Street
Beijing Huguosi Street
Any questions, just drop a line.