by
Among the Top 10 Photo Spots in Beijing, the 17-Arch Bridge at Summer Palace is my favorite photogenic spectacle. Summer Place itself is the epic demonstration of the traditional Chinese gardening with all its essential elements – lakes, hills, rockeries, pavilions, corridors, archways, bridges and temples.
The 17-arch bridge stands out as one of the great photography spots within Summer Palace. It is the largest bridge on Kunming Lake in Summer Palace that connects the eastern shore with South Lake Island, representing Penglai, a magic plade where you are supposed to live forever without pain and no winter, a paradise on earth.
The charm of the bridge changes with at sunrise and sunset, the four different seasons, and also different angles of view. In winter,the golden sun's rays shoot through the 17 arches in the bridge, a photogenic miracle.
Today my purpose to go to Summer Palace is not mainly for the shooting of the landscape or the 17-arch bridge in particular. Instead, I'd like to take candid photos of the people passing back and forth across the bridge, who are coming all parts of China and around the world since Summer Palace is a must see hotspot for first-time visitors to Beijing.
Candid street photography, or candid portrait photography is a good to record what is happening in a place you are not familiar with in terms of lifestyle, dresses, fashion and more.
My small view angle standing by the side of the 17-arch bridge provides you some visual information on the dresses Chinese ladies wear in summer. Of course, they just some samples of what the local women wear in summer,unable to cover all of them.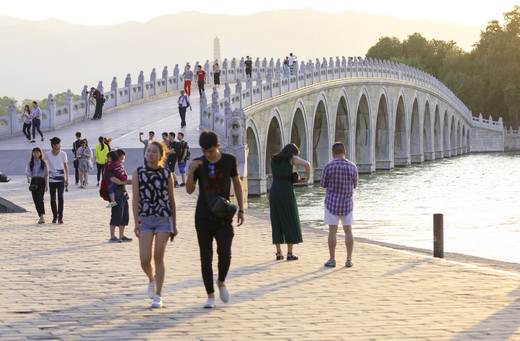 Tip:  Hassle-free Beijing Guided Tours
If you don't want to go the do-it-yourself route and prefer the hassle-free escorted tours, here are some options for guided tours to Beijing:
Beijing Day Tour
Beijing Tour Packages
Beijing Winter Tour
Beijing Autumn Tour
Great Wall Tour
Car Rental in Beijing
Beijing Tours
China City Tours
China Tour
Further Readings
---
Best Time to Visit Beijing
How to plan a trip to Beijing
Top 10 Attractions in Beijing
How to Visit Forbidden City
How to Visit Temple of Heaven
How to Visit Summer Palace
How to Visit Ming Tombs
How to Visit the Great Wall of China
How to Visit Tiananmen Square
How to Visit Hutongs
How to Visit Olympic Sites
Top 10 Markets in Beijing
Top 10 Shopping Malls in Beijing
Beijing Shopping
Wangfujing Night Snack Street
Qianmen Commercial Street
Beijing Huguosi Street
Any questions, just drop a line.
Tags: Summer Casual Dresses Beijing, What are you dressing in Beijing in Summer, What to wear summer Beijing