Juyongguan Pass Great Wall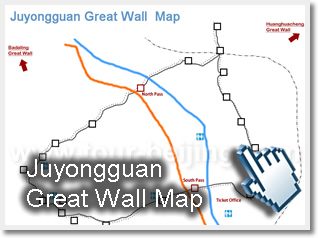 Juyongguan Great Wall Key Words:
Features: spectacular pass, steep, slender and circular wall, less original
Hiking Area: east and west sections (two semicircles)
Hiking Time: 2 - 3 hours for each section (one semicircle )
Hiking Level: biginner-intermediate
Distance: 60km from the downtown Beijing
Cable car: not available
Juyongguan Great Wall Half Day Tour

Departure: Daily Hiking Area: Juyongguan Section
Tour Type: A private tour
Pick-up point and time: Your Hotel around 8:00am
Finishing point and time: Your Hotel around 01:00pm
Hiking Time: 2 hours
Hiking Level: Beginner - Intermediate
Cable car: Not Available
Service: Lunch + private tour guide & driver + private car / van
Tour Code: GWPD-15
Price: Starting

from US$ 30 p/p
At 7:00am I get up and walk out of the courtyard hotel. Taking in the fresh air, I raise my head to look at the Great Wall up there in the slight mist.
Juyongguan Pass
I'm still excited that I'm now in a famous ancient Pass of the Great Wall in Beijing. The Juyongguan Pass is located in the valley sandwiched by the Jundu Mountains and the ending of the Taihang Mountains. It used to be a stronghold, difficult of access dating back to the Spring and Autumn, the Warring States period ( 5000-6000 years ago). Later the Pass was extended to be linked up with the Great Wall. The Pass we see today was planned by General Xuda and completed in the first year of the reign of the Emperor Hongwu of the Ming Dynasty ( 1368 ) and the years that followed, it was renovated again and again. The Great Wall around the Pass extends over 4 km snaking the ridge of the mountains forming the valley. The natural landscape surrounding the Pass is extremely beautiful.
The Pass in the valley surrounded by the 4km-Great Wall
The southern Gate of the Juyongguan Pass
The Northern Gate of the Juyongguan Pass
The "Cloud Platform" built in the Yuan Dynasty in the inner city of the Pass
East Section ( East Semicircle ) of the Juyongguan Pass Great Wall
The Juyongguan Pass Great Wall is sectioned into two semicircles - east and west. Most people prefer hiking on its west semicircle for its steepness and beautiful view. Each semicircle takes about 2-hour hike. So if you have time and energy, hiking both sections is a good choice. Yesterday afternoon, I trekked part of the east semicircle. Below are the pictures taken of the east semicircle of the Juyongguan Pass Great Wall:
Badaling Great Wall: 1, 2, 3
Juyongguan Great Wall Pass: 1,

2

, 3, 4
Huanghuacheng Great Wall: 1, 2, 3
Mutianyu Great Wall: 1, 2
Jinshanling Great Wall: 1, 2, 3, 4, 5, 6, 7
Simatai Great Wall: 1, 2, 3, 4, 5, 6
Questions & Answers:

Here is
only for Questions and Answers
. ( For anyone who wants to have an enquiry or customized tour, please email us to

. )