Huanghuacheng Great Wall at the Jintang Lake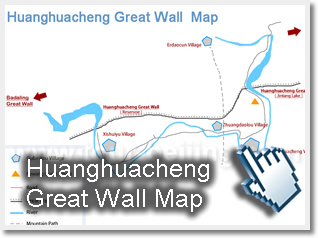 After finishing the walking tour at the
Huanghuacheng Great Wall at reservoir section
, we settle down at a nice farmhouse under the Huanghuacheng Great Wall by Jintang Lake.
This section is just 1-2km northeast of Xishuiyu Village ( Huanghuacheng Great Wall at the reservoir ), an popular starting point for hiking Huanghuacheng Great Wall, known as Jintang Huanghuacheng Great Wall since this section of Huanghuacheng Great Wall is cut through by Jintang Lake.
Next morning we visit the Huanghuacheng Great Wall at the Jintang Lake section. We find the two Chinese words "Jin Tang" on the cliff on the roadside on the west of Jintang Lake. "Jin Tang" literally means "Gold Soup" - the firm and strong. The Huangcheng Great Wall is often called "Jintang Great Wall".
Jintang lake is a good spot where you can take a photogenic view of the Great Wall higher hugging the mountain. Crossing the dam over Jintang Lake, you may start your climb up the Wall. At the time of my writing, Jintang Huanghuacheng Great Wall is still unrestored and not offcially open to the public. You will be held responsible for your safety and suggested to apply for your travel insurrance for your coverage of injury or accident.
» Huanghuacheng Great Wall Tour
Huanghuacheng (literally meaning "Yellow Flower City") Great Wall, about 85 km north of downtown Beijing, is one of the most ruined sections of the wall in Beijing. It has become popular with hikers in recent years. It is an informal section of the Wall. To its west is Xiaoxihu Great Wall ( or the Great Wall of Huanghuacheng Reservior).

Huanghuacheng Great Wall Half Day Tour from US$ 40
Pictures of Huanghuacheng Great Wall at Jintang Lake
Jintang Lake cuts through Huanghuacheng Great Wall
The Great Wall west of Jintang Lake
The Great Wall east of Jintang Lake
The two Chinese characters "金汤 "Gold Soup" - the firm and strong
The pictures taken of the east section of the Great Wall
( east of Jintang Lake )
The wall is up and down, twists and turns
The east and west sections of the Wall
The massive watchtower extended
Badaling Great Wall: 1, 2, 3
Juyongguan Great Wall Pass: 1, 2, 3, 4
Huanghuacheng Great Wall: 1,

2

, 3
Mutianyu Great Wall: 1, 2
Jinshanling Great Wall: 1, 2, 3, 4, 5, 6, 7
Simatai Great Wall: 1, 2, 3, 4, 5, 6
Questions & Answers:

Here is
only for Questions and Answers
. ( For anyone who wants to have an enquiry or customized tour, please email us to

. )