Huanghuacheng Great Wall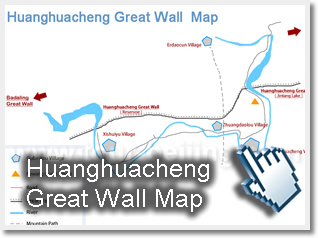 Huanghuacheng Great Wall Key Words:
Features: wild, uncleared, original
Officially not permitted to hike
Visiting Area: Huanghuacheng Reservoire Section and Jintang Lake Section
Hiking Time: 2 - 3 hours
Hiking Level: intermediate
Distance: 80km from the downtown Beijing
Cable car: not available
After lunch, we go on with our 5-day Great Wall hike trip for our third stop - the Huanghuacheng Great Wall. The 40km mountain road drive takes 40 minutes from Changping County to the Jiuduhe Township where the main two sections of the Huanghuacheng Great Wall are located.
Actually Huanghuacheng Great Wall is officially banned for the tourist hike either to protect the wild section of the Great Wall or prevent possible risk of hiking the uncleared section. People tend to taste "a forbidden fruit". So still some brave tourists, led by local farmers or tour organizors, come to the Huanghuacheng Great Wall for a wild hike.
The Huanghuacheng Great Wall used to be one of the strongest wall in Beijing. It was built by General Cai in Ming Dynasty ( 1368-1644). Its construction took many years to accomplish. Some traitorous officials scolded that he had spent so much money in building the wall. The emperor was very angry with General Cai. Later he ordered General beheaded!
Years later, the emperor asked his ministers to check the wall and realized that he had treated General wrongly. The wall was extremely fortified. The emperor asked the craftman to carve two Chinese characters - "Jin Tang" by the wall, literally meaning "Gold Soup" - the firm and strong. The Huangcheng Great Wall is often called "Jintang Great Wall". The lake by the wall is called Jintang Lake.
Huanghuacheng Great Wall Day Tour
Departure: Daily
Tour Type: A private tour
Duration: Approx.8 hours (including lunch) Hiking Area: Huanghuacheng Great Wall
Pick-up point and time: Your Hotel around 8:00am
Finishing point and time: Your Hotel around 5:00pm
Hiking Time: 2-3 hours Intermediate
Cable car: Not available
Service: entrance fees + lunch + private tour guide & driver + private car / van
Tour Code: GWPD-12
Price: Starting

from US$ 55 p/p
Huanghuacheng Great Wall is about 12km long with 49 towers and 5 terraces, connecting
Badaling Great Wall
in the west and
Jiankou Great Wall
in the east. Now it is a quite challenge to climb the wall in some parts. There have been no stone steps or no smooth path found on some parts in this section f Great Wall in Beijing. At the time of my writing, Huanghuacheng Great Wall is not yet officially opened to travelers. Those who hike this section of the Wall have to be responsible for their own safety.
There are two starting points to hike or see Huanghuacheng Great Wall - Huanghuacheng Reservoir and Jintang Lake which both cut through the Wall. The reservoir is called Huanghuacheng Reservoir with some parts of the Huanghuacheng Great Wall submerged under it, hence the nickname of Huanghuacheng Water Great Wall for this section. By the reservoir is Xishuiyu Village, so Huanghuacheng Great Wall at the reservior is often called Xishuiyu Great Wall or Xiaoxihu ( Little West Lake ). Most people come to Huanghuacheng Great Wall ( reservoir section ) to see the submerged great wall.
Huanghuacheng Great Wall at the Reservior
( also known as Xiaoxihu Great Wall or Xishuiyu Great Wall)
Today we start to visit Huanghuacheng Great Wall Reservior Section. We just walk along the walking trail skirting the Huanghuacheng Reservoir with the Great Wall hanging on the mountains surrounding the reservoir. So parts of the Huanghuacheng Great Wall are submerged under it with stunning view, a great place for a holiday outing - picnic, boating and walking.
We meet a lot of local holiday makers walking around the reservoir. It is a great fun, another kind of mountain hike. Many young people are practising team building there. If you feel tired, you may take a speed boat back to the entrance.
"The ruined west side leads up to Shixiaguan Great Wall
The Reservoir cuts through the Great Wall
The Reservoir Dam and the Great Wall
The Great Wall plummits down the hill
Walking on the trail along the reservoir
Enjoy walking along the reservoir with the Great Wall hanging overhead
The Great Wall is submerged under water
The Great Wall meanders the hill overhead
Boating on the lake
Team Building
Badaling Great Wall: 1, 2, 3
Juyongguan Great Wall Pass: 1, 2, 3, 4
Huanghuacheng Great Wall:

1

, 2, 3
Mutianyu Great Wall: 1, 2
Jinshanling Great Wall: 1, 2, 3, 4, 5, 6, 7
Simatai Great Wall: 1, 2, 3, 4, 5, 6
Questions & Answers:

Here is
only for Questions and Answers
. ( For anyone who wants to have an enquiry or customized tour, please email us to

. )