Hanging Monastery in Datong
Hanging Monastery, located at the foot of the Mt. Hengshan, is the only existed temple hosting worship for the Taoists, Confucians and Buddhists. Built in 491, Hanging Monastery is an architectural wonder because it hangs on the west cliff of Jinxia Gorge more than 50 meters above the ground.
Opposite to the Mt. Hengshan, the hanging monastery consisted of over 40 buildings, are evenly distributed and well-balanced in height. On the base of the natural hollows and outcrops along the contour of the cliff, many halls and pavilions were built ,which are connected each other by corridors, bridges, boardwalks.
The hanging Monastery has established its unique position among the various temples and monastery with its characteristics of "peril, workmanship and miracle".
The perilous situation of the Hanging Monastery makes one feel dumbfounded. The hanging monastery is in a small basin of gorge hanging the whole architecture in the middle of cliff. The jut on the peak looks like a umbrella to protect the monastery from the rain and the mountains around the monastery reduce the irradiation of the sun, which are the important reasons for its well preserved. Walking a few miles deep into the canyon, you will see in the curling up clouds and mists.
The workmanship is another character of hanging monastery. The monastery consists of over 40 halls pavilions, all of which are made of wood. With the supporting beams as its basis and the skilful utilization of the hidden rocks, the whole building is uniquely well-knit into an integral whole and the balustrades are artistically connected. The layout of the monastery structure is in excellent symmetry with variations, well-connected though scattered at various points, and still in good proportion though extraordinarily complicated.
The miracle of the Hanging Monastery makes one feel as if he were in the imperial palace. There are over 80 statues in the monastery. Some are cast with bronze, some with iron, some with clay and some are carved out of stone. Making full use of the nature of the crag, the gate, bell and drum tower, audience hall, etc are designed refinement extremely.
Ticket Price: RMB60
Opening Time: 09:00-17:00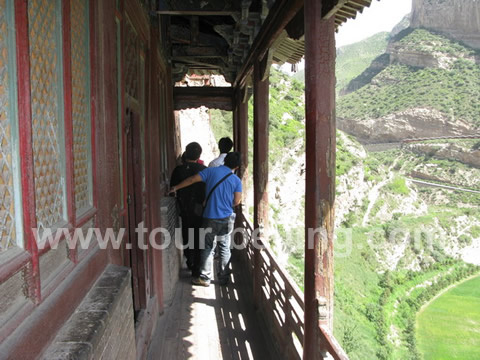 Questions & Answers: