Plan your Northeast China Tour? Northeast China is popularly known as 东北 (Dongbei ) in Chinese and historically as "Manchuria". It is mainly composed of China's northmost three provinces including Liaoning, Jilin and Heilongjiang.
China's Northeast is famed for skiing, sledding and skating and all winter activities and playing snow at Xuexiang ( China Snow Village). Actually there are more more reasons to visit Northeast China. It features a terrain of fertile plains, rugged mountains, dense forests, and azure volcanic lakes.
Northeast China shares a total 4000-km length of the border territory with North Korea and Russia and has a historical impact by Japan. Northeast China is bestowed with colourful cultures partially influenced by Japan, Russia and Korea.
I've rounded up the Top 10 Places in Northeast China in terms of their historical, cultural and scenic aspects. Hopefully the Top 10 List will be useful planning your Northeast China tour.
1. Harbin 哈尔滨
Harbin is the capital city of Heilongjiang Province. It is China's northmost metropolitan city featuring Russian style buildings and winter's ice and snow activities. If you visit Harbin, don't miss the following attractions:
Check out Top 10 Attractions in Harbin for more information.
St.Sophia Church 苏菲亚大教堂
St.Sophia Church is located on the north of Zhaolin Jie. It is a must to see place in Harbin. St. Sophia Church is the largest Orthodox Eastern Churchc in China. It is 53.35 high, first constructed in March, 1907 by Russian Troops.
Among the many Orthodox churches and Russian style facades in this region, the St. Sophia Church is the most impressive and imposing structure.
In 1903, with the completion of the Sino-Russian railway, the Russian No.4 Army Division invaded in this region. In order to consolidate the confidence of the army, the magnificent St. Sophia Church was born, and completed in 1907.
Zhongyang Dajie 中央街
The pedestrian friendly street is a unique Russian-style street in the city centre of Harbin, long lines of edifices, masses of entertainment areas, and colourful cultural life.
All of these buildings are in various styles including renaissance style, baroque style, eclectic style, as well as modern style. It covers the most charming literature phylogeny of 300 years, and reflects the profound history of architecture, a real "Architecture Art Gallery" in China.
Siberian Tiger Park 东北虎公园
The park is located north of Songhua River, about 37 km from downtown Harbin. It is the largest natural park for wild Siberian Tiger in the world at present. It combine breeding, scientific research, protection, training as well as sightseeing. There are white tigers, lions, lynx, leopards, and black pumas as well as Bengali tigers.
Ice & Snow World in Harbin 冰雪大世界
Ice and Snow World, situated opposite the Sun Island Landscape, is the largest and the most brilliant ice and snow sculpture park in China, also named "the Ice Disneyland". Blocks of ice are carved into sculptures and buildings and lit from within to provide glittering lights of ice. This magnificent park only appears in winter from later December to February.
Yabuli 亚布力
Yabuli Ski Resort is the official name given to the biggest ski resort in China lying about 230km to the south-east of Harbin city and 130km to the west of Mudanjiang city. Actually Yabuli Ski Resort is composed of three ski resorts with over 10 hotels ranging from basic guesthouse to luxury hotels.
The three most well known ski grounds in Yabuli Ski Resort are Sun Mountain Ski Resort, Yabuli Ski Resort (same name as the official one for the whole area) and Avaunce (Yabuli) Ski Resort. Each ski resort has its own accommodation choices.
2. Changchun 长春
Changchun is the capital city of Jilin Province, a heavy industrial base in China, known as China's Automobile City. Quite different from its nickname, in 2001 Changchun was awarded as one of four "National Garden Cities" by the Ministry of Construction of P.R. China due to its high urban greening coverage. The major sites in Changchun include:
Puppet Emperors' Palace 伪皇宫
The former Manchukou's Imperial Palace covered an area of 12 hectares, and located in Guangfu Road in the northeast road of Changchun. It was the palace of last emperor, Puyi, who had lived as a puppet emperor between 1932 and 1945. The major building of the puppet palace is a two-storey house with yellow tiles covered on the top, which encompasses Qinmin Building, Jixi Building and Tongde Palace. Those 3 buildings were built with a combination of Chinese and Western patterns, which demonstrate distinctive building style.
Eight Ministries of Manchukuo 旧八大部
The Old Eight Departments were established in 1936, located near Xinmin Street in the center of Changchun. They consist of 8 institutions of Manchukuo, namely, Department of Security, Department of Legislation, Department of Economy, Department of Transportation, Department of Agriculture, Department of Culture and Education, Department of diplomacy and Department of Health.
Changchun Culture Square 长春文化街
Changchun Culture Square is located at the crossroad of Jiefang Dajie and Xinmin Dajie. It was inaugurated in August, 1996, the largest leisure square in Changchun with an area of 20.5 hectares. This marvelous square offers a good opportunity to look into the common and real life of the local people in Changchun. In summer, thousands of people will be engaged in all kinds of activities. It is a fine representation of community & culture.

3. Shengyang 沈阳
Shenyang is the capital city of Liaoning Province. Shenyang is also an important industrial center in China. It is the transportation and commercial hub of China's northeast. Shenyang shortly served as the capital of Qing Dynasty before it moved to Beijing. The highlights in Shenyang include:
Check out Top 10 attractions in Shengyang for more information.
Manchu Imperial Palace 沈阳故宫
The palace complex represents the highest level art of early Manchu palace architectures and Manchu's unique history and culture in the early stage. It is a magnificent palace that resembles a smaller Forbidden City in Beijing.
North Tomb (Zhaoling Tomb) 北陵
Zhao Ling ( Luminous Tomb ) is the burial site of the founder of Qing Dynasty – Huang Taiji (1592 – 1643). The tomb's animal statues lead up to a mound where the emperor and his empress were buried. The traditional architectures and ornamentation around tomb site are magnificent.
Former Residence of Zhang Zuolin and Zhang Xueliang 张作霖故居
Zhang Zuolin (1875–1928) was the warlord of Manchuria from 1916 to 1928. He was killed by a bomb planted by a Japanese Kwantung Army officer on 4 June 1928. Zhang Xueliang ( 1901 – 2001 ) was the actual ruler of Manchuria and much of northern China after the assassination of his father.
Zhongjie Pedestrian Street in Shenyang 沈阳中街步行街
It is a vehicle-free commercial street, 1500 meters long, the earliest shopping street in Shenyang and the first walking street in China. Now Zhongjie Pedestrian Street is packed with shopping malls, department stores, restaurants. Scattered in the alleys along the street you can find numerous free markets offering a great variety of goods.
4. Panjin 盘锦
Dubbed as Capital of Wetland, Panjin is situated on the northern coast of Liaodong Bay of the Bohai Gulf in, about 155 km southwest of Shenyang, the capital city of Liaoning Province. The Liao River (Liaohe River, one of China's seven longest rivers empties itself at Panjin. Panjin is a booming city developed from oil industry.
Check out Top 10 Attractions in Panjin for more information.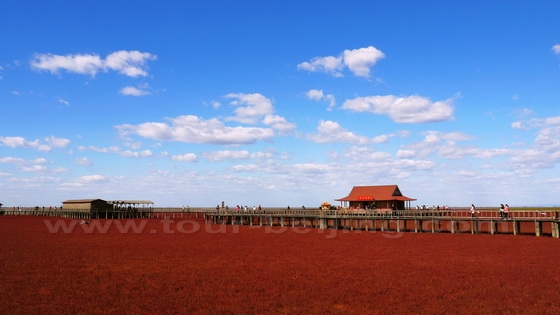 Red Sea Beaches 红海滩
The world famous Red Sea Beaches Scenic Area is located at the estuary of Liaohe River (Liao River) within the Liaohe River delta, about 40 km southwest of Panjin's city center. This red sea beaches scenic area is a well developed sight crowned as AAAA National Level scenic spot.
Here you will see the world famous red sea beaches and the largest reed marsh in the world. It is a perfect green eco-tourism area comprising sightseeing, leisure and resort. The scenic core includes Red Sea Beach Wharf, Watching Cranes on Reed Marsh, Wetland Park and Red Sea Beach Resort.
5. Dandong 丹东
If you are not willing to venture taking Beijing North Korea tour, but still want to have a glimpse of the hermit state of North Korea, a short trip to Dandong is a good alternative. Separated by Yalu River, Dandong is a border city opposite to Sinuiju, North Korea.
Check out Top 10 Attractions in Dandong for information.
Yalu River Broken Bridge 鸭绿江断桥
The "Broken Bridge" is the first bridge ever built over Yalu River. It was constructed between August 1909 and October 1911, an iron bridge, 944.2 meters long, 11 meters wide with 12 arches.
In December, 1950, the bridge was bombed by US Air Force during the Korean War. The bridge has been left less than halfway cross the river from Chinese riverside, hence the name of Duanqiao ( Broken Bridge).
North Korean Border at Dandong 朝鲜边境
So Dandong is within a toss of a baseball to the North Korean shoreline. A glimpse of the stark shoreline is one of the purposes of many tourists who make trips to Dandong. The stark and sharp difference between the two shorelines of China and North Korea is quite interesting.
There are two ways for having a glimpse of the North Korean Border. One is standing on the Hushan Mountain (Tiger Great Wall ) where you can have an-eye bird view of the river the shoreline. The other is to take the speed boat from the pier at the foot of Hushan Mountain. The 30-minute boat ride allows you to come very closer to the North Korea's Border.
Tiger Mountain Great Wall 虎山长城
Tiger Great Wall is named after the same name Tiger Mountain ( Hushan Mountain ). It is located by the Yalu River, opposite to the North Kore's Yuce Island and the old Shinuiju, about 15km to the east of Dandong's city center.
Tiger Great Wall is a restored stretch of the Wall with a length of 1250 meters with a sea level of 146.3 meters. Tiger Great Wall was built in 1469, often regarded as the eastern tip the Great Wall built in Ming Dynasty. In the scenic area, there is a Great Wall Museum – Tiger Great Wall Museum, one of the four Great Wall Museums in China.
6. Ji'an 集安
Here Ji'an (集安) refers to the city in the southern tip of Jilin Province, China. It is a small border city, just across Yalu River from North Korea. Don't be confused with the same English name Ji'an ( 吉安) in the middle of Jiangxi Province in China.
Ji'an has been on the limelight since 2004 when Ji'an's extensive Koguryo ancient cities, pyramids, ruins and tombs were listed as UNESCO Cultural Heritage ( officially known as Capital Cities and Tombs of the Ancient Koguryo Kingdom).
Check out Top 10 Attractions in Ji'an for more information.
Guonei City 国内城
The Koguryo Kingdom was founded in the present-day Huanren County of Liaoning Province. It moved its capital to Guonei City (国内城 ) in the current city of Ji'an in Jilin Province in 3 A.D. At the same time another military defense city of Weinayan City outside Guonei City was built to enhance the defense of Guonei City. Later Wenayan City was expanded and renamed Wandu City.
Wandu Mountain City 丸都山城
Wandu City is located on the top of the jagged Wandu Peak, about 2.5km from Ji'an's city center with the highest elevation of 676 meters. It is a typical mountain city in the early and middle period of Koguryo Kingdom. It served both as a defense city and also an imperial city for a period of time.
Also not much left of the original buildings of Wandu City. Its original city' circumference is 6395 meters with 6 gates. The double cities of Wandu City and Guonei City is a new model in the history of the world imperial palaces' construction, a beautiful chapter of the history of the world' ancient city construction.
Jiangjunfen ( General's Tomb ) 将军坟
The so-called General Tomb is located at the foot of Longshan Mountain 4km northeast of Jian' city center. The tomb resembles the pyramids in Egypt, hence the name of "Oriental Pyramid". It is estimated it is the tomb of the 2oth ruler of Koguryo Kingdom.
General Tomb is one of the pyramid structures in the region. The tomb is composed of seven layers of marble stones. On the 5th layer there is a passage to the tomb. There are two or four smaller accompanying tombs behind the General Tomb.
7. Xuexiang (Snow Village) 雪乡
Xuexiang ( Snow Village) is located 197km east of Mudanjang City. Actually Xuexiang ( Snow Village ) is not an official name and its formal name is Shuangfeng Forest Farm (双峰林场) in Changting Township (长汀镇) at Hailin City (海林市), Heilongjian Province. The forest farm is under the administration of Dahailin Forestry Bureau (大海林林业局).
Check out China Snow Town for more information.
Xuexiang ( Snow Village ) boasts the longest 7-month period of snowing in China. The snow in Xuexiang is very sticky, one of the best snows in China, nicknamed "China Snow Village". Xuexiang ( Snow Village ) is the training base for the National Skiing Team and August First Army Team as well. Many excellent skiers of national and world level come from this train base.
Beside skiing at Xuexiang Ski Resort, Xuexiang Village also offers a wide range of snow activities such as alpine sleigh rides, horse driven sledges, snow carved city, snow maize, snow bar, snow photography and so on. If you are lucky, you can happen to watch the skiing performances by the August First Army Skiing Team.
8. Changbaishan 长白山
The Changbai Mountain Range is a mountain range on the border between China and North Korea. The rugged terrain of the Changbai Mountains provides refuge for many rare animals, including Amur leopards, bears, and Siberian tigers.
A large portion of the Jilin Province side has been under protection of Changbai Nature Reserve, under the program of UNESCO's "Man and Biosphere", which covers more than 2,100 square kilometers. Changbaishan boasts the azure Tianchi Lake ( Heaven Lake ) and Changbai Waterfall.
9. Wudalianchi 五大连池
Wudalianchi Natural Reserve is about 380km northeast of Harbin and 230 south of Heihe, Heilongjiang Province. Wudalian Chi is one of the most beautiful landscapes in China, which is formed by the volcanic explosions. It is a wonderland of hardened lava, volcanic peaks, reed-lined ponds and azure lakes.
The Wudalianchi Natural Reserve encompasses 1060 sq km including forest, arable land, pasture, and wetland. Wudalainchi literally means "five connected lakes" formed by the volcanic eruptions. The reserve boasts one of the best three cold springs in the world, attracting busloads of Chinese and Russian who come here to slurp the so-called curative water. Wudalianchi possesses the rich variety of creatures and a complete volcanic natural eco-system.
10.Qiqihar (
Zhalong Nature Reserve)

齐齐哈尔

Take a four-hour bus ride from Harbin brings you to Qiqihar, one of the Northeast China's oldest cities. It is now famed for Zhalong Nature Reserve, 30km southeast from town. Zhalong Nature Reserve is a a wetland reserve that encompasses the 2,100 km2 marshland, a major migratory route for birds from the Arctic migrating to South East Asia.

It boasts the endangered red-crown crane. Actually the reserve has nine of the world's fifteen species of crane. The best viewing time is from April to June with the viewing time extended to September. Bring your binoculars, strolling along the reedy lakes for a leisure day.

Tip: Hassle-free Northeast China Escorted Tours
Don't want to go the do-it-yourself route? No worries, We at Tour Beijing have some options for Northeast China guided tours with English-speaking tour guides:
Harbin Tour
Harbin 3 Day Tour Package
Changchun Tour
Shenyang Tour
Dalian Tour
Dandong Tour
North Korea Tour
Northeast China Tour
Further Readings
---
Top Attractions in Northeast China
Top 10 Attractions in Harbin
Top 6 Things to Do in Heilongjiang
Top 10 Attractions in Shenyang
Top 10 Attractions in Dandong
Top 10 Attractions in Ji'an
Top 10 Attractions in Panjin
Top 10 Attractions in Dalian (Tips, Photos and Maps)
Best Time to Visit Harbin
Where to Stay in Harbin
Harbin West Railway Station
Top Things to Do in Winter in Harbin
Harbin Ice and Snow Happy Valley
Harbin Ice and Snow World
Harbin Sun Island International Snow Sculpture Art Expo
Harbin Winter Swimming
Madieer Popsicles in Harbin
Harbin Jihua Ski Resort
Suan Cai Jiaozi – New Year's Soul in Dongbei
What to see in Harbin, things to do in Harbin
China Snow Town
Scenic Drive from Harbin to China Snow Town
Shuttle Bus from Harbin to China Snow Town
Harbin – Yabuli – China Snow Town Shuttle Bus
Sunrise Glow over China Snow Village
Night View of China Snow Village
Qiqihar Taxi: Qiqihar Taxi Fares, Tips and Phones
Mudanjiang Taxi: Mudanjiang Taxi Fares, Tips and phones
Harbin Taxi: Harbin Taxi Fares, Tips and Phone
Yanji Taxi: Yanji Taxi Fares, Tips and Phones
Jilin Taxi: Jilin Taxi Fares, Tips and Phones
Changchun Taxi: Changchun Taxi Fares, Tips and Phones
Dandong Taxi: Dandong Taxi Fares, Tips and Phones
Shenyang Taxi: Shenyang Taxi Fares, Tips and Phones

Any questions, just drop a line.