Plan your Beijing tour? Beijing is the capital city of China that has seen huge change in the past 30 years. Many of Beijing's impressive buildings such as Forbidden and Hall of Prayer for Good Harvests in Temple of Heaven have existed for centuries.
Two decades ago there were no such modern architectures as the CCTV Headquarters by Rem Koolhaas and Ole Scheeren of OMA and no Giant Egg (The National Center for the Performing Arts) by French architect Paul Andreu.
A great way to enjoy Beijing is to see it when night falls with changing skylines and dazzling neon lights. Spare one night for a dreamy night tour of Beijing. We've selected the top 10 most iconic night views in Beijing. Or you may have your own version of the most beautiful night scenes in Beijing.
360° Panoramic View from the hilltop in Jingshan Park
You may exit from the north gate of the Forbidden City and then cross the road in the front, you will see the south gate of Jingshan Park. For normal opening time, the entrance fee is only RMB2. But during the Peony Festival from later April and May each year, the entrance fee is raised to RMB10 per person.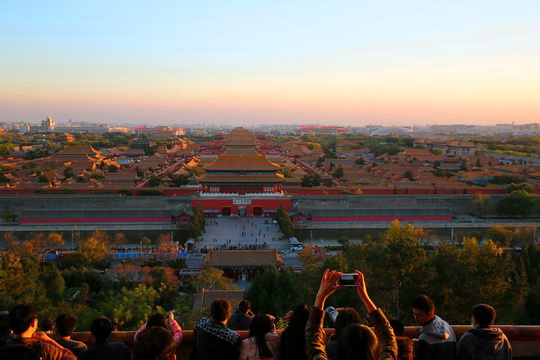 The hill in Jingshan Park is 42.6 meters at relative height and 88.35 high at sea level. Just scale the stairs all the way to the tower – Wanchu Pavilion perched on the hill in the park. Wanchu Pavilion is the highest point along the Beijing's north-south axis, a good place to have a panoramic view of the capital's downtown area: CBD in the east; Drum Tower and Bell Tower in the north; Beihai Park in the west and the south is to the north gate of the Forbidden City.
The city of Beijing looks gorgeous seeing it change from dusk to sunset, and to the nightfall with bright neon lights around the city below.
Night View of Beijing Central Business District
The landscapes – China World Hotel, CCTV New Office Tower and the bustling Chang'an Avenue and more – Beijing's Central Business District ), and night view is dazzling, every minute making you intoxicated.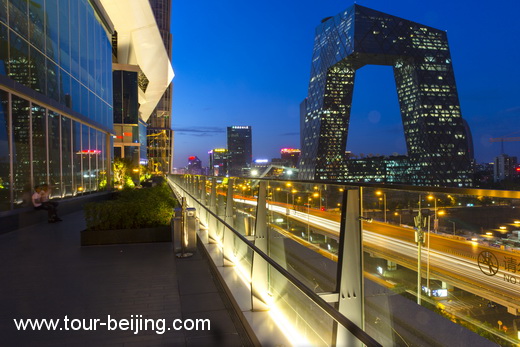 China Grill is one of the highest restaurants in Beijing and it is located on the 66th floor, Park Hyatt Beijing, No.2 Jianguomen Outer St., Chaoyang, Beijing where you can have a clear view of CBD. Recommended cuisines: Seafood platter, Appetizer bread, mashed Potatoes, Black pepper lobsters and more.
TaiKoo Li Sanlitun in the evening
It is dubbed as the capital's hottest fashion destination and the coolest place to hang out.
Taikoo Li Sanlitun is an open shopping district consisting of 19 low-density contemporary buildings. Sanlitun Taikoo Li itself represents a cultural gathering, so it's all about people: creating art and leading fashion as well as enjoying food, shopping and fun.
Add: Courtyard 19, Sanlitun Road, Sanlitun
Tel: 10-6417 6110 / 010-6417 7110
Web: www.taikoolisanlitun.com/en/
Opening Hours: 10am-10pm
Subway: take subway line 10 and get off at at the station of Tuanjiehu (团结湖), and exit from Exit A, 500 meters to the west; take Line 6 to Dongdaqiao Station (东大桥), exit B, 700 meters to the north.;take Line 2 to Dongsishitiao (东四十条)Station, exit from Exit C.
Bird's Nest & Water Cube
Beijing National Stadium, billed as "Bird's Nest", is located in the center of Beijing Olympic Park. It was the site for the opening and closing ceremony for the Olympic Games in 2008. It was the place where Usain Bolt of Jamaica broke the world record by winning both the 100 and 200 gold medals at the Olympics.
National Aquatics Center, popular known as "Water Cube", is located just beside Bird's Nest. It is "cube"" because of its semi-transparent "bubbles" spread out all over its surface with a shape very similar to the structure of "H2O".
Qianmen Street
"qianmen" literally means "Front Gate". Qianmen Street is located south of Qianmen Tower on the south of Tiananmen Square, hence the name of the street. The streets are dotted with neon at night with surreal atmosphere..
It is one of the last remnants of the business centers of old Beijing. It has been transformed into a modern commercial pedestrian street, the second walking street after Wangfujing Street in the downtown shopping district Beijing.
Tiananmen Square
Tiananmen Square is oft-lauded as the largest public square of this kind in the world, a geological center of Beijing as well as a political barometer of China. Apart from the historical events and myths related to the square, Tiananmen Square has much to offer in terms of the significant buildings and solemn red flag raising and lowering ceremonies.
Visiting Tiananmen Square at different times of a day, you get different views of the square – Sunrise View of Tiananmen Square, Sunset View of Tiananmen Square. The awesome view comes when the night falls with sparkling lights dotting the buildings, towers and the ground.
North of Tiananmen Square is Beijing Tiananmen Tower ( Gate of Heavenly Peace ) . The tower sits on the platform which is a building with double-eave roof and yellow-glazed tiles. It has five archways with the middle gate used as the passage for Ming and Qing emperors.
View Night of Forbidden City Turret and Moat
Though not allowed to enter Forbidden City for a night view, people still have the opportunity to see Forbidden City's night beauty. You may walk to the moat along on the northern wall of Forbidden City.
The night view of the turrets of Forbidden City is stunning with traditional buildings coated with lights.
The National Centre for the Performing Arts (NCPA)
It is one of the 4 most important landmarks in Beijing. The egg-shape theatre is absolutely worth having a glimpse. It was designed by French architect Paul Andreu. Construction started in December 2001 and the inaugural concert was held in December 2007.
The total cost for its construction is said to be over RMB 3 billion. The theatre has total 5473 seats with each seat costing about half million! The exterior of the theater is a titanium accented glass dome that is completely surrounded by a man-made lake. It just likes like an egg cut half.
Shichahai Night View
"Shichahai", literally "Ten Temple Lake", actually refers to a large historical area (147 hectares) including the present three lakes – Houhai (Back Lake), Qianhai (Front Lake) and Xihai (West Lake) in the north of the central Beijing.
There used to be 10 temples in the area, hence the name of "Shichahai". Some of the temples are still there, including Guangji Temple, Huitong Temple, Huoshen Temple, Guangfu Guan ( a taoist temple ), etc.
Acclaimed as "Historical and Cultural Scenic District" by the municipal government of Beijing in 1992, Shichahai has become one of the much-visited place equivalent of other highlights in Beijing such as Forbidden City, Temple of Heaven, Summer Palace and the Great Wall of China.
Shichahai is a place where modernity meets tradition – historical hutongs and courtyards; trendy bars and restaurants. It is also a scenic area with willow lined lakes – boating in summer and skating in winter.
Shichahai is a delight to explore either on foot or by bike. You'll need 2 0r 3 hours to savour the picturesque Shichahai which is often called "Houhai" by foreign visitors.
Shichahai in different seasons or even at different times of a day give you different views and activities. Shichahai at night is most attractive with great fun – neon lights, crowded and bustling, stuffed with all way of bars, restaurants, stalls and gifts shops. It is an entertaining place to browse. In a word, Shichahai is an ideal hangout on your Beijing night tour no matter.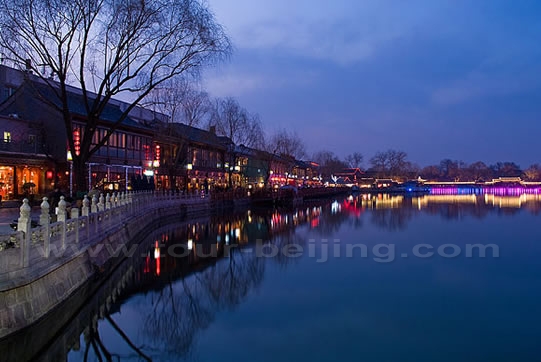 The Red-lantern Night View of Gui Jie
The over-1000 meter Guijie ( Gui Jie) is located between Dongzhimen Subway Station of Line 2 and Bexinqiao Subway Station of Line 5. So you may walk from Dongzhimen Station or Beixinqiao Station to the brilliant food street with Beixinqiao being closer.
Gui Jie ( Ghost Street 簋街) is an almost 24-hour food street with many eateries on both sides. It is quite popular with local Beijing people, expats, tourists, etc. Almost all the restaurants here are decorated in red – red store-front plaques, red lanterns and red lights with great vibe, a great place for friends, families and couples all to meet for dinner here.
The bright red lanterns hanging at the restaurant fronts and over sidewalks pose stunning views at night, an interesting iconic night view in Beijing.
Tip:  Hassle-free Beijing Guided Tours
If you don't want to go the do-it-yourself route and prefer the hassle-free escorted tours, here are some options for guided tours to Beijing:
Car Rental in Beijing
Beijing Day Tour
Beijing Tour Packages
Great Wall Tour
Beijing Winter Tour
Beijing Tours
China City Tours
China Tour
Further Readings
---
Best Time to Visit Beijing
How to plan a trip to Beijing
The Old World Charm in Beijing
Houhai Winter Ice Skating Rink
How to visit Shichahai
Sunset Over Houhai Lake in Beijing
The night view of Shichahai
Shichahai, a nice place to walk at night in Beijing
Top 10 Attractions in Beijing
How to Visit Forbidden City
How to Visit Temple of Heaven
How to Visit Summer Palace
How to Visit Ming Tombs
How to Visit the Great Wall of China
How to Visit Tiananmen Square
How to Visit Hutongs
How to Visit Olympic Sites
Top 10 Markets in Beijing
Top 10 Shopping Malls in Beijing
Beijing Shopping
Wangfujing Night Snack Street
Qianmen Commercial Street
Beijing Huguosi Street
Any questions, just drop a line.