Plan your Dalian tour? Dalian is the second largest city in Liaoning Province, in the northeast of China and the largest port in northern China as well as a major destination for Chinese tourists.
Compared to some ancient capital cities in China, Dalian is a young city with only an over100-year history. Dalian's scenic spots are in three major areas: the Downtown Area, the Binhai Road Area and the Xinghai Park Scenic Area. Visitors to the city are often impressed by its distinctly European feel.
No.1: Xinghai Square 星海广场
Xinghai Square, the largest square for public use in Dalian, is located to the north of Xinghai Bay. Xinghai Square covers a total area of 45,000 square meters. Its center looks like a star, with two White Marble Cloud Pillars, and 9 giant dings.
As night falls, lamps on the stone pillars lighten the main street. The lamps, every 20 meters each, are in the shape of the navigation light. For 10 days in late July early August, Xinghai Square holds the annual International Beer Festival.
Entrance Fee: free
Opening Hours: the whole day
Address: Xingwan (between Binhai West Road and Zhongshan Road), Shahekou District, Dalian
How to get there: take Light Rail No. 23 and 202, or Buses No. 16, 406, 711 or 801, and get off at Xinghai Exhibition Center
No.2: Laohutan Ocean Park (Tiger Beach Park) 老虎滩海洋公园
Laohutan Ocean Park is situated in the central part of the southern seashore of Dalian City. With a total area of 1,180,000 square meters and a coastline of more than 4,000 meters, Laohutan Ocean Park is the biggest lido in China.
Dalian Laohutan Ocean Park is a bright place of interest in Bincheng, with an annual tourist amount of more than 200 million. Laohutan Ocean Park is a morden ocean topic park not only showing the beach town scenery, but also for entertainment, science, shopping and culture.
Entrance Fee: CNY 220 (Peak); 190 (Low)
Addredd: 9 Mid-Binhai Road, Zhongshan District, Dalian
Opening Hours: 06:00-17:00
How to get there: take Buses No. 2, 4, 30, 403, 402 and 404 from the downtown area
No.3: Bangchuidao Scenic Area 棒棰岛
Bangchuidao Scenic Area is located in the east of the Binhai Road. about 9 kilometers away from the center of Dalian City. The area is shaped like a bangchui (an ancient club-shaped washing tool), hence its name.
Bangchuidao Scenic Area enjoys a temperate climate, thus is a perfect summer resort. Bangchuidao Scenic Area offers a diverse range of attractions both natural and manmade, including islets, scenic hills, cliffs, a beach resort, Bangchuidao Island and Bangchuidao Guesthouse.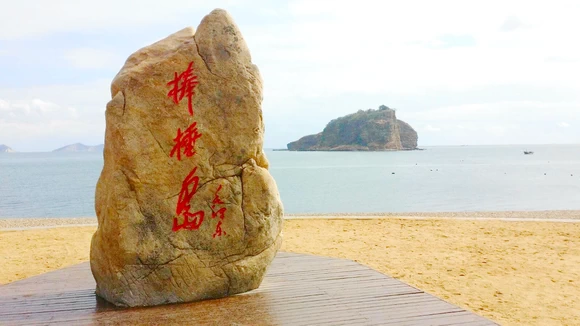 Entrance Fee: CNY 20
Opening Hours: 08:30-17:00
How to get there: take Bus No.712 from Youhao Square to Shan Ping Jie Station, then call a taxi (about 20 yuan).
No. 4: Sunasia Ocean World 圣亚海洋世界
Opened in 1994, Sun Asia Ocean World is the first modern amusement park of its kind in China which is located in Dalian. It has three aquariums, Ocean World, Polar World, and Coral World. Stretching over 118 meters in length, Sun Asia Ocean World will be a mind blowing experience amidst the marine creatures.
Being inside the tunnel, one would feel like an aquatic animal himself while observing different types of fish, sea turtles and sharks zooming past them. You can also go for a guided underwater tour of the aquatic environment by shelling out some extra bucks.
Entrance Fee: CNY 190
Address: No. 608-6-8, Zhongshan Road, Shahekou District, Dalian (500 meters west of Xinghai Square)
Opening Hours: 9:00-16:30 (Monday to Friday); 9:00-17:00 (Saturday and Sunday)
How to get there: take Buses No. 22, 23, 28, 406, 711 and 801 to the Sunasia Ocean World.
No. 5: Dalian Forest Zoo 大连森林动物园
Built in 1997 covering an area of 7.2 square kilometers, Dalian forest Zoo is an amazingly extensive animal kingdom. It is well-known for its high quality selection of species and wild raising.
There are six functional sections in the park: garden-like herbivorous animal section; tower-like lions and tigers section; crane-like chimpanzees and baboons section; the mountain-like bears section; the special Asian elephants section; and the natural protection section where pandas, smart squirrel monkeys, and fire-like flamingos reside. On top of the West Hill with sea level of 259.6 meters, you can oversee the entire forest and zoo area.
Entrance Fee: CNY 120
Address: 60 Yingchun Road, Xigang District, Dalian
Opening Hours: 08:00-16:30
How to get there: take Buses No. 5, 541 and 702 to the Dalian Forest Zoo; or call a taxi from the train station
No. 6: Binhai Road 滨海路
Dalian Binhai Road, which, originally built in 1970s as a combat road, became a premier tourist attraction of Dalian in 1980s. The uniqueness of Binhai Road lies in the fact that it boasts of the rare blend of mountain and the sea.
Binhai Road covers an area of 35 km bordering Xing Hai Square in the west and Dong Hai Park in the east. There are totally 12 major attractions along Beihai Road.
While passing through the road, you can also enjoy the clear and fresh air coming from the sea. Binhai road has already become a paradise for nature lovers and also a must watch attraction for all the tourists visiting the Dalian.
Entrance Fee: free
Opening Hours: the whole day
How to get there: There are four entrances for Binhai Road: Xinghai Square entrance, Fujiazhuang entrance, Laohu Beach entrance and Bangchuidao entrance, you can take a taxi to any entrance you like.
No. 7: Zhongshan Square 中山广场
Zhongshan Square in Dalian, is the most famous of the many squares in Dalian, originally designed by the Russians in the 19th century.
Zhongshan Square is 213 meters in diameter. Inside the five-lane round-about, there is a green zone and the paved area where people gather together to dance in summer evenings, participate in foreign language corners, or do other things.
Zhongshan Square is especially famous because of the several classical buildings located on the square, which were built during the first half of the 20th century by the Japanese.
Entrance Fee: free
Opening Hours: the whole day
Address: 552 Zhongshan Road, Zhongshan District, Dalian
How to get there: There are many buses to the Zhongshan Square, including Buses No. 7, 15, 16, 19, 23, 30, 405, 409, 701, 703, 706, 707, 708, 710 and 801.
No. 8: Dalian Natural History Museum
Dalian Natural History Museum is a leading natural museum in China. It displays fossils, animals and plants from western Liaoning area and other various places in the world.
The museum is a modern European-style building located in the seaside. The exhibition hall is mainly divided into four floors, with 12 theme exhibition halls, including earth, dinosaurs, Marine life, northeast forest animals, wetlands, species diversity, and western Liaoning paleontological fossils. The museum houses nearly 200,000 specimens, featuring Marine specimens and fossils.
Entrance Fee: free
Address: No. 40, Heishijiao Xicun Street, Shahekou District, Dalian (west of Xinghai Park)
Opening Hours: 9:00 – 16:30 ( closed on Monday)
No. 9 Russian Style Street 俄罗斯风情街
Russian Style Street is the oldest street in Dalian. The street comprises eight renovated Russian era buildings and six new buildings were constructed according to the given "Russian façades" to match the street's theme.
The old Russian buildings on both sides of this street were built more than 100 years ago, and they are still intact today. Walking all the way through the street, you feels like being in a European city street. Tourists who like to photograph old buildings should not miss it.
Address: 19 Tuanjie Street, Xigang District, Dalian
Opening Hours: the whole day
Entrance Fee: free
No.10 Japan- Russian Prison Site Museum 日俄监狱旧址博物馆
The former site of the Japan-Russia Prison is a historical attraction in Lushun, Dalian. The Japane-Russia Prison was originally built in 1902 by the Czarist Russia, and was expanded by the Japanese after the Russo-Japanese War.
This was the place the Japanese invaders imprisoned and mutilated Chinese patriots and international anti-war activists. Here you can see the complete and huge prison facilities, including cells, torture facilities and so on, to remind the history of humiliation, but also to remind the people not to forget the national humiliation.
Between 1942 and 1945 alone, more than 700 people were hanged and tortured to death here, so this hell on earth has become known as the "Auschwitz of the East".
Address: No. 139, Xiangyang Street, Lushun District, Dalian
Entrance Fee: free
Opening Hours : 9-16:30 (closed on Monday
Tip: Hassle-free Northeast China Escorted Tours
Don't want to go the do-it-yourself route? No worries, We at Tour Beijing have some options for Northeast China guided tours with English-speaking tour guides:
Dalian Tour
Dalian Cruise Port Day Tour
Dalian Car Rental with Driver
Dalian Tailor-Made Tour
Northeast China Tour
Harbin Tour
Harbin 3 Day Tour Package
Changchun Tour
Shenyang Tour
Dalian Tour
Dandong Tour
North Korea Tour
Northeast China Tour
Further Readings
---
Top Attractions in Northeast China
Top 10 Attractions in Harbin
Top 6 Things to Do in Heilongjiang
Top 10 Attractions in Shenyang
Top 10 Attractions in Dandong
Top 10 Attractions in Ji'an
Top 10 Attractions in Panjin
Top 10 Attractions in Dalian (Tips, Photos and Maps)
Best Time to Visit Harbin
Where to Stay in Harbin
Harbin West Railway Station
Top Things to Do in Winter in Harbin
Harbin Ice and Snow Happy Valley
Harbin Ice and Snow World
Harbin Sun Island International Snow Sculpture Art Expo
Harbin Winter Swimming
Madieer Popsicles in Harbin
Harbin Jihua Ski Resort
Suan Cai Jiaozi – New Year's Soul in Dongbei
What to see in Harbin, things to do in Harbin
China Snow Town
Scenic Drive from Harbin to China Snow Town
Shuttle Bus from Harbin to China Snow Town
Harbin – Yabuli – China Snow Town Shuttle Bus
Sunrise Glow over China Snow Village
Night View of China Snow Village
Qiqihar Taxi: Qiqihar Taxi Fares, Tips and Phones
Mudanjiang Taxi: Mudanjiang Taxi Fares, Tips and phones
Harbin Taxi: Harbin Taxi Fares, Tips and Phone
Yanji Taxi: Yanji Taxi Fares, Tips and Phones
Jilin Taxi: Jilin Taxi Fares, Tips and Phones
Changchun Taxi: Changchun Taxi Fares, Tips and Phones
Dandong Taxi: Dandong Taxi Fares, Tips and Phones
Shenyang Taxi: Shenyang Taxi Fares, Tips and Phones
Any questions, just drop a line.