Plan your Suzhou tour? You cannot afford to miss the stroll along Pingjiang Road (平江路) in Suzhou! The name "Pingjiang Road" originated from the old city name of Suzhou – "Pingjiang".
This 800-year old street is the best preserved ancient "water lane" ( in contrast with "water town") in Suzhou. It is a 1600 meters long street paralleling a north-south canal, starting from East Beita Road (北塔东路) in the north to East Ganjiag Road (干将东路) in the south.
How to Get to Pingjiang Road
People often choose to walk along Pingjiang Road after visiting either the Humble Administrator's Garden (拙政园) or the Lion Forest Garden (狮子林) since Pingjiang Road is located just a 10 minute-walk from both of them.
Google Maps recognizes "Pingjiang Road" as "Ping Jiang Lu". Please note that when you google "Ping Jiang Lu", there appears another "Ping Jiang Lu" which is far away from the Lion Grove Garden, just forget it and try to zoom out the "Ping Jiang Lu" close to the Lion Grove Garden.
Let's say if you are going to visit Pingjiang Road after your visiting the Lion Grove Garden, you exit from Lion Grove Garden, then you walk across Yuanlin Road (园林路), to the east, and then come to the street named "Pingjiang Road" running parallel to Yuanlin Road to the west. You walk down south along Pingjiang Road and across Beita Road further to the pedestrian section of Pingjiang Road (about 1600m long from north to south).
What do you expect from Ping Jiang Lu?
You cannot find a better place in China in which modernity and tradition match hand in hand. The 1600-meter cobblestone path runs alongside with a canal with willows dipping their branches in the water, cute little bridges that cross and all flanked by old white-washed local houses. The paddle boats rows on the canal while people stroll along the cobblestone path.
There are eccentric cafes, quirky postcard shops, beautiful restaurants, lovely jewelry shops and roadside food vendors. people are sitting at wonderful tea houses, drinking at trendy cafes, tasting food at stalls, or just looking at the windows of stylish shops.
If you are tired of the makeover studios and hordes of tourists, duck down some of the back lanes or side streets that branch off from the main cobblestone path for a glimpse of the slow-paced local life. What a romantic place to spend the day!
Enquiry Call: 69163907
Emergency Call: 67272869
Complaint Call: 69163907
Entrance: Free of Charge
Virtual Tour of Pingjiang Road
Follow me to walk along the Pingjiang Road (Ping Jiang Lu)
Walking from the north start of Pingjiang Road (a 1600m obblestone path ) with the canal on the right side. There is a road direction sign standing at the northern entry.
When you walk on the stone paved Ping Jiang Lu, the most amazing thing is that on your right side, you will be accompanied by the canal flanked one side by the traditional houses of white walls and black tiles. The northern entrance is also the dock for rowing boats. You may pay to cruise on the canal for a while instead of walking on the cobblestone path.
A small section of the cobblestone path is lined with traditional white-washed houses on its two sides. That's to say not all the length of Pingjiang Road is paralleled by the canal.
For most of the Pingjiang Road, you will find that Pingjiang Road and its accompanying canal are sandwiched by the houses along the way.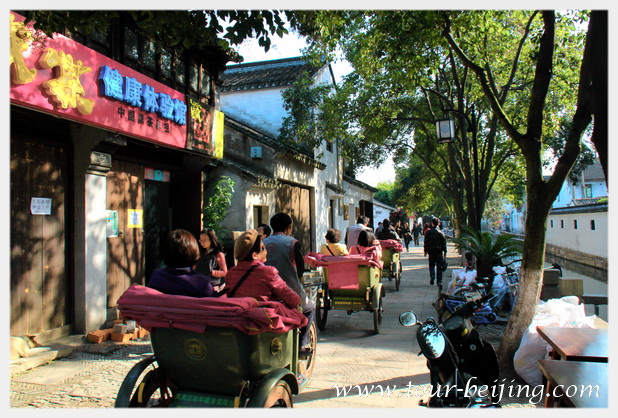 Tip: Hassle-free Jiangsu Guided Tours
If you don't want to do a self-guided tour and prefer the hassle-free escorted tours, here are some options for organized tours to Jiangsu Province:
Suzhou Tour
Nanjing Tour
Jiangsu Tour
Further Readings
Top 10 Attractions in Suzhou
How to Visit Tongli Water Town
How to Visit Zhouzhuang Water Town
How to Visit Pingjiang Road in Suzhou
How to Visit The Garden of the Master of the Nets
How to visit Humble Administrator's Garden
How to Visit Lion Grove Garden
How to Visit Canglang Pavilion
How to Visit Guanqian Street in Suzhou
4 Amazing Short Trip Ideas from Shanghai
Wuzhen Pictures – Wuzhen Photo Gallery
Zhouzhuang Pictures – Zhouzhuang Photo Gallery
Top 10 Attractions in Nanjing
How to Visit Nanjing Massacre Memorial Hall
How to Visit Nanjing Confucius Temple-The Qinhuai River Scenic Area
How to Visit Zhonghua Gate Nanjing
How to Visit Nanjing Yangtze River Bridge
How to Visit Linggu Temple Scenic Area
Sun Yat-sen Mausoleum Music Stage
How to Visit Dr. Sun Yat-sen's Mausoleum
How to Visit Ming Xiaoling Mausoleum
How to Visit Nanjing Presidential Palace
Nanjing South Railway Station
Nanjing Taxi: Nanjing Taxi Fares, Tips and Phones
Suzhou Railway Station
Suzhou Taxi: Suzhou Taxi Fares, Tips and Phones
Any questions, just drop a line.