In the modern society, people find themselves isolated, human and nature isolated, modern and traditional isolated. But people are born with the inherent pursuit of their lost heaven in the distance by returning to the past, to the distant human society and nature – mountains, villages, fields, blue sky…
The Top 10 Most Beautiful Villages in China listed here will extend your heart and soul traveling along your dreams.
1. Hongcun Village 安徽宏村
Hongcun Village and Xidi Village are located at the foot of the southwest side of Mt. Huangshan. Wandering along these two ancient village, you will find traditional Hui-style houses, ancestral temples, academies of classical learning, stone archways, white walls and grey tiles, beautifully paned windows, projecting horse-head walls, and stone slab bridge.
Check out the following links for more information:
Hongcun Village
Best Time to Visit Huangshan
Top 10 Attractions in Huangshan
3 Day Huangshan & Hongcun Village Tour 
Huangshang Tour
Besides, the carving on stones, bricks and wood is the most renowned. Tourists can appreciate these exquisite carvings on door frames, lattice walls, columns and beams in the halls.
2. Cuandixia Village 北京爨底下村
Cuandixia Village is located between Shuangshitou Village and Baiyu Village under the jurisdiction of Zhaitang Town in Mentougou District in Beijing. Lying about 90km west of Beijing, Cuandinxia Village is an ancient village of over 400 years built in Ming and Qing Dynsties with an area of 5.3 square km.
Check out the following links for more information:
Cuandixia Village Photos
Cuandixia Village, Cuandixia Cun Mentougou Beijing
Beijing Cuandixia Ancient Village Day Tour
There are about 74 courtyards with 689 rooms, most of which were built in late Qing Dynasties. Many of the local villagers, especially the young people have left the village for the development in the big cities. But there are still approxi. 29 households with 93 people living in the village. Most of the people in the village now live on the rural tourism offering accommodation and dining for the visitors.
3. Jiaju Tibetan Village in Sichuan 四川丹巴甲居藏寨
Jiaju Tibetan Village, a typical Jiarong Tibetan village, about 10 km north of the downtown Danba. There are a slew of Jiarong Tibetan villages in the surrounding mountainous areas. Jiaju Tibetan Village (甲居藏寨) with 270 Tibetan houses is oft-lauded as the most grandeur and beautiful.
Check out the following links for more information:
Jiarong Tibetan Blockhouses
Top 10 Arreactions in Sichuan
Sichuan Tour
Jiarong Tibetans ( Gyarong Tibetans 嘉绒藏族) are one of the branches of the ethnic Tibetans in Kham. Today most of the Jiarong Tibetans live in Danba (Rongtrak), Jinchuan, Xiaojin (Tsenlha), Heshui (Trochu), Ma'erkang (Barkham), Wenchuan (Lunggu) and Kangding (Dartsedo). Except for a small number of Jiarong Tibetans living nomadic lifestyle on the high plateau ( over 2500m ), most Jiarong Tibetans are farmers doing barley farming between 1800m and 2500m with fertile land and much more temperate climate.
4. Tulou Clusters 福建土楼建筑群及村落
Fujian Tulou are largely composed of the clay buildings in the valleges in Yongding County and Nanjing County in the southwest Fujian Province.
Check out the following links for more information:
Jiqinglou, Chuxi Tulou Cluster
Chengqilou, Gaobei Tulou Cluster
Zhengchenglou, Hongkeng Tulou Cluster
Fujian Tour

The Nanjing Tulou Cluster boast of three parts – Tianluocheng Tulou Cluster, Yuchanglou and Taxia Village. Roughly Nanjing Tulou Cluster are about 160km west of Xiamen and take one and 2 and half hours' drive from Xiamen.
Tianluokeng Tulou Cluster are composed of 5 clay buildings, with a square tulou at the center and circled by 4 circular tulous, forming a pretty pattern of so called "four dishes with one soup".
5. Xijiang Qianhu Miao Villag 贵州西江千户苗寨
Xijiang Qianhu Miao Village is situated  southeast of Kaili City, 26km away from Guiyang, the capital city of Guizhou Province. There are about 1,000 households in the village, hence the name of Qianhu Miao Village (Qianhu means one thousand", the lareget Miao village in China as well as in the world. Now the village has 1288 households with a population of over 6,000.
Check out the following links for more information:
Xijiang 1000-Household Miao Village
Guizhou Tour
The village is perched on the slope in the valley with Baishui River running through. Over the past one thousand years, the local Miao farmers have cultivated large amount of terrced fields on the mountains, forming the most idyllic farmland. Xijiang Qianhu Miao Village is also famous for the stilt house (Diaojiao House), built on the stilts of different heights, mostly by the river or on slopes or mountain areas.
6. Wuyuan Villages in Jiangxi 江西婺源村落
Wuyuan is located in the northeast of Jiangxi Province, abutting the borders of Anhui Province and Zhejiang Province. Wuyuan is reputed as the most beautiful village in China for its natural sights and ancient Hui-sttle buildings.
Check out the following links for more information:
Top 10 Attractions in Jiangxi
Jiangxi Tour
The best time to visit Wuyuan is spring, especially April, when the mountains flames with azaleas, the slopes dotted with green tea trees and the fields full of yellow rapeseed flower.
7. Tuwa Village in Xinjiang 新疆喀纳斯图瓦村落
Kanas Lake is located 855km northeast of Urumqi, the capital city of Xinjiang. Tuwa Village is located in Kanas Lake Burjin County in Xinjiang Uyghur Autonomous Region.
Tuwa Village is lauded as the Most Beautiful Village in China. It is hidden in the nature, and often forgotten by the world.
Check out the following links for more informatiopn:
Burjin – Kanas Lake – Jiadengyu
Top 10 Places to Visit in Xinjiang
Xinjiang Tour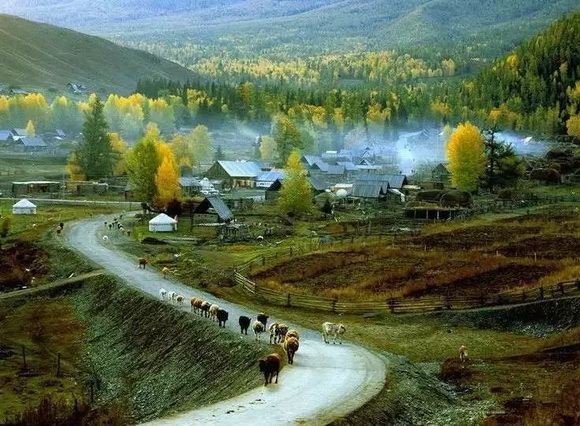 Tuwa people are said be a branch of the Mongolians. Experts are divided with regard to the history of the Tuwa people. But the way the Tuwa people say, they are descendants of those of Genghis Khan's troops that got left behind on the Mongolian western expedition.
The best time to visit Tuwa Village is Spring and Autumn. Especially the antumn of Tuwa Village is like a fairyland.
8. Qingkou Hani Village 元阳箐口哈尼民俗村
Qingkou Hani Folk Village is located 6 km to the south of Xinjie Town, the old county seat of Yuanyang, in Yunnan Province. It is perched halfway up the mountain and covers an area of about 5 hectares. There are 150 households with more than 800 people in the village.
Check out the links below for more information:
Top 10 Places in Yunnan
Yuanyang Travel Guide
Lijiang Yunnan Tour
The village has a dense forest with chirping birds, full of strong flavor of the original countryside. The village features the Hani terraced field culture, namely the four combination of forest, village, terraced field and river.
The magnificent rice Terraces are a masterpiece of the brilliant Hani minorities, who has lived in this remarkable landscape for over 1300 years.
9. Zhuge Bagua Village in Zhejiang 浙江诸葛八卦村
About 170 km southwest of Hangzhou there is an over-700-year-old village laid out in the form of Yin and Yang, and Eight Trigrams. The village is known as "Zhuge Bagua Village". Bagua literally means "Eight Trirgams" while Zhuge here refers to Zhuge Liang.
Check out the following links for more information:
How to Get to Zhuge Bagua Village from Hangzhou
Zhejiang Tour
Zhuge Liang (181 – 234) was a chancellor of the state of Shu Han during the Three Kingdoms period (AD 220–280). He is regarded as the most accomplished strategist of his era, often compared to Sun Tzu, the author of The Art of War. He has become synonymous with intelligence and strategy in Chinese culture.
10. Peitian Ancient Village 福建培田古村
The Peitian Village is located in Liancheng County of Longyan City in the west of Fujian. It is about 100km northeast of Longyan and 300km northeast of Xiamen. The Ming and Qing building complex has been well preserved with a history of over 800 years.
Check out my another article Peitian Village, Ancient Peitian Village in Fujian for more information.
The ancient building cluster includes 30 magnificent houses, 21 ancestral halls, 6 academies of classical learning, 2 memorial archways, and a 1000- meter long ancient street paved with cobblestones.
Hassle-free China Guided Tours
If you don't want to go the do-it-yourself route and prefer the hassle-free escorted tours, here are some options for China guided tours:
Top China Private Tours
Top China Small Group Tours
Top China Train Tour
Top China Yangtze Cruise Tour
Top China Silk Road Tour
Further Readings
---
Top 10 Places to Visit in China
10 Fascinating Facts about China
How to Pack for your China Trip
Plugs and Sockets in China
China Tour Packages
Learning Useful Chinese Phrases for Travellers
How to Recognise Chinese Currency
Top 10 Travel Experiences in China
10 Most Scenic Drives in China
Top 10 Most Beautiful Mountains in China
Top 10 Most Beautiful Lakes in China
Top 10 Most Beautiful Grasslands in China
Top 10 Most Beautiful Rivers in China
Top 10 most beautiful waterfalls in China
Top 10 Places to See Autumn Leaves in China
Top 10 Most Beautiful Villages in China
Top 10 Old Towns in China
Top 10 Most Beautiful Museums in China
Top 10 China Tourist Scams
Top 10 Souvenirs in China
Any questions, just drop a line.