Plan your Beijing night tour? In addition to the Top 10 Things to Do in Beijing at Night,  the venue for National Centre for Performing Arts itself is worth your having a glimpse on your first trip to Beijing, also a photo op for photography enthusiasts. It is a trendy and avant-garde landmark designed by French architect Paul Andreu.
The centre is an ellipsoid dome of titanium and glass surrounded by an artificial lake, like a huge egg or water drop floating on water. It is located to the west of Tiananmen Square and the Great Hall of the People, and close to the Forbidden City.
The huge dome, the artificial lake and the surrounding trees knit together harmoniously, making a comfortable contrast to the solemn and ancient buildings nearby.
On China national public holidays or other special important occasions, the huge egg will be illuminated based on two carefully designed flood light systems – Distant high-power and nearby low-power.
When the two kinds of flood lights go into effect,  the ellipsoid dome and the glass in the middle will be brightly illuminated, changing colours in about very 20 minutes and creating a surreal dream world.
So if you are lucky to travel Beijing during China National Day ( Oct 1 -7 ) , Labour Day ( May 1-3) or other important occasions, you will have the opportunity to see the huge dome flooded in dream-like lights, giving you a lot of imagination.
But it is still worth your visit if you come to the National Centre for the Performing Arts without the chance to see the  illuminated ellipsoid dome. In a fine day, get up early to catch the sunrise or come here for the sunset over the huge dome, you will see a golden shell floating on the lake.
There are two recognized good positions to shoot the night views of the National Centre for Performing Arts – Northeast and North ( the main entrance ).
Pictures Taken to the Northeast of the Huge Ellipsoid Dome During Sunset:
Pictures Taken to the Northeast of the Huge Ellipsoid Dome After Sunset:
Pictures Taken to the North of the Huge Ellipsoid Dome After Sunset: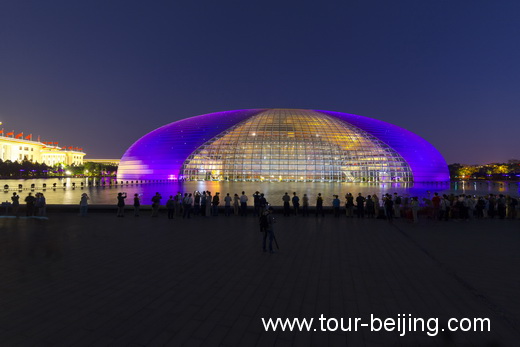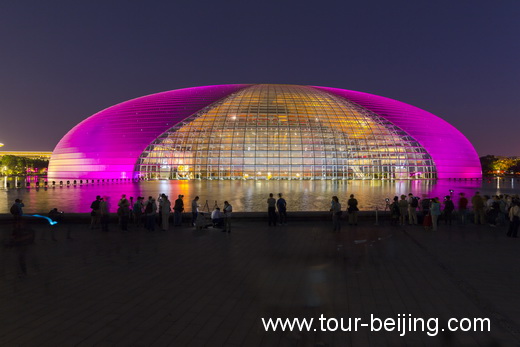 Further Reading about the sites near NCPA
The timetable for flag raisin and lowering
Night View of Tiananmen Square
Sunset View from Tiananmen Square
The Central Axis of Beijing
How to Watch Sunrise over Tiananmen Square
Tips for Visiting Chairman Mao Memorial Hall
Night View of National Centre for the Performing Arts (China)
Qianmen Street
Tips for Visiting National Museum Of China
How to visit Forbidden City
Tip: Hassle-free Beijing Guided Tours
If you don't want to go the do-it-yourself route and prefer the hassle-free escorted tours, here are some options for Beijing guided tours:
Beijing Day Tour
Beijing Tour Packages
Beijing Winter Tour
Beijing Autumn Tour
Great Wall Tour
Car Rental in Beijing
Beijing Tours
China City Tours
China Tour
Further Readings
---
Best Time to Visit Beijing
How to plan a trip to Beijing
Top 10 Attractions in Beijing
How to Visit Forbidden City
How to Visit Temple of Heaven
How to Visit Summer Palace
How to Visit Ming Tombs
How to Visit the Great Wall of China
How to Visit Tiananmen Square
How to Visit Hutongs
How to Visit Olympic Sites
Top 10 Markets in Beijing
Top 10 Shopping Malls in Beijing
Beijing Shopping
Wangfujing Walking Street
Qianmen Commercial Street
Gui Jie ( Ghost Street) Food Street
Any questions, just drop a line.