Plan your Great Wall Tour ? If you are a senior traveller,  you may wonder which part of the Great Wall around Beijing is most suitable for the senior tourists ( not wheelchair users ) .
For wheelchair users, please check out: The Most Wheelchair-Friendly Great Wall to Visit.
Basically,  I recommend Mutianyu Great Wall simply because it has several advantages over some other sections:
( PS:  For wheelchair users,  we highly recommend visiting Badaling Great Wall)
1. Less crowded: Mutianyu Great Wall is less crowded than Badaling Great Wall;
2. Cable Car & Chairlift: The cable car could directly send you to a hill slope station where you can easily walk to the platform below the Wall.
3. Less steep:  The undulating Mutianyu Great Wall is less steep than Badaling Great Wall, Juyongguan Great Wall and Jinshanling Great Wall.
How to Hike Mutianyu Great Wall
After buying the entry ticket, you should take the shuttle bus behind the ticket office. You are required to buy a 10 yuan ferry shuttle bus. The ferry Shuttle Buses  are  2.5km  away from the Starting Points for the Mutianyu Great Wall.
When you get off the ferry shuttle bus, you need to walk along an accessible stone path (600 meters long ) leading up first to the entrance area for chairlift ( or toboggan down ), second to the walking path up to the Wall and last to the area for cable car up to the Wall respectively.
The Cable Car Station is at the end of the 600-meter stone slope. That said, there are three ways to go up to Mutianyu Great Wall.
1) Taking a chairlift to the Great Wall – to the 6th Watch Tower ( or take a toboggan down).
2) Walking up the Great Wall along the stone steps (like a mountain hike – 30 minute hike ) – to the 10th or 8th Watch Tower
3) Taking a cable car up to the Great Wall – to the 14th Watch Tower
Click the Map of Mutianyu Great Wall for more information.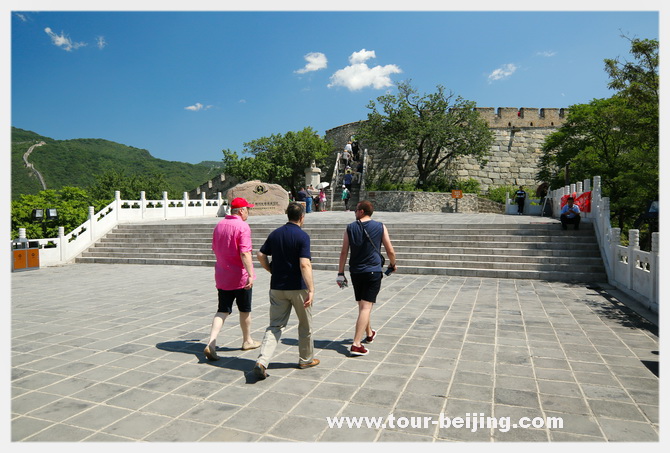 Mutianyu Great Wall has 20 restored towers dotted on the wall snaking the ridge for about 3000 meters. The watch towers at the Mutianyu Great Wall are distributed at short intervals.
Price Information:
Entrance Fee Adults: 45 yuan ( 25yuan if you have valid student card)
Children between 1.2 meters and 1.4 meters in height: 25 yuan
Children less than 1.2 meters in height are free of charge
Cable Car:100 yuan(single way ); 120 yuan ( return )
Chairlift + Slide: 120 yuan ( 100 yuan for single )
Ferry Shuttle Bus: 15 yuan
Opening Hours:
April to October: 8:00 -17:00
November to March: 8:30-16:30
Tip: Hassle-free Beijing Guided Tours
If you don't want to go the do-it-yourself route and prefer the hassle-free escorted tours, here are some options for Beijing guided tours:
Beijing Day Tour
Beijing Tour Packages
Beijing Winter Tour
Beijing Autumn Tour
Great Wall Tour
Car Rental in Beijing
Beijing Tours
China City Tours
China Tour
Further Readings
---
Best Time to Visit Beijing
How to plan a trip to Beijing
Top 10 Attractions in Beijing
How to Visit Forbidden City
How to Visit Temple of Heaven
How to Visit Summer Palace
How to Visit Ming Tombs
How to Visit the Great Wall of China
How to Visit Tiananmen Square
How to Visit Hutongs
How to Visit Olympic Sites
Top 10 Markets in Beijing
Top 10 Shopping Malls in Beijing
Beijing Shopping
Wangfujing Walking Street
Qianmen Commercial Street
Gui Jie ( Ghost Street) Food Street
Any questions, just drop a line.