by
Plan your Beijing city tour? The National Museum of China may be not a must do in Beijing if you only have 2 or 3 days to stick around. But if you're here for quite a few days, or you have finished the so-called bucket list, this huge museum is perfect for you no matter you are a history buff or not.
Though not a universal museum like the British Museum, Louvre, Hermitage, or Smithsonian, but as a national museum, the National Museum of China is also top on the list, one of the five or six greatest museums in the world.
It is a grand museum with multiple floors of exhibition halls. The massive museum comprises mainly two halls showcasing permanent exhibits – "Ancient China " at basement level and "The Road to Rejuvenation" near the entrance, plus a few temporary galleries on upper floors some of which you have to pay entry fees to enter.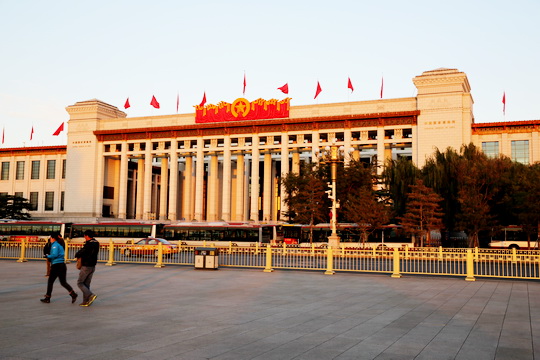 In the basement you can walk through over 5000 years of history, from stone age artifacts to Zhou bronzes, Tang ceramics, Yuan embroidery, Ming pottery, Qing Dynasty Culture and much more.
The "Road to Rejuvenation" displays the exhibits and artifacts which provides an authoritative view of the last 100 plus years history.
Its location
The museum is located on the east side of Tian 'anmen Square, 16 Dongchang 'an Street, Dongcheng District, Beijing.

Its proximity to: Tian 'anmen Square (300m), Qianmen Street (800m), Dashilan (1.2km), Forbidden City (1.5km), Jingshan Park (2.3km), Beihai Park (2.7km), Temple of Heaven (2.7km).

Open Hours, Tickets and Booking
1. The opening hours are from 9:00 to 17:00 every day (no admission at 16:00). The museum will be closed on Mondays (except holidays), and the night sessions will be cancelled temporarily.
2. The daily visit limit is 8000 people, and all visitors must book online. before 4:00 pm each day, you can make a booking which can be valid for 7 days. The group reservation and on-site reservation are not accepted.
Online Ticket Booking ( Now only in Chinese)
3. There are three time periods for visitors : 2000 people from 9:00 to 10:00, 3500 people from 10:00 to 13:30, 2500 people from 13:30 to 15:30, until the quota is full.
4. During the opening period of limited booking, visitors are required to check their ID card, show their health code in real time (they can also apply for the health code of the same day in advance through the Beijing Health Treasure mini-program) and accept health monitoring. They can only enter the museum if there is no abnormality.
5. During the opening period of limited booking, manual interpretation service will be suspended, and visitors shall wear masks correctly throughout the exhibition and observe the exhibition in a civilized and orderly manner.
Travel Tips
1.Show your passport at the ticketing office to get your free ticket;
2. A lot of security and your belongings will be checked. If you bring a backpack you have to deposit it at the cloakroom for 10 yuan;
3. Signage is in Mandarin and English, easy to guide you inside the huge building;
4. Wearing a pair of comfy sports shoes. Prepare for some stroll and it is a huge layout;
5. 3-4 hour is needed to cover the two major halls – "Ancient China" and "the Road to Rejuvenation";
6. Food and beverage outlets are orderly laid out inside the museum and a nice cafe on the first floor where you can also have soup and sandwich for a reasonable price;
7. WiFi only available when you sit down and buy a cup of coffee in the coffee shop and they give you the access;
8. Gift shops are dotted around the building with a great variety of quality products and souvenirs;
9. Not all galleries have English translations.
10. For exhibitions where photography is allowed, do not use flash, selfie stick or foot stand;
11. The museum lacks interesting activities for Children;
12. Electric wheelchairs and elderly mobility vehicles are not allowed in the museum;
13. Visit Hotline: 010-65116400 (9:00-16:00)
Complaint Hotline: 010-65116188 (9:00-16:00)
14. Official Website of National Museum of China: http://en.chnmuseum.cn/
Add On
参观中国国家博物馆小贴士
How to visit Tiananmen Square
How to Visit Chairman Mao Memorial Hall
How to Watch the Sunrise on Tiananmen Square
Tip: Hassle-free Beijing Guided Tours
If you don't want to go the do-it-yourself route and prefer the hassle-free escorted tours, here are some options for guided tours to Beijing:
Car Rental in Beijing
Beijing Day Tour
Beijing Tour Packages
Beijing Winter Tour
Great Wall Tour
Beijing Tours
China City Tours
China Tour
Further Readings
__________________
Forbidden City Travel Tips – The Palace Museum Travel Tips
Tips for visiting Summer Palace
Tips for Visiting the Temple of Heaven
Tips for Visiting the Great Wall of China around Beijing
How to Visit Ming Tombs in Beijing
Top 10 Shopping Malls in Beijing
Any questions, just drop a line.
Tags: How to Books a ticket for National Museum of China, How to Visit National Musuem of China