by
Plan your Beijing city tour? The National Museum of China is not a must do in Beijing if you only have 2 or 3 days to stick around. But if you're here for a week, or you have finished the so-called bucket list, this huge museum is perfect for you no matter you are a history buff or not.
Though not a universal museum like the British Museum, Louvre, Hermitage, or Smithsonian, as a national museum, the National Museum of China is also top on the list, one of the five or six greatest museums in the world.
It is a grand museum with multiple floors of exhibition halls. The massive museum comprises mainly two halls showcasing permanent exhibits – "Ancient China " at basement level and "The Road to Rejuvenation""near the entrance, plus a few temporary galleries on upper floors some of which you have to pay entry fees to enter.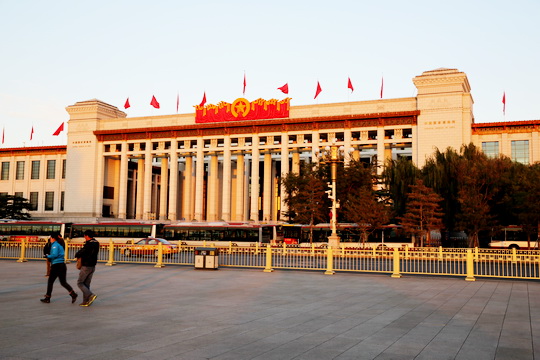 In the basement you can walk through over 5000 years of history, from stone age artifacts to Zhou bronzes, Tang ceramics, Yuan embroidery, Ming pottery, Qing Dynasty Culture and much more.
The "Road to Rejuvenation" displays the exhibits and artifacts which provides an authoritative view of the last 100 plus years history.

Tips
The museum is located on the east edge of Tian'amen Square. Taking Subway Line 1 and get off at Tian'amen East, and exit D.
Show your passport at the ticketing office to get your free ticket. Foreigners get their free tickets on the right ticket booth, and locals on the left side.
The museum is open at 9 am (Closed on Mondays). Go there early before the crowd floods the entrance. Free ticketing till 3:30pm and no entry starting from 4:00pm and closed at 5:00pm. Daily admittance is limited.
A lot of security and your belongings will be checked. If you bring a backpack you have to deposit it at the cloakroom for 10 yuan.
Signage is in Mandarin and English, easy to guide you inside the huge building.
3-4 hour is needed to cover the two major halls – "Ancient China" and "the Road to Rejuvenation".
"Ancient China": Permanent display. Venue: Galleries N20-N25, S15-S18, S20
"Road to Rejuvenation": Permanent exhibition. Venue: North Galleries N1 – N4.
Wearing a pair of comfy sports shoes. Prepare for some stroll and it is a huge layout.
Food and beverage outlets are orderly laid out inside the museum. nice cafe on the first floor where you can also have soup and sandwich for a reasonable price.
WiFi only available when you sit down and buy a cup of coffee in the coffee shop and they give you the access.
Gift shops are dotted around the building with a great variety of quality products and souvenirs.
Not all galleries have English translations.
The museum lacks interesting activities for Children.
You may rent an audio guide for 30 RMB by giving cash 100RMB deposit and your passport.
Official Website of National Museum of China: http://en.chnmuseum.cn/
Add On
How to visit Tiananmen Square
How to Visit Chairman Mao Memorial Hall
How to Watch the Sunrise on Tiananmen Square
Further Readings
__________________
Forbidden City Travel Tips – The Palace Museum Travel Tips
Tips for visiting Summer Palace
Tips for Visiting the Temple of Heaven
Tips for Visiting the Great Wall of China around Beijing
How to Visit Ming Tombs in Beijing
Top 10 Shopping Malls in Beijing
Any questions, just drop a line.
Tags: How to Books a ticket for National Museum of China, How to Visit National Musuem of China