by
The National Centre for the Performing Arts (NCPA), is one of the 4 most important landmarks in Beijing. The other three are China CCTV Tower, Water Cube (Beijing National Aquatics Center) and Bird's Nest (National Stadium).
If you are interested in modern contemporary architecture, the egg-shape theatre is absolutely worth having a glimpse.
Tip 1: ABC of NCPA
Its designer:
It was designed by French architect Paul Andreu. Construction started in December 2001 and the inaugural concert was held in December 2007.
Total Cost:
The total cost for its construction is said to be over RMB 3 billion. The theatre has total 5473 seats with each seat costing about half million!
Exterior
The exterior of the theater is a titanium accented glass dome that is completely surrounded by a man-made lake. It just likes like an egg cut half.
Interior
Inside there are 4 major performing halls:
The Opera Hall in the miidle is used for operas, ballet, and dances with seats 2416;
The Music Hall in the east side accommodates 2,017 seats;
The Theater Hall in the west side is functioned for Chinese traditional plays and the Beijing opera with 1040 seats.; Multi functional Hall in the south has 140 seats
80-meter Corridor
A 80-meter long underwater corridor connecting the north entrance to Olive Hall of the main building of National Centre for the Performing Arts.
Olive Hall
Visitors come to Olive Hall at the end of the corridor from the entrance. From the Olive Hall, people start to take elevator up to visi the three major halls – The Opera Hall, The Theatre Hall and The Music Hall.
Ticket Selling
70 percent of the tickets would be sold at low price for ordinary citizens, while 10% of the tickets would be sold at relatively expensive prices for separate market segments
Management Cost
The 60% of annual operational cost needed to be subsidized by the government offered by the central government and the Beijing municipal government.
Ticketing selling hours
The box office of the National Centre for the Performing Arts is located at the north entrance of centre. It is open between 9:30 a.m. to 7:30 p.m. every day. Entrance Ticket for Visiting only
Ticket Fee: RMB 30 per person
Tip 2 How to get there
National Centre for the Performing Arts (China)is easily accessible either by bus or subway.
Address is: No. 2, West Chang'an Avenue, Xicheng District, Beijing, 100031
Take subway and get off at (Exit C) on Beijing Subway Line 1
Bus routes 1 , 4 , 10 , 20 , 37 , 52 , 726 , 728 and 802 all stop at Tian'anmen West
Tip 03: How to plan your trip to National Grand Theatre
Visiting Time:
TUE – FRI: 13:30 – 17:00 ( stop selling tickets at 16:30)
SAT, SUN and Public Holidays: 09:30 – 17:00 (stop selling tickets at 16:30)
Monday: No Visiting

Pay RMB 30 to visit one of the most controversial architectures in China. You are suggested to spend 2 hours wandering in the ultra-modern building.
Your visit to the National Grand Theatre can be independent or combined with other attractions like Tiananmen Square and Forbidden City since it is just located one block west of Tiananmen Square.
If you are short of time, it is still advisable to ge there and take some beautiful photos of the floatng eggshell, which poses sharp contrast to the surrounding buildings.
Check out Night View of National Centre for the Performing Arts (China) for more information.
Tip 4: Virtual Tour of NCPA
The exterior of National Grand Theatre looks like an eggshell half cut.
Ticket office at the north entrance to National Grand Theatre.
The 80-meter corridor leading from the north entrance to Olive Hall.
From this Olive Hall, visitors take elevator up the first floor to begin their visit.
The Coffee Shop on the east side on the first floor Enter from the south gate to the National Grand Theatre.
Audio and video shop on the fourth Floor.
Posed on the top floor in the middle of the National Grand Theatre.
Tip 5: Night View of NCPA
If you are lucky to travel Beijing during China National Day ( Oct 1 -7 ) , Labour Day ( May 1-3) or other important occasions, you will have the opportunity to see the huge dome flooded in dream-like lights, giving you a lot of imagination.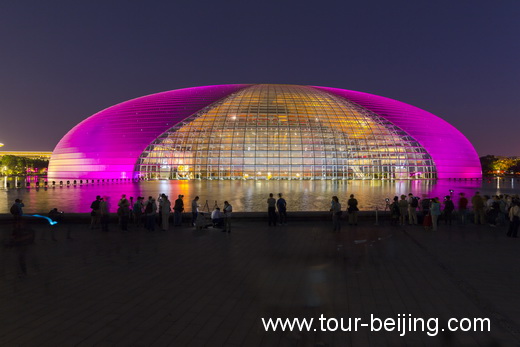 Further Reading about the sites near NCPA
The timetable for flag raisin and lowering
Night View of Tiananmen Square
Sunset View from Tiananmen Square
The Central Axis of Beijing
How to Watch Sunrise over Tiananmen Square
Tips for Visiting Chairman Mao Memorial Hall
Night View of National Centre for the Performing Arts (China)
Qianmen Street
Tips for Visiting National Museum Of China
How to visit Forbidden City
Tip: Hassle-free Beijing Guided Tours
If you don't want to go the do-it-yourself route and prefer the hassle-free escorted tours, here are some options for guided tours to Beijing:
Car Rental in Beijing
Beijing Day Tour
Beijing Tour Packages
Beijing Winter Tour
Great Wall Tour
Beijing Tours
China City Tours
China Tour
Further Readings
---
Best Time to Visit Beijing
How to plan a trip to Beijing
Top 10 Attractions in Beijing
Top 10 Tourist Scams Beijing
How to Visit Forbidden City
How to Visit Temple of Heaven
How to Visit Summer Palace
How to Visit Ming Tombs
How to Visit the Great Wall of China
How to Visit Tiananmen Square
How to Visit Hutongs
How to Visit Olympic Sites
Top 10 Markets in Beijing
Top 10 Shopping Malls in Beijing
Beijing Shopping
Wangfujing Night Snack Street
Qianmen Commercial Street
Beijing Huguosi Street
Any questions, just drop a line.
Tags: How to get to National Centre for the Performing Arts, Tips for visiting National Centre for the Performing Arts (China)