by
If you stop over at Beijing in the evening with 8-hour or more layover time, instead of being stuck in the airport, you may consider arranging Beijing layover tour either on your own or through a local travel agency in Beijing.
Here some useful travel tips for your Beijing layover tour in the evening:
China Visa and Leave Beijing Airport
1. Make sure you have China visa in order to leave Beijing airport.
Or make sure you are entitled to visa-free layover.
Note: The transit passengers from 53 countries with visas and plane tickets to a third country are allowed to transit through Beijing for a visa-free stay of up to 144 hours.  Click "Beijing Visa-free Transit Stay up to 144 Hours".
2. Leave Beijing Airport and Return
If You leave the airport, you will expect at least one hour for customs and immigration on the way out and another hour on the way back. So you need two hours for customs and immigration out and in.
Getting to the City Center of Beijing and Around
It takes about one hour get from Beijing airport to somewhere in the city core of Beijing or vice versa.  You have several tools of transportation to bring you to the city and back.
1) It is easy to hail a taxi from the official taxi stand in the airport, around the clock service ( Click Beijing Taxi for more information );
2) Very convenient to take the airport express train from the airport to the city and interchange the subway system ( Click "Beijing Airport Express Train" for more information);
3) Make use of the efficient airport shuttle service with plentiful travel routes ( Click "Beijing Airport Shuttle Bus" for more information );
4) Taking taxi and subway is the easy way to get around Beijing during your short layover ( Click "How to Take Subway in Beijing" );
5) To save travel time, you may consider booking in advance a car with driver for your Beijing layover tour (Click "Beijing Car Rental" for more information).
What to See in the evening
So don't be disappointed at your short evening layover and you still have much to see and do.
1) Tiananmen Square
 Most of the buildings in or surrounding Tiananmen Square will be lit up, turning the square a multi-colored wonderland. Check out: Night View of Tiananmen Square;
2) Beijing CBD & Guomao Area
Beijing CBD area refers to Beijing Central Business Center, a cluster of domestic  and international firms and the center of trade, finance, creativity industry and media in Beijing.It is also a primary area of  modern buildings and architectures.  
Check out the two links below:
A Good Place to See Beijing's changing skyline.
3) Bird's Nest & Water Cube
Beijing National Stadium, nicknamed "Bird's Nest", is located in the center of Beijing Olympic Park. It was the site for the opening and closing ceremony for the Olympic Games in 2008.
Check out the link: How to Visit Olympic Sites Beijing.
It was the place where Usain Bolt of Jamaica broke the world record by winning both the 100 and 200 gold medals at the Olympics.
Water Cube (Beijing National Aquatics Center)National Aquatics Center, nicknamed "Water Cube", is located in the Olympic Park, north of Beijing. It is dubbed "cube" because of its semi-transparent "bubbles" spread out all over its surface with a shape very similar to the structure of "H2O". It was the place where Michael Phelps of America makes history with 8 Gold Medals in the 2008 Olympic Games Beijing!
Night Life in Beijing
1) Shichahai Area ( Back Lake )
"Shichahai" literally means "Ten Temples Lake". The lake was once circled by 10 temples, hence the name. The lake was called "Haizi", a long and square lake in Yuan Dynasty (1271 -1368).
Later the lake was narrowed and divided into three connected lakes – Qianhai (Front Lake), Houhai (Back Lake) and Xihai (West lake) in Ming Dynasty (1368 -1644).
 Check out :The Old World Charm in Beijing and Night View of Shichahai. 
Shichahai Area has become a leisure and summer cooling place even since Qing Dynasty (1644 – 1911). Now Shichahai area is rife with bars and restaurants.
2) Ghost Street
For local dining and drinking, you are highly recommended to stroll Gui Jie ( Ghost Street 簋街), an almost 24-hour food street with numerous eateries on both sides. It is quite popular with local Beijing people, expats, tourists, etc .
Check out the link: Night View of Ghost Street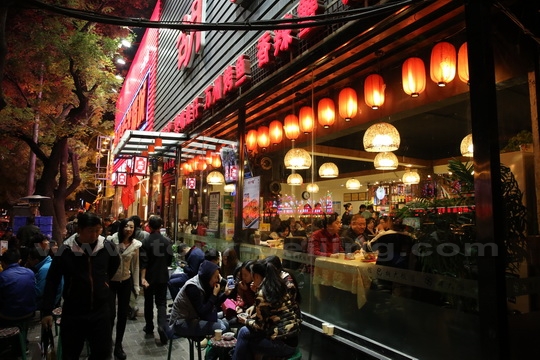 Almost all the restaurants here are decorated in red – red store-front plaques, red lanterns and red lights with great vibe, a great place for friends, families and couples all to meet for dinner here.
3) Qianmen Street
"Qianmen" literally means "Front Gate". Qiamen Street is located south of Qianmen Tower in south of Tiananmen Square, hence the name of the street.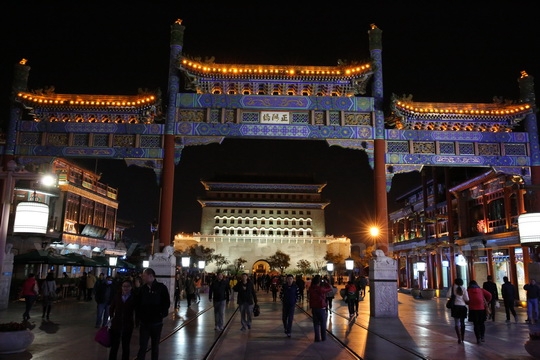 It lies on the north and south axis of Beijing. Qianmen Street runs south from Tiananmen Square, just along the Beijing central axis.
It is one of the last remnants of the business centers of old Beijing. It has been transformed into a modern commercial pedestrian street, the second walking street after Wangfujiang Street in the downtown shopping district Beijing.
Check out the link: Night View of Qianmen Street.
Credit Card Acceptance or Paying by Cash
Foreign credit cards are accepted in hotels, bars and some restaurants. To play safe, you are recommended to get some cash from ATMs at the airport for taxi, shuttle bus and more.  Click "How to use ATM in China" for more information.
You may also take some home-currency cash with you to exchange at the airport upon arrival for taxis or other small expenses, mainly in case that ATMs don't work or run out of money. You can cash your credit cards at the banks in the airport.
By the way, locals use mostly electronic payment with their phones, rarely seen in the west. As a foreigner, plan for some amount of cash for your short layover tour.
Some Extra Tips
Anywhere around the world where there are larger groups of humans, there will be more opportunities for scams. It seems the way of the Universe that these will be filled.
You should always be aware, do research and remember that if it seems off, or too good, it is probably a scam. This is true in Beijing China, the U.S., or any other place where humans exist.
Most foreign travelers feel very safe when traveling in Beijing. But that doesn't mean you should lower your vigilance on possible travel scams in Beijing.
Click " Top 10 Tourist Scams in Beijing " for more information.
Tip: Hassle-free Beijing Guided Tours
If you don't want to go the do-it-yourself route and prefer the hassle-free escorted tours, here are some options for Beijing guided tours:
Beijing Day Tour
Beijing Tour Packages
Beijing Winter Tour
Beijing Autumn Tour
Great Wall Tour
Car Rental in Beijing
Beijing Tours
China City Tours
China Tour
Further Readings
---
Best Time to Visit Beijing
How to plan a trip to Beijing
Top 10 Attractions in Beijing
How to Visit Forbidden City
How to Visit Temple of Heaven
How to Visit Summer Palace
How to Visit Ming Tombs
How to Visit the Great Wall of China
How to Visit Tiananmen Square
How to Visit Hutongs
How to Visit Olympic Sites
Top 10 Markets in Beijing
Top 10 Shopping Malls in Beijing
Beijing Shopping
Wangfujing Walking Street
Qianmen Commercial Street
Gui Jie ( Ghost Street) Food Street
Any questions, just drop a line.
Tags: How to Visit Beijing during my layover, How to Visit Beijing during my transit