Plan your Beijing tour? In the mega-city centre of Beijing, you may be a little bewildered as where to find a peaceful traffic-free place to do your daily walking, jogging, or running whether you're looking for a quick workout or a long jog to kill an entire morning, afternoon or evening.
Asking about running routes in Beijing, most probably you are advised to do your exercises in the city parks where you can dodge car exhaust, fast-moving scooters and random bicycles. The parks in Beijing are basically good options for running or jogging.
But today I'd like to introduce to you the 35-km magnificent greenway alongside the Second Ring Road, which offers the most runner-friendly running routes in the city core of Beijing.
The official name of the 35-km green road is known as "City Greenway Circling the Second Ring Road ", or simplified as "Beijing Greenway".
Beijing's Second Ring Road is a city core expressway free of traffic lights built on the former massive city wall which was moved away in 1960s ( See Beijing's Vanished City Wall ) to make way for building new roads and later for the ring road. Fortunately some sections of the city moats have been kept and renovated for the beautification of the city.
Now the local government has made great efforts building a green path alongside the Second Ring Road and some sections of the green path make use of the green roads along the two banks of the city moats circling the Second Ring Road.
The roads of of Beijing Greenway built along the two banks of the ancient city moats are my favourite running and walking routes. These city moat bank roads are incorporated into the greenway with mesmerizing views, especially in spring and autumn:  neatly cut roadside hedges,  weeping willow trees, peach flowers, bridges, ancient city wall relics and more.
The whole length of the greenway is well maintained – well decorated pavilions for short breaks, sentry boxes for security wardens and nearby toilets are proportionately arranged along the green path.
Of  the 35-km greenway, there are two major city moat bank roads – the North City Moat Bank Road and the South City Moat Road.
The North City Moat Bank Road is about 6 km long starting from Jishuitan (积水潭) on the west and Dongzhimen (东直门) on the east running parallel with the North Second Ring Road.
The South City Moat Road is about 13 km, much longer than the North City Moat Bank Road, starting Tianningsi Bridge ( 天宁寺桥) to Dongbianmen Bridge ( 东便门).
These two major city moat banks roads ( part of Beijing Greenway ) are highly recommended for your walking and running during your stay in Beijing.
I often do the jogging in the evening along part of the South City Moat Bank Road, to which I live much closer. For me, the clean and green roads along the two banks of the revamped city moats are just like a huge and long city water park where people do all sorts of things – flying kites, go fishing, walking dogs, leisure walking and running.
Come and join us walking and running along the city-moat-turned green path. You will gain much more than pure running, and you will have the opportunity to sense, feel and touch the real local life and culture behind the buzz and noise of the mage-city.
Below are some of the pictures I took with my smart phone camera while running from Dongbianmen ( 东便门桥) down south to Zuoanmen Bridge (左安门桥).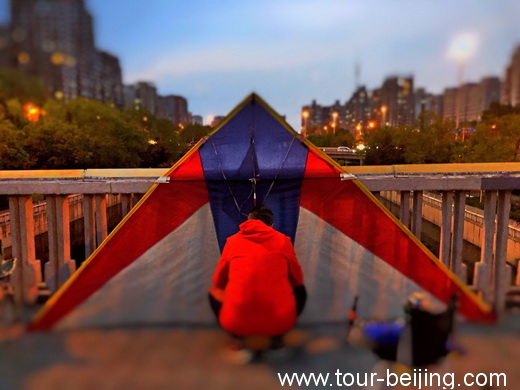 Tip: Hassle-free Beijing Guided Tours
If you don't want to go the do-it-yourself route and prefer the hassle-free escorted tours, here are some options for Beijing guided tours:
Car Rental in Beijing
Beijing Day Tour
Beijing Tour Packages
Beijing Winter Tour
Great Wall Tour
Beijing Tours
China City Tours
China Tour
Further Readings
---
Top 10 Attractions in Beijing
How to Visit Forbidden City
How to Visit Temple of Heaven
How to Visit Summer Palace
How to Visit Ming Tombs
How to Visit the Great Wall of China
How to Visit Tiananmen Square
How to Visit Hutongs
How to Visit Olympic Sites
Top 10 Markets in Beijing
Top 10 Shopping Malls in Beijing
Beijing Shopping
Wangfujing Night Snack Street
Qianmen Commercial Street
Beijing Huguosi Street
Any questions, just drop a line.