Plan your Beijing Museum Tour? Beijing, China's vibrant and exciting capital city, is home to many world-class museums and art galleries.
There are over 150 to choose from, ranging from the historical to the hi-tech. Beijing is just after London in terms of museum number with average one hundred thousand people having one museum. 33 of the main Beijing museums are free for entrance.
For more information on the museums in Beijing, check out Beijing Museum Guide and The 10 Most Beautiful Museums in China.
Museums are the best places to learn and record human civilization. A nation with a great future, must have cherished the strong feelings of their own history. Among the 150 museums in Beijing, I have listed here the top 10 museums for your reference and help in planning your resourceful trip to Beijing.
Top.1 National Museum Of China 中国国家博物馆
Though not a universal museum like the British Museum, Louvre, Hermitage, or Smithsonian, but as a national museum, the National Museum of China is also top on the list, one of the five or six greatest museums in the world.
It is a grand museum with multiple floors of exhibition halls. The massive museum comprises mainly two halls showcasing permanent exhibits – "Ancient China " at basement level and "The Road to Rejuvenation" near the entrance, plus a few temporary galleries on upper floors some of which you have to pay entry fees to enter.
Check out How to Visit National Museum of China for more travel information.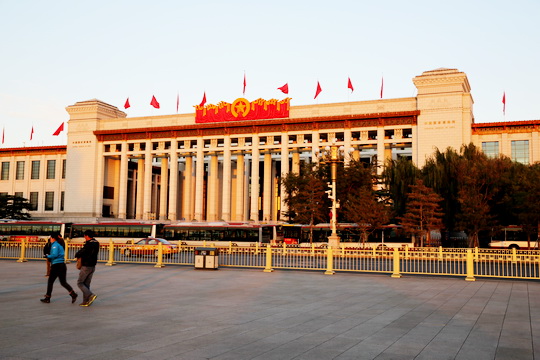 1. The opening hours are from 9:00 to 17:00 every day (no admission at 16:00). The museum will be closed on Mondays (except holidays), and the night sessions will be cancelled temporarily.
2. The daily visit limit is 8000 people, and all visitors must book online. before 4:00 pm each day, you can make a booking which can be valid for 7 days. The group reservation and on-site reservation are not accepted.
Top 2: The Capital Museum 首都博物馆
With its magnificent architecture, abundant exhibitions, advanced technology and complete functions, the Capital Museum, large and modern, makes its contribution to the titles such as "famous historical and cultural city", "cultural center" and "international metropolis" of Beijing and ranks among the first class museums both at home and abroad.
Entrance Fee: Free
Online Reservation: http://en.capitalmuseum.org.cn/
Subway: Muxidi Station, Line 1
Reservation on phone: 63370491 63370492
Open Time: 09:00-17:00 ( Closed on Monday )
Top 3: China Art Gallery 中国美术馆
The China National Art Gallery, or Meishuguan, is one of the largest of its kind in the country. When you enter,there are large galleries to the left and right,and in the center after ascending a short flight of stairs there is the Round Gallery,a very large room where special exhibitions are held.
Address: No.1 Wusi Street, Beijing.
Entrance Fee: RMB 20
Website: namoc.org
Telephone: 010-64016234
Bus Route: Nos. 101, 104 and 108, please get off at the station of art gallery.
Open Time: 09:00-17:00 ( Closed on Monday )
Top 4: China Military Museum 军事博物馆
China Museum of the Chinese People's Revolution also named the Military Museum of the Chinese People's Revolution. The museum occupies a total area of 60,000 square meters.
After passing through the lobby, one comes to the central exhibition hall, which contains over 500-odd photographs and more than 1,000 mementos of the Chinese revolution led by Mao Zedong over the course of half a century.
Entrance Fee: Free
Subway: get off at Millitary Musuem Line 1
Address: No. 9, Fuxing Road, Haidian District, Beijing.
Opening time: 8:30 to 16: 00 ( Closed on Monday )
Telephone: 0086 10 68529647
Top 5: Beijing Natural History Musuem 北京自然博物馆
The Beijing Natural History museum, covering a floor space of 24,000 square meters, with more than 8000 square meters for display, owns more than 200,000 items in the collection, with the collection of paleontology, ornithology, mammals and invertebrates coming out exceeding in the nation wide.
The level of both scientific research and display are also in the lead. Beijing Museum of Natural History has already been the most popular natural history museum in China.
Entrance Fee: Free
Address: No. 126 Tianqiao South Street, Beijing.
Opening Time: Opening in the entire year without the resting day (8:30 to 17:00 everyday, stop selling the ticket after 16:00).
Tel: 010-67024431
Top 6: China Aviation Museum 中国航空博物馆
At present, the China Aviation Museum collect more than 200 airplanes with the types exceeding 100, and weapon and equipped samples like ground-air missile, high cannon, radar, aviation bomb and aviation cameras. Among which, lots of them are the precious cultural relics of the country and world aviation treasure works.
Entrance Fee: RMB 20
Address: Mail Box No. 5806, Documentsnshan, Chang Ping District, Beijing.
Opening time: 9:00 to 16: 00. ( Closed on Monday )
Telephone: 010-61784882,66916919
Top 7: Beijing Planetarium 北京天文馆
Beijing Planetarium is a national leader in public astronomy, a beloved civic visiting place, and one of Beijing's most popular attractions. It contains two parts: Beijing Planetarium and Beijing Ancient Observatory.
Entrance Fees:
New building exhibition hall: RMB 10
Space theater: RMB 45
3D theater: RMB 30
4D theater: RMB 30
Add: No. 138 Xizhimenwai Avenue of Beijing
Website: http://www.bjp.org.cn/en/
Opening Hours: 9:30-16:00 (closed on Monday)
Tel: 86 10 68312517, 68352453, 51583311
Bus Lines: 102、105、111
Top 8: China Palaeozoological Hall 中国古动物馆
China Palaeozoological Hall is situated on Xizhimenwai Street, just next to Beijing Planetarium. It is a specialized national museum of natural science which gives a systemic introduction to the origin and development of vertebrates.
Entrance Fee: RMB 20
Add: No.142 Xizhimen Street, Beijing
Opening Hours: 9:00-16:30(16: 00 stop selling tickets);( closed on Monday).
Tel: 010-88369280 010-88369210 010-88369315
Bus Lines: 102、105、111, 27, 714, 716, 732, 708, 808
Top 9: China Science and Technology Museum 中国科学技术馆
The China Science and Technology Museum opened to the public in 1988 and is located northwest of Anhua Bridge on the North Third Ring Road in Beijing. It is the first all-round state-controlled science and technology museum in China.
Entrance Fee: RMB 30
Add: No. 5, Bei Chen East Road, Chaoyang District, Beijing, China   
Enquiry: (010) 59041000
Opening Hours: 9:00 – 16:30 (cloded on Monday)
Subway:
Take Sub-way Line 8 to "Olympic Green"Station and walk towards northeast for about 13 minutes.
Top 10: China Science and Technology Museum 国地质博物馆
The Geological Museum of China, built in 1916, is world-renowned geological museum, boasting 200 thousand specimens.
It has been the leading light among the same kind of Asian museums for its time-honored history, large number of ancient records, high percent of curiosities, delicate display and rich achievements in scientific research.
Entrance Fee: RMB 30
Add: Yangrou Hutong 15, Xishi, Xicheng District, Beijing;
Opening Hours: 9:00 AM – 4:30 PM (except Monday);
Tel: 86 010 66557858
Bus Lines: 13, 22, 38, 47, 101, 102, 103, 105, 109,
Add-on
Beijing Ancient Architecture Museum 北京古代建筑博物馆
Beijing ancient Architecture Museum is situated in Beijing Xiannong Altar, which is the first special topic museum of China concentrated in collecting, researching and displaying of China ancient architecture technologies, art and its development history. It was official opened on September 25, 1991.
Entrance Fee: RMB 15
Address: No. 21, Dongjing Road, Xuanwu District, Beijing, China.
Telephone: 010 – 63045608
Open Time: 09:00 – 16:00 (closed on Monday)
Bus Lines: 2, 7, 15, 20, 110, 120
Tip: Hassle-free Beijing Guided Tours
If you don't want to go the do-it-yourself route and prefer the hassle-free escorted tours, here are some options for Beijing guided tours:
Car Rental in Beijing
Beijing Day Tour
Beijing Tour Packages
Beijing Winter Tour
Great Wall Tour
Beijing Tours
China City Tours
China Tour
Further Readings
---
Best Time to Visit Beijing
How to plan a trip to Beijing
Top 10 Attractions in Beijing
How to Visit Forbidden City
How to Visit Temple of Heaven
How to Visit Summer Palace
How to Visit Ming Tombs
How to Visit the Great Wall of China
How to Visit Tiananmen Square
How to Visit Hutongs
How to Visit Olympic Sites
Top 10 Markets in Beijing
Top 10 Shopping Malls in Beijing
Beijing Shopping
Wangfujing Night Snack Street
Qianmen Commercial Street
Beijing Huguosi Street