by
UNESCO World Heritage Centre annually selects places of special cultural or physical significance with universal value to humanity by putting them on the World Heritage List aimed at protecting them for future generations to see, touch and appreciate.
The latest figure (2019) says the total number of world heritage sites in China reaches 55, ranking first in the world, namely 37 world cultural heritage sites, 4 world cultural and natural heritage sites, and 14 world natural heritage sites.
Beijing is a city with a total of 7 heritage sites listed in the UNESCO List, more than any other cities in the world. This is evidence of Beijing's splendid culture and long history, also an important part of the total 55 UNESCO sites in China.
Planning your Beijing tour? Interested in knowing which are the 7 UNESCO sites in Beijing? Here is the list of the 7 UNESCO sites in Beijing.
1.Peking Man Site at Zhoukoudian 周口店北京猿人遗址
Located 48 km south-west of Beijing city center, Peking Man Site at Zhoukoudian is home to the remains of Sinanthropus pekinensis, who lived in the Middle Pleistocene ( 中更新世时代) and remains of Homo sapiens sapiens dating back to 18,000–11,000 B.C along with various objects.
The site is an essential reminder of the prehistorical human societies of the Asian continent, an testament to the process of evolution. It was added to the UNESCO List in 1987.
Later Some 100,000 objects, including rough chipped stone tools, heat-affected stones, burnt bones, ash deposits, etc., as well as fossilized grains, were found.
Admission: 30 Yuan
Add: No.1 Zhoukoudian Ave, Fangshan District, Beijing
北京市房山区周口店大街1号
Tel: 010-53230037
Open Hours:
Peak Season : (April 1st — October 10) 9:00-16:30 (Ticket selling till 16:00)
Low-season :(Oct.11 — Mar. 31) 9:00-16:00 (Tickets selling till 15:30)
Closed on Monday (excluding national holidays)
How to get there
Public bus: Take Bus 917 from Tianqiao Bus Terminal and get off at Fangshan (房山), then change for the local bus 38 and alight at the site of Peking Men. The site is located about 48km to the southwest of Beijing city proper.
Private tour: Beijing Day Tour with Peking Man Site
2. Great Wall of China 长城
The original section of the Great Wall of China goes back as early as 220 B.C., under China's first Emperor Qin Shi Huang, who ordered the construction of the sections of earlier fortifications.
Later the fortifications were joined together to form a united defence project against invasions from the nomadic north. The Construction went on till the Ming dynasty (1368–1644).
The total 22,000 km long Great Wall of China was included as the site of UNESO Cultural Heritage in 1987 for its superb military architecture, technology and art of ancient China.
Check out How to Visit Great Wall of China.
The Great Wall around Beijing is an essential part of the Great Wall of China, mostly built in the Ming Dynasty (1368 – 1644), and the most powerful Yuan Dynasty (1271 A.D – 1368 A.D) while the last Qing Dynasty (1644 A.D – 1911 A.D) did nothing about the building of the Great Wall since they were "barbarians" against whom the Great Wall of China had been built, supposed to keep them from invading and looting.
Now having a Great Wall Tour has become a must for visitors coming to Beijing for the first time. If you visit the Great Wall for the first time, basically you need to plan ahead to know when to visit, which section to visit and how to visit. You can either travel independently doing all the researching on your own or turn to a local travel agency.
For those who prefer a DIY Great Wall tour, please check out How to visit the Great Wall of China around Beijing for more travel information.
3. Forbidden City 故宫
Located in the heart of Beijing, the north of Tiananmen Square, the Forbidden City was the Chinese imperial palace from the Ming dynasty to the end of the Qing dynasty (1368 – 1911), home to 14 Ming and 10 Qing emperors over the following 505 years.
The Forbidden City, now known as the Palace Museum has about 1000 rooms and landscaped gardens, a priceless testament to Chinese civilization during the Ming and Qing dynasties.
It was declared UNESCO Heritage site in 1987 for its masterpieces in the development of imperial palace architecture in China.
Check out How to visit Forbidden City for more travel information.
April 1st – October 31 ( 8:30 – 17:00 )
Last Entry at 16:10
Tickets sold until 16:00
Entrance ticket:RMB 60
November 1st – March 31 (8:30 – 16:30)
Last Entry at 15:40
Tickets sold until 15:30
Entrance Ticket: RMB 40
There are some exhibits within the complex that require additional tickets to get access to the inside paid sights such as the Treasure Gallery and the Clock and Watch Gallery.
Treasure Gallery : RMB 10;
Clock and Watch Gallery: RMB 10
By Subway ( to south gate ): Take Line 1 and get off at Tian'an men East or Tian'an men West
Check out How to visit Forbidden City for more travel information.
4. Summer Palace 颐和园
Located 10km in the northwest of Beijing, Summer Palace was once the largest imperial garden in Beijing. It is a vast expanse of lakes, gardens and palaces dominated by Longevity Hill and the Kunming Lake.
It was originally built in 1750, largely destroyed in the war of 1860 and restored on its original foundations in 1886.
It was inscribed as UNESCO Heritage site in 1998 for its masterpiece of Chinese landscape garden design, a harmonious ensemble of outstanding aesthetic value.
Check out How to visit Summmer Palace for more travle information.
Entry fees and opening hours:
High Season (From April 1 to Oct. 31) Admission: 30 Yuan
Open: 6:30
Tickets stop selling at 18:00;
Close: 20:00
Low Season (From Nov. 1 to Mar. 31 next year) Admission: 20 Yuan
Open: 7:00
Tickets stop selling at 17:00;
Close: 19:00
How to get to Summer Palace by subway
1. Subway Line 4:
Take subway line 4 to the northwest direction and get off at the last but one of Beigongmen (北宫门) and exit from Exit D and walk to the west, soon you will see the north gate ( Beigongmen Gate )to Summer Palace 颐和园 (entrance fee:RMB30) on your left side.
2. Subway Line 10
Take subway line 10 to Bagou station at the end of Line 10, and then get a taxi from outside the station to the New Palace Gate (新建宫门). Or you may just walk for about 1.5km from Bagou Station to the New Palace Gate.
Get off Bagou Station, follow your nose, you will meet a river, then turn right and walk along the river bank till the New Palace Gate of Summer Palace. If confused upon which way to go upon leaving the subway, just follow the crowd.
Check out How to visit Summmer Palace for more travle information.
5. Temple of Heaven 天坛
The Temple of Heaven (Tiantan) is located in the southeast of central Beijing. It was an imperial Sacrificial Altar in Beijing visited by the emperors in Ming and Qing dynasties for praying for good harvest annually.
It was originally built from 1406 to 1420 during the reign of the Yongle Emperor, who had the construction of the Forbidden City in Beijing. Check out How to visit Temple of Heaven for more travel information.
It is an ensemble of religious buildings and landscape gardens. The Temple of Heaven was listed as UNESCO World Heritage in 1998 for its masterpiece of architecture and landscape design which simply and graphically illustrates a cosmogony of great importance for the evolution of one of the world's great civilizations.
The Temple of Heaven Park opening time
Peak season opening hours: 6:00-21:00
Off-season opening hours: 6:30-21:00
Park clearance : at 22:00
Opening time for the historical buildings inside the park
(mainly the Imperial Vault of Heaven, the Circular Mound Altar, the Imperial Vault of Heaven)
Peak season opening time: 8:00-17:30
Off-season opening time: 8:00-17:00
also including the North God cook, the North slaughtering house, the Fast House and Divine Music Administration (神乐署中和韶乐)inside the park.
Get to Temple of Heaven by subway: Take subway line 5 and get off at East Temple of Heaven Station (Tiantan Dongmen Station ) and take exit A. The East Gate entrance is right there. For the public buses to the east gate, you may try bus 6, 35, 36, 39, 41, 43.
Check out How to visit Temple of Heaven for more travel information.
6. Ming Tombs 明十三陵
Located around 43km northwest of central Beijing, the Ming tombs are a group of mausoleums built in Ming Dynasty (1368 – 1644). The Ming Tombs in Beijing are collectively known as the Thirteen Tombs of the Ming Dynasty since there are totally thirteen Ming emperors buried here.
After the construction of the Imperial Palace (Forbidden City) in 1420, the Yongle Emperor, the third emperor in Ming Dynasty started to chooset his burial site and built his own mausoleum.
His successive emperors had their tombs in the same place. The site of Ming Tombs is added to UNESCO World Heritage in 2003 for their cultural and architectural tradition and their integration into the natural environment.

Check out How to Visit the Ming Tombs for more information.
Entrance Fees:
Changling Tomb: RMB 30 (November.01 – March. 31); RMB 45 (April. 01 – October. 31) Dingling Tomb: RMB 40 (November.01 – March. 31); RMB 60 (April. 01 – October. 31) Zhaoling Tombe: RMB 20 (November.01 – Machr. 31); RMB 30 (April. 01 – Oct. 31)
Sacred Way: RMB 20/30)
Opening Hours:
Changling Tomb: 08:30 – 17:30 Dingling Tomb: 08:30 – 18:00 Zhaoling Tomb 8:30 – 17:30
Sacred Way: 8:30 – 18:00
Tickets stop selling about half a hours before the tombs are closed
How to get to Dingling Tomb: Take the Bus 872 from Deshengmen Bus Terminal
Check out How to Visit the Ming Tombs for more information.
7. Grand Canal 大运河
The Grand Canal Hangzhou is the final section of the Grand Canal ( China ), also known as Beijing-Hangzhou (Jinghang) Grand Canal (京杭大运河). The canal runs an entire 1,776km north from Hangzhou to Beijing's suburb of Tongzhou, located 35km west of Tiananmen Square.
It is oft-lauded as the earliest and longest artificial waterway in the world starting from Beijing in the north and ending at Hangzhou in the south for a total length of 1776 km. It is the world's largest and most extensive civil engineering project prior to the Industrial Revolution.
On June 22, 2014, the Grand Canal was listed as the site of UNESCO World Cultural Heritage.
It is the 46th world heritage in China including 27 sections and 58 elements of the Grand Canal with a length of 1011 km. The world heritage crowned Grand Canal covers 6 provinces, 2 municipalities and 25 prefecture-level cities.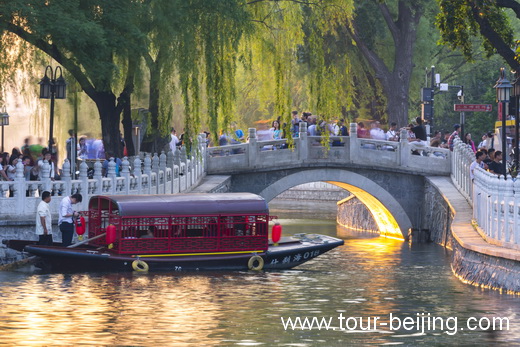 The most impressive remaining areas of the Grand Canal in Beijing are the three lakes: Qianhai, Houhai, and Xihai, basically known to the foreign visitors as Houhai or Shichahai.
Check out the following links for more travel information on the remaining Grand Canal system in Beijing:
Houhai Winter Ice Skating Rink
The Old World Charm in Beijing
How to visit Shichahai
Sunset Over Houhai Lake in Beijing
The night view of Shichahai
Shichahai in the early morning
Shichahai, a nice place to walk at night in Beijing
Tip:  Hassle-free Beijing Guided Tours

If you don't want to go the do-it-yourself route and prefer the hassle-free escorted tours,  here are some options for guided tours to Beijing:
Car Rental in Beijing
Beijing Day Tour
Beijing Tour Packages
Great Wall Tour
Beijing Winter Tour
Beijing Tours
China City Tours
China Tour
Further Readings
---
Best Time to Visit Beijing
How to plan a trip to Beijing
Top 10 Attractions in Beijing
Top 10 Tourist Scams Beijing
How to Visit Forbidden City
How to Visit Temple of Heaven
How to Visit Summer Palace
How to Visit Ming Tombs
How to Visit the Great Wall of China
How to Visit Tiananmen Square
How to Visit Hutongs
How to Visit Olympic Sites
Top 10 Markets in Beijing
Top 10 Shopping Malls in Beijing
Beijing Shopping
Wangfujing Night Snack Street
Qianmen Commercial Street
Beijing Huguosi Street
Any questions, just drop a line.
Tags: How many UNESCO Sites Beijing, How many world cultural heritages in Beijing