Plan your Chengdu tour? If you are interested in Chinese history, or in the Three Kindoms (220 to 280 AD) in particular, you may put Wuhou Shrine on your Chengdu travel bucket list.
ABC of Wuhou Shrine
Wuhou Shrine and Zhuge Liang
Wuhou Shrine Chengdu was first built in memory of Zhuge Liang (181 – 234), the prime minister of Shu ( 221 – 263 ) of the Three Kingdoms ( 220 – 280 AD).
Zhuge Liang was a famous statesman, military strategist. He was also given the title of Marquis Wuxiang in his lifetime. "Wuhou" literally means "Wuxiang Marquis".
Zhuge Liang's prose masterpieces include "A Teacher's Example" and "The Book of Commandments". Zhuge Liang was a representative of loyal ministers and wise men in Traditional Chinese culture.
Wuhou Shrine and Liu Bei
In Ming Dynasty ( 1368 -1644) Wuhou Shrine incorporated the Liu Bei's Tomb and Liu Bei Temple. Now In addition, Wuhou Shrine also inludes the Sanyi Temple and 50 statues of the heros in Shu Kingdom.
Liu Bei (161 – 223) founded the Shu Kingdom ( 221 – 263 ) and ascended the throne.
Through unremitting efforts, Liu Bei captured Jingzhou and Yizhou successively after the Battle of Red Cliff and established the state of Shu Han.
However, as Guan Yu was killed by East Wu Kingdom, Liu Bei refused to be dissuaded by his courtiers and insisted on waging a war against Wu. As a result, he was defeated in Yiling. Finally, he died in Baidi City in 223, aged 63, and was posthumous Emperor Zhaolie.
Liu Bei was magnanimous, generous, considerate and indomitable. His behavior of entrusting the whole country to Zhuge Liang before his death was praised by Chen Shou as one of the best practices in ancient and modern times. Liu Bei was the main character in many literary works of later generations. Wu Hou Shrine in Chengdu has the Han Zhao Lie Temple to commemorate him.
Wuhou Shrine and the Three Kingdoms
So today Wuhou Shrine is more than a shine. Instead, it has become a museum, the largest museum in China displaying the relics and introducing the history about the Three Kingdom (220 to 280 AD).
Wuhou Shrine and Jinli Old Street.
Added to Wuhou Shrine Musuem is the famed traditional bazaar street Jinli. Jinli Street abuts Wuhou Shrine to the east. The street was built originally as early as Shu Kingdom and was called "The First Street of the Shu Kingdom".
Today there are also a variety of Sichuan characteristic snacks in the street, a variety of teahouses, cafes, bars, and inns. It is a fun to walk through the street to feel the vibe of the old Chengdu after you go through the "Three Kingdoms" time.
How to Get there & Entrance Fee
Entrance Fee: RM50
Opening Hours: 08:00-17:30
How to get there: Take Bus No. 1, 57, 82, 334, 335 and get off at Wuhouci Station or take Bus No. 8, 21 and get off at Wuhouci East Street Station
Address: 231 Wuhouci Street, Wuhou District, Chengdu City, Sichuan
A Brief Virtual Tour of Wuhou Shrine
The Zhaolie Temple of Han Dynasty
Entering the south gate, you will first see the Zhaolie Temple of Shu Han dedicated to Liu Bei, the founder of Shu Kingdom in the Three Kingdoms (220 to 280 AD).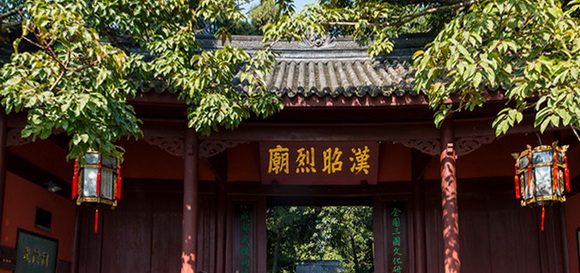 Liu Bei Hall
Follow your nose, you will visit the Liu Bei Hall. In the middle of the hall is a statue of Liu Bei, who is tall and seated, the tallest in the whole temple. The statue was three meters high and covered with gold, with nine diadem crown and two hands holding the crown.
Zhuge Hall
Zhuge Hall ( dedicated to Zhuge Liang ) is a very traditional temple building, surrounded by six groups of buildings: hall, east wing, west wing, bell tower, drum tower and Kongming Hall, with a total construction area of 1588 square meters
Zhuge Liang statue in a shrine was made in 1672, the 11th year of the Reign of Emperor Kangxi of the Qing Dynasty. Zhuge Liang held a feather fan, wore a black scarf and a crane cloak, and looked Confucian and elegant, bearing the style of a famous generation.
Sanyi Temple
Sanyi Temple (The Temple of Righteousness) is a mixed structure, an area of 569 square meters, made according to the description of The Romance of The Three Kingdoms.
The Temple of Righteousness is named after Liu Bei, Guan Yu and Zhang Fei, who were sworn brothers in Taoyuan. Temple was built in the Kangxi years of the Qing Dynasty, the original four into five halls, a grand scale. Now only worship hall, main hall, into a quadrangle layout.
Liu Bei's Tomb
The Tomb is the Huiling Mausoleum of Emperor Zhaolie Liu Bei of the Shu Han.
The Huiling mausoleum is composed of the Screen, Mountain Gate, Sacred Way and Sleeping Hall, which are arranged in turn on the central axis from south to north.
The Screen ( Zhaobi ) stands in front of the tomb, after the gate, hanging on the "Zhaolie Mausoleum of Shu Han" plaque; then the Sarec Way leading to the Tomb. "Zhaolie Emperor Mausoleum" seven words are carved on the tombstone.
The tomb is surrounded by the gray brick wall with a brick wall lane leading to Zhuge Liang Hall.
Jinli Old Street
As a part of Wuhou Shrine, Jinli Old Street is located to the east of the Shrine. The street was built originally as early as Shu Kingdom and is called "The First Street of the Shu Kingdom".
Listed in "the ten commercial pedestrian streets of the Nation" in 2005, Jinli Old Street combines the ambience of ancient and modern China. Strolling down the narrow street, you will find yourself surrounded by a charming old world. The wooden steles and the brick-walls exhibit an ancient charm.
Hassle-free Chengdu Guided Tours
If you don't want to go the do-it-yourself route and prefer the hassle-free escorted tours, here are some options for Chengdu and Sichuan guided tours:
Chengdu tour
Chengdu Car Rental with Driver
Create My Chengdu Trip
Jiuzhaigou Tour
Sichuan Tour
Further Readings
---
Top 10 Attractions in Chengdu
Best Time to Visit Chengdu
Chengdu Airport
Railway stations in Chengdu
Chengdu Taxi
How to visit Wuhou Shrine
How to visit Du Fu Thatched Cottage
How to visit Jinsha Site Museum
How to Visit Tomb of Wangjian
How to Visit Wangjiang Tower Park
How to Visit Qingyang Taoist Temple
How to Visit Jinli Street
How to visit Kuan Alley and Zhai Alley
How to visit Qintai Road, Qintai Street Chengdu
How to visit Shaoling Road Bar Street
How to Visit Jiuyanqiao Bar Street
The Old Teahouse in Pengzhen Town, Chengdu
Drive from Hanzhong to Ya'an
Ya'an Night View
Most Beautiful Sky Road in China
Night View of Moxi Old Town
Camp No.03 at Hailuogou Glacier
Camp No.04 at Hailuogou Glacier
Night View of Kangding
Drive from Kangding to Xinduqiao
Drive from Xinduqiao to Danba
Jiarong Tibetan Blockhouses
Jiarong Tibetan Ancient Watchtowers
Drive from Xinduqiao to Yajiang
Drive from Yajiang to Litang
Drive from Litang to Daocheng
Drive from Litang to Batang
Drive from Batang to Mangkang
Drive from Shangri-la to Daocheng
Drive from Daocheng to Yading
Yading Brings You Inner Peace
Bipenggou is a fairyland in Autumn
When is the best time to visit Jiuzhaigou?
Best Places to Visit Autumn Leaves in Sichuan
Top 10 Places to Visit in Sichuan
Ruoergai Grassland, my first trip to Ruoergai Grassland
Any questions, just drop a line.