Plan your Chengdu tour? Chengdu is a leisure city, so its nightlife is very rich and colorful. There are several popular bar streets to rewind yourself in the evening in Chengdu. Apart from Jiuyanqiao Bar Street, Chengdu Shaoling Road Bar Street is also a nice place to hang out for a small talk over quiet or noisy live music.
Location of Shaoling Road Bar Street
The Shaoling Road (少陵路) is in the west of the downtown Chengdu and part of the road is turned into a bar street. Shaoling Road Bar Street is located about 7km to the west of Jiuyanqiao Bar Street and 4km to the southeast of Kuan Alley and Zhai Alley.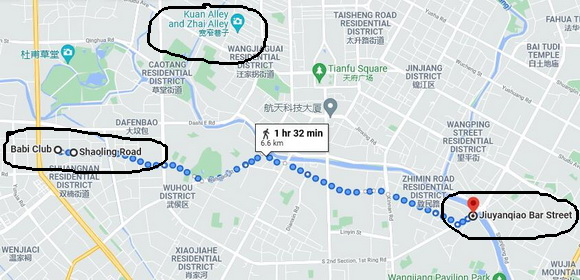 Virtual Tour of Shaoling Road Bar Street
Follow us to have a brief virtual tour of Shaoling Road Bar Street in Chengdu. Chengdu Shaoling Road Bar Street (少陵路酒吧一条街), is locally lauded as Chengdu nightclub "kingdom" , rife with eating and playing venues.
Shaoling Road Bar Street represents the most urban characteristic bar culture in Chengdu. The most popular bar on Shaoling Road is known as Babi Club.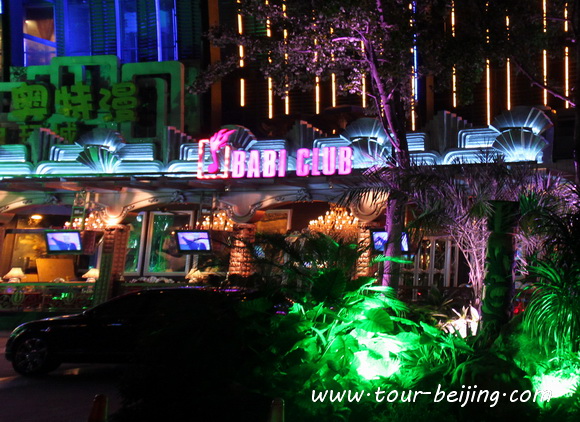 Every night, people flock to Babi Club for drinking and enjoying beautiful music. The most welcome pieces of music are listed below:
Bruno Mars-Grenade  Keha-your love is my drug  David Guetta-club can't handle me  Taio Cruz-Break Your heart
Snoop Dogg-california gurls
Bruno Mars-nothing on you
Pitbull-i like it  Taio Crus-dynamite
Rihanna-rude boy
Alicia Keys-empire state of mind
Pitbull-DJ got us fallin'in love
Muse Club is another most welcomed bar crowded with partygoers every night.
Just across the road opposite Babi Clu and Muse Pub, a dozens of unique local restaurants are opened every night for people coming all parts of the world to taste Chengdu cuisine.
Hassle-free Chengdu Guided Tours
If you don't want to go the do-it-yourself route and prefer the hassle-free escorted tours, here are some options for Chengdu and Sichuan guided tours:
Chengdu tour
Chengdu Car Rental with Driver
Create My Chengdu Trip
Jiuzhaigou Tour
Sichuan Tour
Further Readings
---
Top 10 Attractions in Chengdu
Best Time to Visit Chengdu
Chengdu Airport
Railway stations in Chengdu
Chengdu Taxi
Chengdu Research Base of Giant Panda Breeding (Tips, Photos & Map)
How to visit Wuhou Shrine
How to visit Du Fu Thatched Cottage
How to visit Jinsha Site Museum
How to visit the tomb of Wang Jian in Chengdu
How to Visit Wangjiang Pavilion Park in Chengdu
How to visit Qingyang Palace in Chengdu (Tips, Photos & Map)
How to Visit Jinli Street
How to visit Kuan Alley and Zhai Alley
Qintai Road, Qintai Gujing Chengdu (Tips, Photos & Map)
Shaoling Road Bar Street Chengdu (Tips, Photos & Map)
Jiuyanqiao Bar Street in Chengdu (Tips, Photos & Map)
The Old Teahouse in Pengzhen Town, Chengdu
Drive from Hanzhong to Ya'an
Ya'an Night View
Most Beautiful Sky Road in China
Night View of Moxi Old Town
Camp No.03 at Hailuogou Glacier
Camp No.04 at Hailuogou Glacier
Night View of Kangding
Drive from Kangding to Xinduqiao
Drive from Xinduqiao to Danba
Jiarong Tibetan Blockhouses
Jiarong Tibetan Ancient Watchtowers
Drive from Xinduqiao to Yajiang
Drive from Yajiang to Litang
Drive from Litang to Daocheng
Drive from Litang to Batang
Drive from Batang to Mangkang
Drive from Shangri-la to Daocheng
Drive from Daocheng to Yading
Yading Brings You Inner Peace
Bipenggou is a fairyland in Autumn
When is the best time to visit Jiuzhaigou?
Best Places to Visit Autumn Leaves in Sichuan
Top 10 Places to Visit in Sichuan
Ruoergai Grassland, my first trip to Ruoergai Grassland
Any questions, just drop a line.