Plan your China tour in autumn? Autumn leaf peeping time in China varies from north to south, and east to west given the size of China and its diversity of climate and geography. Basically from mid-October to mid-November, most of China's landscapes start to transform from their summer shades of green into the reds, oranges and yellows, signs of the colorful autumn.
If you are a leaf peeping fan and happen to visit China during the fall foliage period, you may choose one or two places to comfort your eyes and relax yourself with viewing the autumn leaves. We at Tour Beijing have leafed through the top 10 fall foliage destinations in China that we think are worth your exploration on your China autumn trip.
1.
Ejina Qi (Banner), Inner Mongolia 

内蒙古额济纳旗

Ejina Banner is in the most west end of Alashan, west of Inner Mongolia, adjacent to Alxa Right Banner in the east. Ejina Banner has a drought, extreme arid desert steppe climate with four distinctive seasons. It features rainless, abundant sunshine, and great temperature difference. The annual average temperature is 8.3℃. The number of annual dust storm is up to 14.

Ejina Diversifolius Poplar Forest National Nature Reserve is one of the three largest poplar forests in the world with mesmerizing autumn scenes sought after by numerous tourists and photographers.

Check out the following links for more information:
West Inner Mongolia Tours
Euphrates Poplar Forests at Ejina Banner
Sunset over Guaishulin


Best Visit Time: October
Transport:
Ejina Banner is linked to Hohhot by an overnight train 15 hours. If you'd like to travel to Alxa Left Banner, you may choose first to take your train to Yinchuan, the capital city of Ningxia, then drive 114km up to Bayanhot, the capital of Alashan.
Overland travel is the most popular mode of traveling around Alashan. The three banners (Left, Right and Ejina) are connected by the regional roads. Also the three banners are linked to outside cities or provinces through a few destinations.
2. Moerdaoga, Inner Mongolia 内蒙古莫尔道嘎
Moerdaoga National Forest Park ia the first national forest park in the Greater Khingan Range (Greater Xing'an Mountain ) within Inner Mongolia Autonomous Region, the biggest national forest park of its kind in China.
Moerdaoga" literally means that "set out for flight riding your horses" that was legendarily said by Genghis Khan who tried to integrate the tribes. The forest park is adjacent to the Hulunbuir Grassland on the south, the Erguna River on the north, packed with old and tall trees and numerous streams and rivers. The Moerdaoga turns into a "five-colormountain", a perfect place to see autumn leaves.
Check out the following links for more information:
Northeast Inner Mongolia Tour
How to visit Hulunbuir Grassland
Moerdaoga Travel Guide
Top 10 Attractions in Hulunbuir
Best Visit Time: Late September and early October
Transport:
It is quite convenient to travel to Hulunbeier by train with wide train network. Hailar has trains connecting Beijing, Baotou, Hohhot, Harbin, Dalian, Qiqihaer, Boketu, Moerdaoga, Manzhouli, Jiaergeda. So beside Hailaer, many of the cities and banners has railway stations, forming easy train routes within Hulunbuir. Or you may take long-distance buses to Moerdaoga.
3. Kanas, Xinjiang 新疆喀纳斯
Kanas is located in the northern tip of Xinjiang. The Kanas Lake (Kanasi Hu) means "beautiful, rich and mysterious" in Mongolian. The lake is nestled in the deep forests and mountains of Altay. The lake is 1,374m above sea level and covers an area of 45sqkm (10 times bigger than Tianchi on Bogda Mountain) with the deepest point of 188m.
The long bean-shaped lake reflects the surrounding snowcapped mountains. The Kanas Lake in autumn is at its best with the beautiful foliage. Legend has it that huge monsters live in the lake. They often has take away horses and camels drinking into the water by the lake and later swallow them, a similar story of "Nessie Monster".
Check out the following links for more information:
Xinjiang Tour
Urumqi Burjin Kanas Kelamayi Turpan 6-Day Tour
Best Places to See Autumn Leaves in Xinjiang
Best Visit Time: Late September and early October
Transport: Take flights or travel overland to Kanas.
4. Jiuzhaigou National Park , Sichuan 四川九寨沟
Jiuzhaigou literally means "Nine Village Valley" in Chinese. Listed as World Cultural Heritage in 1992. Jiuzhaigou is well known for its beautiful water – multi-level waterfalls and colorful lakes, and magnificent autumn scenery.
Jiuzhaigou is located in Jiuzhaigou County of the Aba Tibetan Qiang Autonomous Prefecture in Sichuan Province, 436km north of Chengdu, the capital city of Sichuan Province.
Jiuzhaigou has three valleys naturally formed in a Y shape. The Rize Valley 17km long and Zechawa Valley 18km long flow from the south and meet at a confluence where they form the Shuzheng valley 15km long in the middle, continuing to flow north to the mouth of the Shuzheng Valley. All the three valleys are accessible both by shuttle bus and boardwalks.
Check out the following links for more information:
Best time to visit Jiuzhaigou
Jiuzhaigou Tour
Sichuan Tour
Best Places to Visit Autumn Leaves in Sichuan
Visiting Time: suggested 1-3 day
Entrance Fee: RMB 220 (peak season ) and RMB 80 ( winter season)
Location: 436km north of Chengdu, the capital city of Sichuan Province
Opening Hours: 6:30 – 18:00 (April – Nov.15); 6:30 – 17:00 (Nov.16 – March);
Best Time to Visit: Mid-October to early November
How to Get There
First take flight from Chengdu to Jiuhuang Airport where you connect the local bus for Jiuzhaigou
5. Yading, Daocheng 亚丁(四川稻城)
Yading Nature Reserve is located within Riwa Township, Dacheng County, in the south of Garze Tibetan Autonomous Prefecture, Sichuan. Yading is oft-lauded as "The last piece of pure land in the water-blue planet". Yading and Dacheng are often put together and known as the last Shangri-la.
The Yading Nature Reserve mainly comprises three holy mountains known as Chenresig, Channa Dorje and Jampelyang which are all above the altitude of 6000 meters with Chenresig the highest at 6032 meters. Chenresig is often likened to the giant Buddha; Channa Dorjie as a young man and Jampelyang as a girl. The three holy mountains are just like three sacred souls, a pilgrimage place for Tibetans.
Check out the following links for more information:
Drive from Litang to Daocheng
Drive from Daocheng to Yading
Yading Brings You Inner Peace
Besides the three holy mountains, the reserve is also dotted with high-plateau grasslands and green lakes, like Milk Lake, Five-color Lake, Luorong Grassland and Changgu Monastery. The 12-km koral around the 6032 m Chenresig is a huge rewarding experience. If you don't have strong legs, you may stop overnight on camping and do it next day to continue your hike.
Yading Nature Reserve is a perfect natural eco-system formed by the featured geography and natural climate. When autumn comes, Yading and Daochange become a sea of colors, a birthplace for numerous picturesque landscape photos.
Visiting Time: suggested 1-2 Day
Entrance Fee: RMB 150
Opening Hours: all day
Best Time to Visit: October
How to Get There
Hire a vehicle or hook up with other travelers to reach Yading Natural Reserve from Dacheng
6. Red Leaves Valley, Changbai Mountain 红叶谷(吉林长白山)
The Red Leaves Valley is located at the west foot of Changbai Mountain within the jurisdiction of Jiaohe City, Jinlin Province. Just drive out of Jilin city along the road leading to Jiaohe and then take the muddy road into Jiefang Village, and after a stone bridge, you reach the red leaf valley.
The Red Leaf Valley ranges from Jiefang Village at Qingling Town to Yanjiang Village at Songjiang Town, a total length of more than 50 kilometers. The whole valley is teemed with numerous trees, such as maple, birch, larch and gingko trees. The blend of red and golden colors makes the valley look like massive waves rolling across a colorful sea.
7. Jinshanling Great Wall & Simatai Great Wall 金山岭-司马台长城 (河北、北京)
The Great Wall at Jinshanling Great Wall is much less touristy in comparison with the Walls at Badaling and Mutanyu. This section of Wall is situated about 140km to the northeast of Beijing, further than Baddaling and Mutianyu ( about 80km from Beijing).
Check out the following articles for more information:
Hike from Jinshanling to Simatai
Jinshanling Great Wall, the most beautiful section of Great Wall
Simatai Great Wall Travel Tips
Hike from Jinshanling to West Simatai Great Wall Day Tour
Gubeikou Great Wall to Jinshanling Great Wall Hiking
The best time to visit Jinshanling Great Wall and Simatai Great Wall falls between October 15 and November 15 each year when the autumn leaves are at their best – yellow, orange, pink, and red. The walls havedensely vegetation – smoke trees, persimmon, hawthorn, gingko, torch trees, birch, aspen, hickories, chestnut, walnut, sawtooth oak, jujube and more to beautify the autumn.
8. Wulingyuan ( Zhangjiajie ) 武陵源(张家界)
Wulingyuan Scenic Area is located about 30 km north of Zhangjiajie's city center. Wulingyuan Scenic Area was listed with UNESCO World Heritage 1992. This world heritage site is popularly known as "Zhangjiajie Senic Area" rather than "Wulingyuan" mainly because Wulingyuan Scenic Area is under the administration of Zhangjiajie City.
Wulingyuan Scenic Area (Zhangjiajie Scenic Area) includes three main areas: Zhangjiajie National Forest Park, Tianzi Mountain Nature Reserve and, Suoxi Valley Natural Resource Reserve (including Baofeng Lake and Yellow Dragon Cave). The American film – Avatar depicted "Hallelujah Mountain" by taking the real view of "South Pillar of the Heaven", a famous attraction in Wulingyuan Scenic Area.
Check out my following links for more information:
Zhangjiajie Tour
Best Time to Visit Zhangjiajie
Top 10 Attractions in Zhangjiajie
Wulingyuan Scenic Area are famous for its unique hills, queer rockss and peaks, tranquil valleys, clear streams, abundant fauna and flora and hospitable climate.
Visiting Time: suggested 2-3 Days
Entrance Fee: RMB 248 ( a through ticket )
Location: about 30 km north of Zhangjiajie's city center
Opening Hours: All day
Best Time to Visit: Mid-October to Mid-November
How to Get There
Zhangjiajie is easily accessible by air, train and highway. Then connect local buses going to Wulingyuan Scenic Area.
9. Namcha Barwa in Tibet 南迦巴瓦(西藏雅鲁藏布大峡谷)
Location: Namcha Barwa ( or Mt.Namjabarwa, Namchabarwa ) is located in Nyingchi in the southeast of Tibet, at the height of 7782m. Nyingchi, which literally means "throne of the sun" in Tibetan has a relatively lower altitude bestowed with the green mountain slopes, snow-capped peaks and crystal-clear rivers. Nyingchi is dubbed as "Switzerland of Tibet". The county boasts the Namcha Barwa Peak, and the Yarlung Zangbo Great Canyon, and the abundant nature resources.
Autumn is the best time for tourists to visit the Nancha Barwa Peak for the rainy season in the canyon has been over and the dry season has just started. The whole valley or the canyon has been turned into a colorful sea of colours.
Check out the links: 12 Days Cultural and Natural Tibetan Treasures Discovery Tour and Lhasa – Bayi – Lulang – Ranwu 4 Wheel Drive Trip for more information.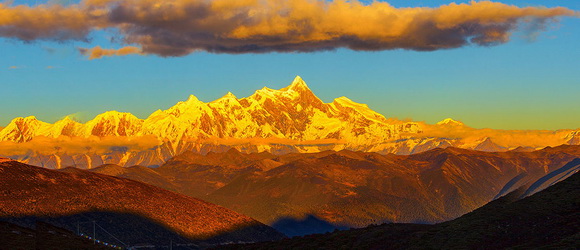 Its colossal triangle body is capped with snow and mists all year around and people find it hard to see its true face. In 1992 that the Sino-Japan Mountain Climbing Team conquered Mt.Nanjiabawa. Today it has become a very popular and challenging destination for leisure travelers and professional mountain climbers from both home and abroad.
10. Fragrant Hill  北京香山
Located in the east part of western hills and 28 kilometers northwest of the Beijing City, Fragrant Hills Park is a large park of hills and forest. It is rich both in natural sceneries and cultural relics. Its highest peak is Xianglu Peak (Incense Burner Peak), 557 meters high.
The hill is dotted with maple trees, smoke trees and persimmon trees. When autumn arrives, fiery red leaves blanket the entire mountain. Every year, a huge number of tourists flock to the park. The cable cars are a great way to hike up the hill and enjoy the spetacular fall scenes at the same time.
Check out the following links for more information:
Beijing Autumn Tour
Best Places to View Autumn Leaves in Beijing
Sunrise Glow over Fragrant Hills Park in Beijing
Visiting Time: suggested 3-4 hour
Entrance Fee: RMB 10
Location: Norrthwest of Beijing
Opening Hours: 6:30 – 19:00
Best Time to Visit: Mid-October to early November
How to Get There
Take public buses
Hassle-free China Guided Tours
If you don't want to go the do-it-yourself route and prefer the hassle-free escorted tours, here are some options for China guided tours:
Top China Private Tours
Top China Small Group Tours
Top China Train Tour
Top China Yangtze Cruise Tour
Top China Silk Road Tour
Further Readings
---
Top 10 Places to Visit in China
10 Fascinating Facts about China
How to Pack for your China Trip
Plugs and Sockets in China
China Tour Packages
Learning Useful Chinese Phrases for Travellers
How to Recognise Chinese Currency
Top 10 Travel Experiences in China
10 Most Scenic Drives in China
Top 10 Most Beautiful Mountains in China
The Top 10 Most Beautiful Lakes in China
Top 10 Most Beautiful Grasslands in China
Top 10 Most Beautiful Rivers in China
Top 10 most beautiful waterfalls in China
Top 10 Places to See Autumn Leaves in China
Top 10 Most Beautiful Villages in China
Top 10 Old Towns in China
The 10 Most Beautiful Museums in China
Top 10 China Tourist Scams
Top 10 Souvenirs in China
Any questions, just drop a line.