Plan your Hangzhou tour in autumn? Hangzhou is a garden city peppered with mesmerizing sights in four seasons, oft-lauded as " Paradise on Earth". Its world famous West Lake (Crowned as UNESCO World Heritage 2011) dominates the local "Psyche".
As a city south of Yangtze River, Hangzhou's fall foliage comes much later than the cities in the northern China such as Beijing (Mid-October – Mid-November).
The local leaf peeping time starts at the end of November and the best fall foliage time falls on the whole December. For the best places for fall foliage in Hangzhou, we are going to round up the top 10 spots for your quick guide.
1. Plane Trees Flanking Beishan Road 北山两旁的行道树-法国梧桐
Beishan Road is lined with the plane trees, which arch across the lake side road, providing great shades. On the south of the Beishan Road is the Northern Inner West Lake , separated from the main West Lake by the Bai Di Causeway bridged by Duanqiao Bridge ( Broken Bridge ), the Jindai Bridge , and Gushan Island linked to the Beishan Road by Xileng Bridge.
On its northern side is the Precious Stone Hill (宝石山) with the slender spire of Baoshu Pagoda on its top. Between the Beishan Road and the Precious Stone Hill ( Baoshi Hill) is peppered with the old mixed styles of west and Chinese villas and historical sites. Most of the structures are the former celebrity homes and residences from the military, the government and the business circle in the 1920s.
Local people habitually take the plane tree autumn leaves as the sign of the autumn arrival just as the old saying goes that "one leaf reveals autumn". When autumn comes, the Beishan Road between the Broken Bridge and Xileng Bridge has magical autumn colors with the yellow leaves of plane trees that bounce off in a spectacular fashion. Strolling along Beishan Road is soul-recharging with much photogenic opportunities.
Best Time to Visit: Late November – December
Public Transport: Take Bus 7 or rent a bike.
2. Fall Colors at the Solitary Island (Gushan) 孤山赏银杏
The Solitary Island is a peninsula projecting into the West Lake, once a temporary living palace for the imperial emperors who came to Hangzhou either for inspection or leisure sightseeing in Qing Dynasty. The Solitary Island is connected to the Beishan Road by Xileng Bridge and Bai Di Causeway.
On the Solitary Island, you will find Zhongshan Park, Zhejiang Provincial Museum, Louwailou Restaurant, Xilinyinshe and other historical and scenic sites. T
here is also a patch of Ginkgo tree area that entices a consistent flow of visitors each year when it is getting colder in late autumn time. The yellow Ginkgo trees, red maple trees  and green camphor trees blanket the island, sharp contrast of colors shooting out stunning views.
Best Time to Visit: Late November and December
How to Get There: Walk from Xilleng Bridge or the Broken Bridge
3. Fall Foliage at Huagang Park 花港观鱼秋色
Huagang Park, also known as Viewing Fish at Flower Harbor. The Viewing Fish at Flower Harbor is a poetic and romantic name given to a large park in the southwest of West Lake.
Huagang Park is ringed by West Lake on its three sides with its west side connected to the West Hill,  a peninsula protruding into West Lake.
As its name suggest, the park is well known for the golden fishes of all sizes and colors, a varied splendor of plants and flowers. The park is dissected into five areas – Red Golden Fish Pond, Peony Garden, Flower Harbor, Great Lawn and Forests. The park has much photo opportunities when autumns arrives with red leaves of maple trees mirrored on the lakes, a magnificent view!
Best Time to Visit: Late November and December
Public Transport: Bus K4, 504, Tourism Bus 1,2,3, and 5
4. Autumn Colors at Hangzhou Botanical Garden 杭州

植物园秋色

Hangzhou Botanical Garden is located on the northwest of West Lake, spreading on a large hilly area between Yuquan and Lingyin Temple. The garden is classified into 9 exhibition areas and 4 experimental sections with over 3000 species of plants and over 50,000 specimens.
In addition to the scientific research, the garden is mainly designed for appreciation and sightseeing. Whenever the season you visit Hangzhou Botanical Garden, you won't be let down by the charming landscape – endless flowering and magical colors brought by the plants at different seasons. When autumn comes, the maple area and Water & Mountain Area are the two best spots in the garden to view the fabulous fall foliage.
Best Time to Visit: Late November and December
Public Transport: Take bus Y6, 807,k27 and Tourism Bus 3 and get off at Hongchuqiao (洪春桥站), then walk 1 km to reach the garden.
5. Autumn Hues at Yang Gong Causeway 杨公堤
Yang Gong Causeway is located on the west of West Lake with six bridges. Yang Gong Causeway runs parallel with Su Causeway (also with 6 bridges)  to its east, hence the name of "12 Bridges on West Lake".  
The causeway is 3.4 km long,  starting from Lingyin Road on its north and ends at Hupao Road on its south, a scenic road connecting a myriad scenic spots like Quyuan Lotus Park, Jinsha Harbor, Hangzhou Nursery Garden, Maojia Fu, Turtle Pond, Yuhai Bay and Viewing Fish at Flower Harbor.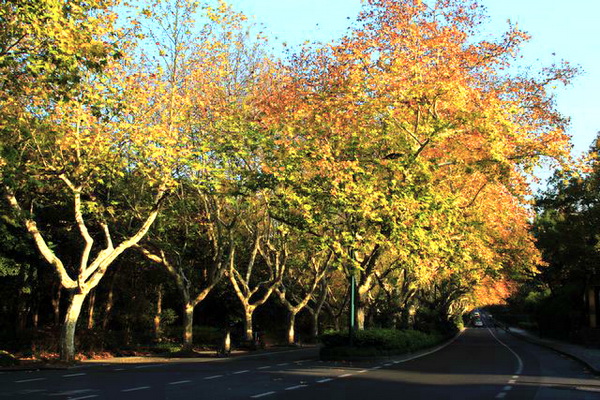 By the side of Yinxiu Bridge on Yang Gong Causeway, there is a lake known as "Turtle Pool", where dense couch grasses are grown. When autumn comes with temperature getting colder, the couch grasses turn from green to white, with the heads of flowers as white as snow, a spectacular autumn sight, enticing numerous visitors for taking pictures.
Best Time to Visit: Late November and December
Public Transport: Bus K1, K12, K80, Y 8
6. Autumn Colours along Lingyin Road
灵隐路
The 4 km long Lingyin Road is one of the most scenic roads in Hangzhou, extending from Yuefei Temple to Lingyi Temple. The road is lined with pine trees, soap berries and maple trees.
The yellow leaves soap berry trees and red leaves of maple trees are mingled along the scenic driveway, presenting an awesome autumn color. If you happen to visit Lingyin Temple in the late November or December, it is preferable to take a stroll along for a while instead of sitting on the bus passing the marvelous scenic Lingyin Road.
Best Time to Visit: Late November and December
Public Transport: Bus K7

7. Fall Colors along Longjing Road
龙井路
The 4.5 km long Longjing Road is named after the world famous Longjing Tea ( Dragon Well Tea ) produced in Hangzhou. The road starts from Hongchuqiao ( near Lingyin Road) and ends at Longjing Village, where the Longjing tea trees are planted.
In late 1970s, Chinese Sweet Gum Trees were planted along Longjing Road from Hongchuqiao to Longjing Village. The temperature here is a bit lower than the downtown Hangzhou. With the arrival of autumn and drop of temperature, the leaves receive less sunshine which change the color of the trees flank Longjing Road. Longjing Road becomes a red and yellow dragon sleeping on the ground, a not to be missed autumn sight.
Best Time to Visit: Late November and December
Public Transport: Bus Y3 or 27.
8. Autumn View at Nine Creeks in Misty Forest 九溪烟树
Nine Creeks in Misty Forest is one of the new Top 10 West Lake Sights, also known as Nine Creeks and Eighteen Streams, indicating the confluence of the 9 creeks and 18 streams here. It is located at the foot of Jiguan Hill on the mountains west of West Lake, linking Longjing Village on the north and Qiantang River on the south.
The mere sight of the name of "Misty Forest" will touch people's hearts for a glimpse. The sight is known for its deep and mysterious natural beauty. Strolling along the zigzag slab paths, you will be gradually caught by its charm – the yellow needle leaves of metasequoia trees ( dawn redwood) and Chinese sweet gum trees.
Best Time to Visit: Late November and December
Public Transport: Bus Y5
9. Ginkgo Trees at Zhaohui 朝晖银杏林
Hangzhou is dotted here and there with ginkgo trees. But local people are especially fond of one place known as Huanyuan Alley (华园弄). The narrow 600 m long alley is flanked with over 300 ginkgo trees. Huayuan Alley is located on the south side of Zhaohui Park on Shangtang Road.
It is said that the 300 ginkgo trees were planted by the same age children in 1980s, hence the name of same age trees. When autumn comes, it becomes a sea of yellow color with the road blanked with yellow ginkgo leaves.
Best Time to Visit: Late November and December
Public Transport: Bus 30
10. Autumn Color at Xixi National Wetland Park 西溪湿地
It is said to be the only national level wetland park in China, located on the west of Hangzhou with an area of 1,150 hectares. The park is a spider web of watercourses which are peppered with various ponds, lakes and swamps.
It has a varied vegetation comprising persimmon, pomegrante, willow, camphor, bamboo, mulberry, plum, peach, elm, nelumbo, maple, poplar, hibiscus and reeds. When autumn comes, the park is dotted with dancing reed flowers, and red persimmons.
Tip: Hassle-free Hangzhou Guided Tours
If you don't want to go the do-it-yourself route and prefer the hassle-free escorted tours, here are some options for Hangzhou Guided Tours:
Hangzhou Tour
Hangzhou 4-Day Tour Package
Hangzhou 3-Day Tour Package
Hangzhou Private Tour
Hangzhou Theme Tour
Hangzhou Side Trips
Hangzhou Car Rental with Driver
Further Readings
---
Top 10 Attractions in Hangzhou
Top 10 Photography Spots in Hangzhou
Night View of West Lake in Hangzhou
The Best hiking trail in Hangzhou
The best time to visit Hangzhou
Hangzhou East Railway Station
Hangzhou Airport Arrival Hall
How to Visit Feilai Peak Grottoes in Hangzhou
Where to stay in Hangzhou
Hangzhou Bicycle Hire
Wushan Night Market in Hangzhou
Pedestrian Streets in Hangzhou
Hangzhou's Best Bars & Nightclubs
Best Way to Visit Hangzhou from Shanghai
How to Visit Grand Canal Hangzhou
How to Visit Xiling Seal Engravers' Society
How to Visit Liuhe Pagoda
Hangzhou Tea Plantation
How to Visit Leifeng Pagoda
How to visit Hupao Spring (Tiger Spring) Hangzhou
How to Visit Yellow Dragon Cave in Hangzhou
The Best Place to View Sunrise over West Lake Hangzhou
Any question, just drop a line.