by
So why hire a tour guide in Beijing? Because it is the interactive way to see Beijing with a knowledgeable English-speaking tour guide to show you around. Then where to find the resourceful and responsible tour guides? Look no further. Tour Beijing is your idea one-stop tour guide service.
Our licensed well-trained guides know how to navigate through the huge city to maximize your unique experiences and minimize wasted travel time.
They are able to either customize an itinerary or tailor-make a tour per your specific request, putting together the jaw-dropping experiences and interactive activities. They will pass on you the anecdotes and stories in connection with time, people and places that you will visit.
Whether you are interested in the normal Beijing sightseeing tours, or focusing on a  variety of Beijing specialty tours, we are able to make your trip comfortable and memorable including:
Beijing Spring Tour
Beijing Autumn Tour
Beijing Winter Tour
Beijing Great Wall Tour
Beijing Hutong Tour
Beijing Food Tour
Beijing Family Tour
Beijing Helicopter Tour
How to book a tour guide? Just click Beijing tour guide and complete the form to send us your travel requests which ae going to be taken care of by one of our trip advisors who will arrange an available tour guide. You will receive our email response within 24 hours except on weekends.
When your booked guide service is confirmed, you will receive an e-mail tour confirmation letter, a kind of travel contract bonding you and Tour Beijing. The confirmation letter contains all the finalized travel information about your Beijing tour guide including the personal mobile phone number of the trip advisor from Tour Beijing in case you need to call us for something urgent.
When you are met by our tour guide at Beijing airport, again you will receive an emergence card with all the contact information: the mobile phone numbers of your tour guide , trip advisor and office phone number. In a word, you are under our radar once you are in Beijing.
If you need more sophisticated and comprehensive land arrangement, your trip advisor from Tour Beijing can handle logistics such as hotel accommodations, restaurant bookings and local transportation arrangements.
Our tour guides act as civil ambassadors to Beijing with the motto "Satisfy and impress our valuable clients.". Help your traveling party gain some knowledge of our complex system of government, historical sites and many interesting little things in our routine life.
Hope to see you soon in Beijing !
Tour Beijing
Tel: (+86)10 67160201 Ext 1006,1007 Add: 2001-1-1, Nanxiaojie, Guangqumen, Dongcheng District, Beijing, P.R.C.
Travel License NO.: L-BJ-01220
www.tour-beijing.com
Attached here to see more of our Guides in action!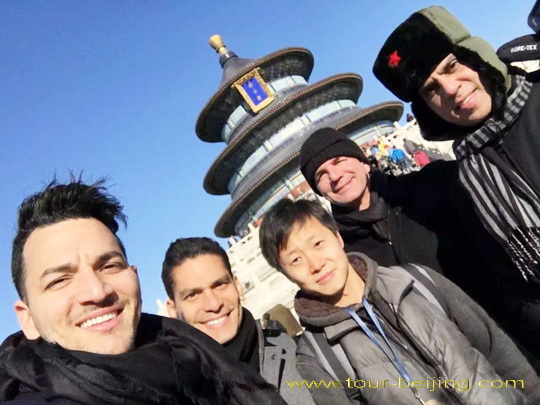 Tip: Hassle-free Beijing Guided Tours
If you don't want to go the do-it-yourself route and prefer the hassle-free escorted tours, here are some options for Beijing guided tours:
Beijing Day Tour
Beijing Tour Packages
Beijing Winter Tour
Beijing Autumn Tour
Great Wall Tour
Car Rental in Beijing
Beijing Tours
China City Tours
China Tour
_______________________________________________________
Top 10 Attractions in Beijing.
How to Visit Forbidden City.
How to Visit Temple of Heaven.
How to Visit Summer Palace.
How to Visit Ming Tombs.
How to Visit the Great Wall of China.
How to Visit Tiananmen Square.
How to Visit Hutongs.
How to Visit Olympic Sites.
Top 10 Markets in Beijing.
Top 10 Shopping Malls in Beijing.
Wangfujing Night Snack Street.
Qianmen Commercial Street.
Beijing Huguosi Street.
Any questions, just drop a line.