No longer a city of being dull and monotonous, Beijing has much to offer when night falls like other capitals around the world.
It offers visitors a great variety of events and activities – extravagant dinners, exotic night snacks, breathtaking shows, romantic bars, lighted streets and buildings…
Here I recommend you some night hangouts in Beijing:
Wangfujing Street ( a famous traffic-free street)
No Beijing tour is complete without visiting Wangfujing Street (王俯井大街) and its vicinity. "Wangfujing" literally means "prince residence well".
There used to live 10 princes in these area in Ming Dynasty (1368 – 1644), hence the street name "Wangfu Street". Later in Qing Dynasty (1644 – 1911), a sweet water well was dug here, then the street was renamed "Wangfujing", which has been kept till today.
Check out Wangfujing Street for more information.
Wangfujing Street is 1600 meters in length, running from south to north street. Now the part of it has been transformed into a pedestrian street since 1999.
How to get there:
Take Beijing subway Line 1 and get off at the Wangfujing station, then walk along the Wangfujing Street.
Beijing Guijie – Ghost Street by Night
If you can spare some time for the sightseeing at night, you are recommended to stroll Gui Jie ( Ghost Street 簋街), an almost 24-hour food street with numerous eateries. It is quite popular with local Beijing people, expats, tourists, etc .
It is a 1442-meter long gourmet street, located within Dongzhimennei Dongcheng District, running from the east of Dongzhimen Bridge. The street is lined with over 100 restaurants and most of them offer 24-hour service.
Check out Night View of Gui Jie in Beijing for more information.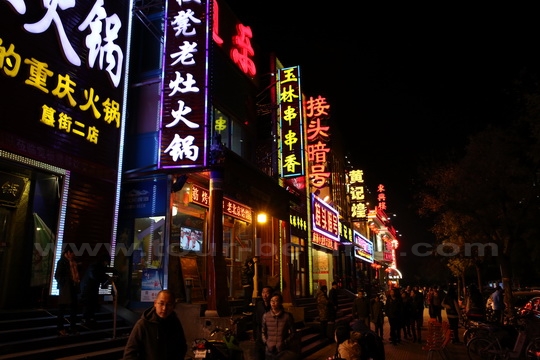 The business here is particularly booming at night, when the street sparkles with red lanterns lightening. Locals, expats, tourists and businessmen flock here each night.
The restaurants here serve a great diversity of dishes, including Sichuan, Canton, Shandong dishes, as well as snacks, barbecue, and ethnic minority dishes.ADD: 442 m from Dongzhimen cloverleaf junction in the east, to Jiaodaokou East Street in the west.
Hou Hai Lake Area ( Shichahai area)
Houhai Lake has developed into one of Beijing's top entertainment districts. The brightly lit bars and restaurants line the shores of the small lake and offer a healthy and more civilised night out than the somewhat shabby bars in the Sanlitun district in Beijing.
Check out Night View of Shichahai for more information.
People come here to enjoy good beer, cheap pub food, lively crowd and plenty of sport on an array of TVs. Now this remains the finest place in the city for a quiet drink.
How to get there:
Take Subway Line 5 and get off at Zhangzizhong Station. Walk westward along Zhangzizhong Rd till Houhai Lake just opposit the north gate of Behai Lake.
Nanluoguxiang ( Nan Luo Gu Lane )
This hutong has a history of over 700 years dating back to Yuan Dyansty in 13th and 14th century. Running from north to south, this lane is about 800 meters long with 16 hutongs – 8 hutongs on each side of the lane.
The lane is now famous for the cafes and bars and clothing and handcraft shops that line its hutong laneways as well as its traditional hutong and courtyards (siheyuan).
Check out How to Visit Nanluoguxiang Hutong in Beijing for more information.
It is another bar area besides Houhai Lake Bar Area, Workers' Stadium and Sanlitun bar street. Nanluoguxiang is a perfect blend of past and present. It is much quieter with reasonable prices.
How to get there:
South Entrance: Take Subway Line 5 and get off at Zhangzizhong Station. Walk westward along Zhangzizhong Rd till the south entrance to Nanluoguxiang.
North Entrance: The north starting point of Nanluoguxiang is just next to No. 108-2 Gulou Dongdajie ( East Drum Tower Street )
Acrobatic Shows in Beijing
With a history of more than three thousand years, Chinese acrobatics has been praised as "A pearl of Oriental art". When watching a Chinese acrobatics show, you will be strongly attracted both mentally and physically.
The acrobatic show is combined on the base of dance and opera arts, compositions, stage design, costume, light and sound.
Every night several acrobatic theaters put on acrobatic shows in Beijing.Chaoyang Acrobatic Theater:
Address: 36 North Road, Chaoyang District
How to get there:
Take Subway Line 10 to Hujialou Station, Exit C. Turn left as you exit and just cross the alley. Chaoyang Theater is right there. The ticket office is on the right side facing the main entrance.
Tel: 8610 – 65072421
Beijing Opera ( Peking Opera )
If you are a first-time visitor to Beijing, then enjoying Beijing Opera should be covered on your must-do-things in Beijing. The acrobatic opera is enjoyed all over China.
Featuring athletic gymnastic feats and warrior arts, it has been developed into a broad martial-style of opera recognizable for its use of acrobats and stunts.
Liyuan Theatre
Add: 1/F Qianmen Hotel, Yongan Road, Hufangqiao, Xuanwu District, Beijing
Tel: 63540841
Bus: Take bus NO.19,40,59,61,122,819 and get off at Hufangqiao stop
Ticket: 20—150yuan
Chang'an Grand Theatre
Add:In the Guanghua Chang an piazza ,East Chang an Avenue
Tel:65101309
Time:afternoon and evening show
Ticket: 20—180yuan
Huguang Huiguan Ancient Opera Building
Add: 3 Hufang Road, Xuanwu District ,Beijing
Tel: 63529134
Time: 9: 00—19: 00 closed on Monday
Bus: Take buses NO.5,6,23,50,53,102,105 and get off at Hufangqiao stop
Ticket: 150 yuan
Kung Fu Show
The magnificent wushu is the crystallization of human wisdom. In the boundless world of great wushu, the Shaolin kung fu, as a glittering pearl of wushu has been bright with radiating rays. Its broad and profound connotation, its mysterious and subtle skills command respect among heroes all over the world.
Red Theater ( Daily Kung Fu Night Show )
Add: No.44, Xinfu Dajie, Worker's Cultural Palace, Chongwen District, Beijing
Tel: 51652145
Time: 19:30-20:15
Bus: 716, 320, 323,355,265,300, 8, 12, 23, 57, 517
Beijing Laoshe Tea House Performance
The teahouse is named after famous Chinese novelist and playwright, Lao She, and his masterpiece drama, "Teahouse". It is a teahouse with short shows by comedians, singers, musicians, acrobats and opera performers.
You can have a rich review of Beijing culture while enjoying tea with light snacks.
Laoshe Teahouse is located in the busy shopping area to the west of the Qianmen Gate Arrow Tower on the southern edge of Tian'anmen Square.
How to get there:
Take Subway Line 2 and get off at Qianmen Station. Walk westward and on your left side you will spot the teahouse – 老舍茶馆.
Beijing Hard Rock
This hard rock is adjoined to Landmark Hotel. The restaurant entrance boasts a bright red 1960 vintage Cadillac, a huge neon-lit guitar, and marble piano keys that pave the way to the Cafe.
The interior offers an 8-metre-wide dome, painted with images of Jimi Hendrix, Chuck Berry, the Beatles, the Rolling Stones, Little Richard, Elvis Presley, and popular tourist spots such as Tiananmen Square and Temple of Heaven.
ADD: 8 North Dongsanhuan Road, Landmark Hotel, Chaoyang Distric, Beijing.
Tel: 86-10-65906688
Illuminated Streets, Buildings and Landmarks
See Beijing that comes to life at night with all the major sights spectacularly floodlit – Olympic Stadium ( Bird Nest ), Water Cube, Beijing CBD & SOHO Business Street, Ancient City Wall, Changan Street, Tiananmen Sqaure, National Grand Theatre, Beijing Bank Street ( China Wall Street ), and Houhai Lake Bar Street and much more to be offered!
Tip: Hassle-free Beijing Guided Tours
If you don't want to go the do-it-yourself route and prefer the hassle-free escorted tours, here are some options for Beijing guided tours:
Beijing Day Tour
Beijing Tour Packages
Beijing Winter Tour
Beijing Autumn Tour
Great Wall Tour
Car Rental in Beijing
Beijing Tours
China City Tours
China Tour
Further Readings
---
Best Time to Visit Beijing
How to plan a trip to Beijing
Top 10 Attractions in Beijing
How to Visit Forbidden City
How to Visit Temple of Heaven
How to Visit Summer Palace
How to Visit Ming Tombs
How to Visit the Great Wall of China
How to Visit Tiananmen Square
How to Visit Hutongs
How to Visit Olympic Sites
Top 10 Markets in Beijing
Top 10 Shopping Malls in Beijing
Beijing Shopping
Wangfujing Walking Street
Qianmen Commercial Street
Gui Jie ( Ghost Street) Food Street
Any questions, just drop a line.