As a first-time visitor to Beijing, you probably rely heavily on travel guide books or online travel information, making obligatory pilgrimage to the must-see attractions such as Tiananmen Square, Forbidden City, Houhai Hutong, Lama Temple, Summer Palace and Mutianyu Great Wall and the list is much longer.
But if you have already crammed these above-mentioned great sites into your travel plan, or if you want to escape the hoards of tourists and or if you want to mix with the locals and see the authentic side of Beijing, you still have many hidden gems to discover in Beijing.
These non-mainstream things are good alternatives to the classic must-see sights, and equally significant in terms of enjoying and understanding the metropolitan city of Beijing.
Today, we've rounded up some of the top non-touristy things to do in Beijing to get you started. Hopefully these off-the-track treasures are useful in planning your Beijing tour.
1. See the Whole of Beijing in Miniature
Before kicking off your visit to Tiananmen Square, why not start up a day of sightseeing by having a panoramic view of the city in miniature with vivid knowledge of the city you are going to visit.
Located just on the east of Tiananmen Square, Beijing Planning Exhibition Hall is designed to introduce the long history of the immortal city of Beijing, with 16,000 square-meter floor space distributed on 4 floor levels in the Hall, with 8,000 square meters for exhibits.
It has a large model of the entire Beijing metropolitan area, as well as multimedia exhibits depicting the history, present situation, and future of urban planning in Beijing.
Add: No.20 Qianmen East Street, on the east of Tiananmen Square in Beijing
Opening Hours: 9:00am – 5:00pm ( Ticket selling stops at 4:00pm )
Monday: Closed
Entrance fee: 30 yuan
2. Hike from Jiankou Great Wall to Mutianyu Great Wall
Most of international travellers would choose Mutianyu Great Wall when planning their trip to the Great Wall of China since it ranks as the Top 1 attraction in Beijing by Tripadvisor.
But it will be more gorgeous if you take a walk from Jiankou Great Wall to Mutianyu Great Wall instead of Mutianyu Great Wall only.
You don't have to venture the most treacherous part of Jiankou Great Wall. There is a hiking trail skipping the risky parts of Jiankou, allowing you to appreciate the wild and original side of the Great Wall. See Walk from Jiankou to Mutianyu Great Wall for more travel information.
3. Go to Poly Art Museum
Poly Museum is designed to develop and display traditional national culture and art, and to rescue and protect Chinese cultural relics lost abroad. The museum mainly consists of two parts of the exhibition: bronze and stone carvings.
Most of the exhibits have been retrieved from abroad, and a considerable part has especially high historical and artistic value as they are quintessence or the only existing versions.
It is a well hidden gem in Beijing. Just do not expect any large museum shop or souvenirs, this small museum is really about the collection itself.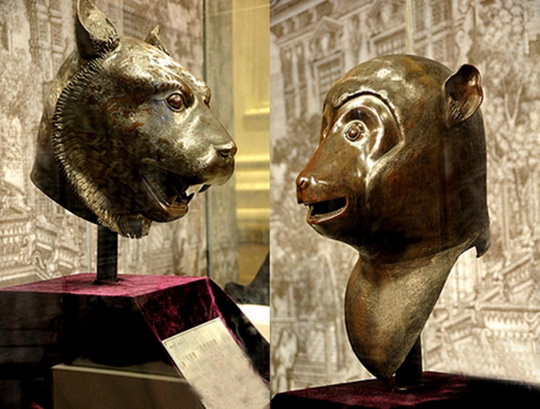 Add: 9th floor New Poly Plaza, 1 Chaoyangmen Bei Dajie Dongcheng District
Opening Hours: Monday-Saturday 9: 30-16: 30;close on state holidays
Tel: 6500 8117
Admission: 20RMB
How to get there:
Metro: Take subway line 2 and get off at Dongsishitiao and exit from Exit D.
4. Take English Mass at St. Joseph's Parish
Do you fancy the idea of going to church in Beijing? The every 4pm English Catholic mass on Sunday provides the wonderful lyrics, chords and melody at St.Joseph's Church or Wangfujing Church in Beijing.
A large square outside the church is a public city park with 1.2 hectares, a good spot for wedding photos and Roller board skating. The square's north end is adjacent to Wangfujing Street.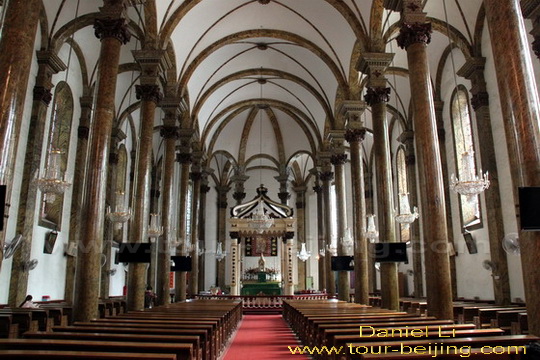 After attending church service, have a stroll along Wangfujing Street, rubbing with the locals and delved into the shopping and dining world. The part of the wangfujing Street (810m) has been transformed into a pedestrian street since 1999.
St. Joseph's Church
Address: 74 Wangfujing St, Dongcheng, Beijing
Phone: +86 10 652406346 (English), or 65212162 (English)
Mass Schedule at St. Joseph's Parish
English Mass Time
4:00pm on each Sunday afternoon
5. Take a Stroll Along the Outer City's Southern Moat
Exiting from the northern gate to Forbidden City, you will find the city moat circling the exterior wall. There used to 4 kinds of moat systems in Beijing – the city moats for the Palace (Forbidden City), Imperial City, Inner City and Outer City ranging from Yuan Dynasty (1271-1368), Ming Dynasty (1368-1644) and Qing Dynasty (1644-1911).
In 1950's, Beijing's moat system was still measured at over 40 kilometres. Today, parts of the inner city's northern moat system, the outer city's southern moat system, the imperial city's moat system and the forbidden city's moat system still remain, and the remaining moats total 31 kilometers.
Click "Where to do distance running or walking in Beijing?" for more information on the walking trail along the city moat.
The local governments have made great efforts in the recent years to protect and preserve the remaining city moats. A major preservation project for the city moats is still on the way, largely improving the walking trails along the banks of the city moats, especially on the Outer City's Southern Moat.
Walking along the Outer City Southern Moat, you can feel the vibe of the metropolitan Beijing. Yongdingmen Gate Tower is a good starting point for a leisure and informative stroll along the city moat.
6. Explore Less Touristy Hutong Area
"Hutong" refers to the vernacular buildings ( the old narrow alleys and courtyards ) and traditional residential areas in Beijing.
With the fast urban development of Beijing, more and more "Hutong" is torn down, either going through gentrification or making way for new modern buildings.
The people living in the real Hutong areas decrease, but currently still a decent proportion of the Beijingers live in crowded alleys and courtyard homes. Strolling though these hutong areas is an eye-opener for you to see a real Beijing.
The more gentrified Nanluoguxiang or Houhai hutongs are good choices for viewing the traditional life in Beijing. Another better alternative is the walk from Liulichang antique street to Dazhalan. See Old Beijing Walking Tour.
7. Walk through Dongjiaomingxiang (Dong Jiao Min Xiang)
Dong Jiao Min Xiang is a historic site worth your short stroll and glimpse of the European-style buldings left over by the late 19th century and early 20th century foreign powers.
Dong Jiao Minj Xiang ( or Dong Jiao Min Alley ) literally means "East Foreign Residents Alley", which is the longest alley ( hutong ) in Beijing with a total length of 1550 meters.
In the English travel guidebooks, Dong Jiao Min Xiang is popularly known as Former Legation Quarter. It was once home to the former 11 foreign embassies including UK, France, Germany, Japan, the US, Russia, Italy, Spain, Austria, Belgium and Dutch. See: How to visit Dong Jiao Min Xiang.
8. Be Immersed into Fayuan Temple
Most travel guide books would recommend you to explore Lama Temple, also called "Yonghegong", the most important Lamasery in Beijing. Lama Temple was originally built as the residence of Emperor Yongzheng when he was still a prince.
After he came to the throne (Emperor Yongzheng), he changed his old residence into a temporary palace called "Yonghegong" in 1725. In 1744, his successor, Emperor Qianlong turned the palace into a lama temple. This Tibetan Buddhist Lama Temple is still popularly called Yonghegong.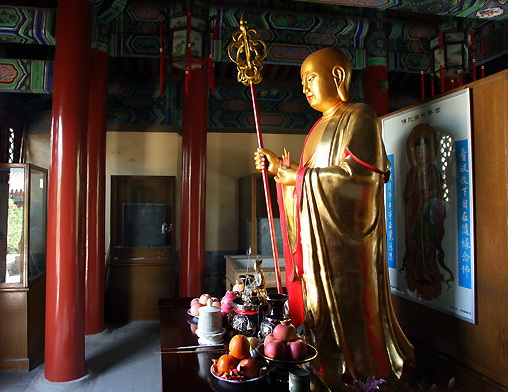 Fayuan Temple is much older than Lama Temple, built in 645 AD during Tang Dynasty (618-907 AD). It is situated at the south of Jiaozi Alley in the southern downtown of Beijing.
It is not only the oldest Buddhist temple, but also the location for the China Buddhism Institution and China Buddhism Library and Relic Centre, as well as an important venue for nurturing young monks and Buddhism research.
Fayuan Temple
Entrance fee: 5 yuan
Add: East of the Southern end of Jiaozi Hutong, Xicheng, Beijing
Bus: Bus 6 and 109 and get off at Jiaozi Hutong or Metro Line 4 and get off at Caishi Kou and exit from Southwest Ext.
9: Haggle at Silk Market
So the old silk market has been demolished long before. The present Silk Street Market is actually a department store with a floor area of 28,000 square meters.
There are now over 500 booths in the building. According to the developer of the building, the advantages of the old market are still kept available in the present market, targeting the international tourists and local white-collar workers.
Location: 8 Xiushui East Street, Jianwai Dajie, Chaoyang, Beijing 北京市朝阳区建外大街秀水东街8号
Tel::(010) 51699003, 56767766, 56767768
Opening Hours: 9am-9pm
Subway: take subway line 1 and get off at the station of Yonganli (永安里), and exit from Exit A
Public Transport: Bus No.1,9,28,37,43,120,126,403,639,640,668,728,and 729, arrival at Yonganli Station
Tip: Hassle-free Beijing Guided Tours
If you don't want to go the do-it-yourself route and prefer the hassle-free escorted tours, here are some options for Beijing guided tours:
Beijing Day Tour
Beijing Tour Packages
Beijing Winter Tour
Beijing Autumn Tour
Great Wall Tour
Car Rental in Beijing
Beijing Tours
China City Tours
China Tour
Further Readings
---
Best Time to Visit Beijing
How to plan a trip to Beijing
Top 10 Attractions in Beijing
How to Visit Forbidden City
How to Visit Temple of Heaven
How to Visit Summer Palace
How to Visit Ming Tombs
How to Visit the Great Wall of China
How to Visit Tiananmen Square
How to Visit Hutongs
How to Visit Olympic Sites
Top 10 Markets in Beijing
Top 10 Shopping Malls in Beijing
Beijing Shopping
Wangfujing Walking Street
Qianmen Commercial Street
Gui Jie ( Ghost Street) Food Street
Any questions, just drop a line.