Of all the 10 major sections of Great Wall around Beijing, both Badaling Great Wall and Mutianyu Great Wall have accessible facilities for wheelchair users with accessible paths and elevators.
Mutianyu Great Wall is generally billed as the most favorite by foreign visitors. It is less crowded than Badaling Great Wall which is always packed with the horde of domestic tourists no matter on weekdays or weekends and public holidays.
But when it comes to the question of which section of the Great Wall is more wheelchair user-friendly, Badaling Great Wall has the upper hand over Mutianyu Great Wall with its gentle ramp leading to the first watch tower of the Great Wall.
Mutianyu Great Wall
Unlike Badaling Great Wall with its wall and first watch tower starting from the ground ( the gate of the pass ), the whole Mutianyu Great Wall is perched high on the mountain ridge and you have to either climb up or take a cable car up on to the Wall.
When you get off the ferry shuttle bus at the parking lot in Mutianyu, you still need to push your wheelchair all the way for about 600 meters along an uneven stone path ( wheelchair accessible ) leading up to the cable station.
Again once you get off the cable station on the mountain, you need to push your wheelchair on a very steep ramp for about 80 meters and get to the platform below the 14th watch tower of Mutianyu Great Wall.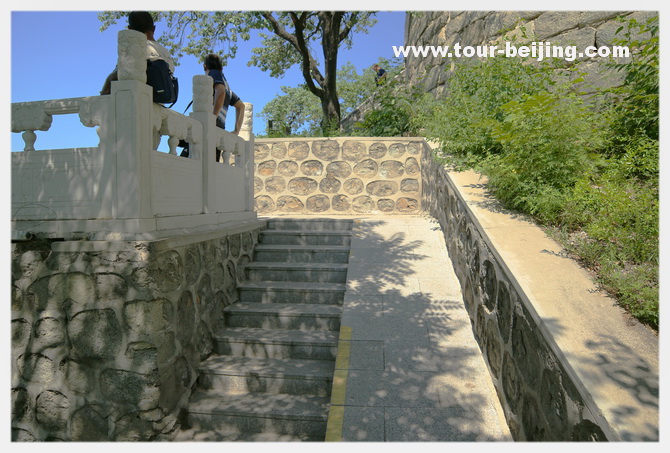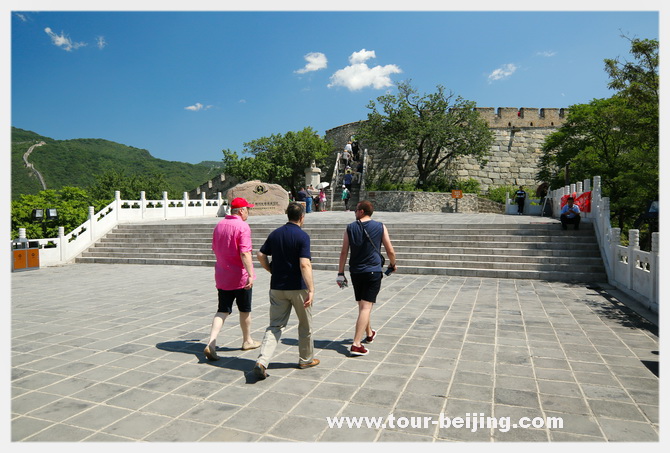 So, for Mutianyu Great Wall, wheelchair users may first take a cable car up and then use the accessible lane leading to the platform below the 14th watch tower for a good view of Mutianyu Great Wall.
The way down is a lot easier than on the way up.
Badaling Great Wall 
Badaling is more wheelchair-friendly than Mutianyu Great Wall. On Badaling Great Wall, there is a special flat lane, or a ramp, which is used for wheelchair users to ascend to Tower 1 and continue to Tower 3 of the Wall.
The accessible path is flat and not deep. So you can either use wheelchairs or walk slowly along the accessible path to the Tower 3 and walk further for a better view if you can.
So please go to the No. 1 Tower at the north to start your accessible tour up to Badaling Great Wall.
Even two elevators are equipped for an easy ascent if you book the elevator service in advance ( But most of the time the elevators are just closed!).
Basically it is more convenient to use its smooth and gentle ramp leading up to Badaling Great Wall.
You don't need to use the cable car. The area for the upper cable station is not wheelchair-friendly and very often teem with domestic tourists.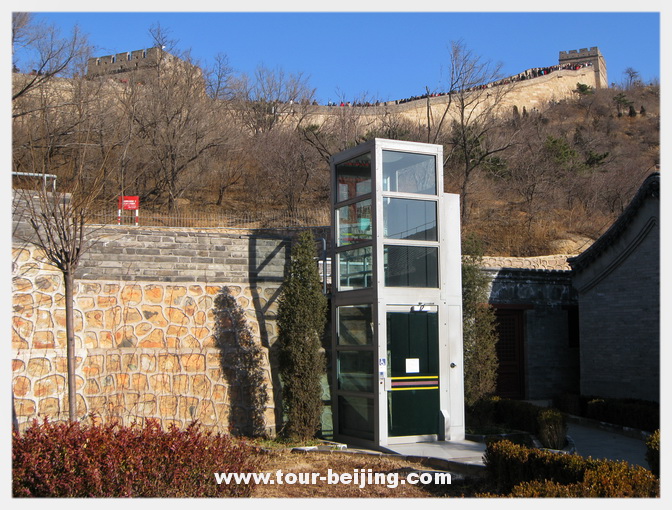 For a big tourist group ( wheelchair users), please contact the office at Badaling Great Wall to book the elevators for the easy ascent. Badaling Office: tel & fax: 010-69121268; [email protected].
Comparatively, Badaling Great Wall is more accessible for wheelchair users and you don't have to pay the 100 yuan cable car.
Ticket Price: RMB40 (Nov. 1 to Mar. 31); RMB 45 (Apr. 1 to Oct. 31)
Cable Car: RMB80 (single trip); RMB100 (round trip)
Toboggan: RMB30 (single trip);
Opening Hours:06:30-19:00 (in summer); 07:00-18:00 (in winter)
Bus Route: Take Bus No.877 or No. 919 at Deshengmen, RMB12 for ticket.
S Train: Take S train from Huangtudian Railway Station and get off at the station of Badaling.
Add-on
How to Visit Great Wall of China
How to Get to Badaling Great Wall by Train
How to Get to Badaling Great Wall by Bus
How to Get to Simatai Great Wall & Gubei Water Town
How to Visit Mutianyu Great Wall
How to Visit Great Wall of China in Winter
How to Visit Great Wall of China Wheelchair Accessible
Tip: Hassle-free Beijing Guided Tours
If you don't want to go the do-it-yourself route and prefer the hassle-free escorted tours, here are some options for guided tours to Beijing:
Car Rental in Beijing
Beijing Day Tour
Beijing Tour Packages
Great Wall Tour
China City Tours
China Tour
Further Readings
---
How to Plan a Trip to Beijing
Top 10 Attractions in Beijing
Top 10 Tourist Scams Beijing
How to Visit Tiananmen Square
How to Visit Forbidden City
How to Visit Temple of Heaven
How to Visit Summer Palace
How to Visit Ming Tombs
How to Visit the Great Wall of China
How to Visit Hutongs
How to Visit Olympic Sites
Top 10 Markets in Beijing
Top 10 Shopping Malls in Beijing
Beijing Shopping
Wangfujing Snack Street
Qianmen Commercial Street
Beijing Huguosi Street
Any questions, just drop a line.