Beijing has a number of year-round indoor ice rinks. If you visit Beijing in winter ( January and early Feburary), you are able to go ice skating on the outdoor ice rinks.
We've rounded up a top list of both outdoor and indoor ice skating rinks in Beijing. We will update this list, so keep checking back.
Outdoor Ice Rinks in Winter
Planing your Beijing winter tour? The outdoor Ice skating rinks are only seasonal in Beijing, most of them available between early January and early February in winter, depending on the climate when the lakes are frozen. Do check with organisers for the latest information as climate change gets Beijing warmer in winter.
1. Shichahai Ice Rink ( popularly known as Houhai Ice Rink)
Shichahai Ice Rink is located in Houhai, Xicheng District. It is an open-air skating rink on the lake in Shichahai. Warm your body up before playing outside and keep moving!
So where is Shichahai? Read my another article How to visit Shichahai and Houhai Winter Ice Skating Rink for more information.
Opening Hours: 9:00 – 17:30 ( Daytime) in winter ( Jan and early Feb)
18:00 – 21:30 ( Night Time)
Tickets: 60 RMB on weekdays, 80 RMB for weekends, and night 80 RMB
2. Summer Palace Winter Ice Skating
Summer Palace is a big draw for first time visitors to Beijing. The Kunming Lake Skate Rink in Summer Palace is the largest in Beijing totaling 700,000 square meters.
Check out How to Visit Summer Palace and Go ice skating at Summer Palace for more information.
3. Beihai Winter Ice Skating
Dubbed as Winter Palace by westerners, Beihai Park is the oldest imperial garden as well as one of the largest in China.In winter, it becomes one of the biggest ice rinks in the Beijing.
Check out How to Visit Beihai Park for more information.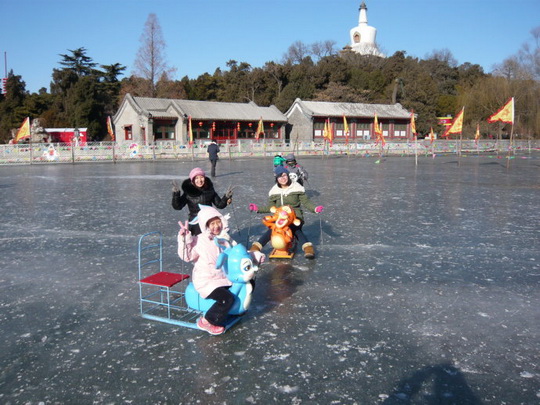 Beihai Park Ice Rink: Skaters can enjoy the views of white tower and the winter landscape, so as to be away from the hustle and bustle of the city and find endless joy and excitement here.
4. Weiming Lake Skating Rink
Weiming Lake is an artificial lake inside the Peking University. In an icy winter time, the water turns into ice and people can skate on the ice.
There is no ticket for entering the Peking University and it only takes you some money to hire a pair of skates. It is a very popular skating rink, people at all ages skate on the ice in a happy mood.
Opening time: Late winter depending on the weather condition.
5. Tao Ranting Park
There are two skating courses currently at the Tao Ranting Park, one is at the south lake close to the south gate, the other is to the north of the lake, close to East and North gates.
Price: ice truck for single person: 10 Yuan/hour, ice truck for two people: 20 Yuan/hour, 50 Yuan for deposit. (The park does not provide ice boots to hire.)
Check out my another article Taoranting Park in Beijing for more information.
Add: No. 19 Taiping Street, Xuanwu District.
Take bus No. 40, 59, 102, 343, 603 or 819 and get off at Taipingjie Stop.
6. Zizhuyuan Park
Dubbed the largest ice course in Beijing, Zizhuyuan Park has the longest slide of 17.5 meters.
Slide: RMB 5
Ice truck: RMB 10/hour
Ice ship: RMB 20/hour
Bicycle on ice: RMB 30/half hour
Ice chair: RMB 10/hour
Skating course: RMB 10
Traffic: Take bus No. 114, 300, 323, 334, 374, 811, 814 or 817 and get off at Bishiqiao stop
Opening Hours: Daily 8am – 6pm.
Add: 45 Baishiqiao Lu, Haidian District.
Tel: 8841 2830
—————————————————————-

Indoor Ice Rinks ( Available all year round )
1. All Star Ice Rink
Located on the first floor of Solana Mall, the ice rink covers 800 square meters and is fit for both entertainment and professional competition. All-Star offers kids'classes staffed by coaches from the Chinese national skating team.
The rink is equipped with first-class lighting and acoustic system, which creates a dreamy, movie-like atmosphere.
Opening Hours: Daily 10am-10pm
Add: 1/F, Solana Lifestyle Shopping Park, 6 Chaoyang Gongyuan Lu, Chaoyang District.
Tel: 5905 6328
2. Century Star Club (Capital Indoor Stadium Ice Rink)
This skating rink is located in No.54, southern street in Zhongguancun, Haidian District. The environment there is pretty good for professional athletes usually get trained there. As a result, the ticket there is a little bit expensive than in other places.
Opening time: 9:00am -7:00 pm
Tickets: 40 for the weekdays, 50 for the weekends with no time limitation.Tel: 6834 6346
3. New World Champion Skating Rink
The skating rink is located in the new world department store in Chongwenmen 5 Street in Chongwen District. It is inside a big shopping mall so parents would like to take their children there. Children can skating while mums shopping.
Opening time: 9:00 – 21:30 on weekdays and 9:30 – 22:00 for the weekends.
Tickets: 45 RMB for one and half an hour
Add: 2nd phase project of New World Shopping Mall, Chongwenmen
Tel:670895234.Champion Skating Rink
RMB 30 (10-11.30am) weekdays for 1.5 hours, including shoes, RMB 40 (11.30am-5pm), weekdays after 5pm and weekends RMB 50/1.5 hours. RMB 10 more for every additional 30 minutes.
Opening Hours: 10am – 9.30pm.
Add: B2/F, Jinyuan Shopping Mall, Yuanda Lu, Haidian District.
Tel: 8887 4899
4. Hokay Skating Center
Aside from hosting international hockey competitions, Hokay is also a great venue for figure skating. Various training classes on offer and the friendly, professional coaches are available at all times to provide assistance.
Prices: RMB 45/90 min, plus RMB 10 for skate rental.
Opening Hours: Daily noon – 8pm.
Add: Inside Xinglong Gongyuan, Gaobeidian, Chaoyang District.
Tel: 8577 8001
5. Le Cool
Chills and spills for skaters and shoppers at this small indoor rink in the World Trade Center. Be warned that the rink can get seriously crowded with ice princesses on holidays and weekend afternoons.
Prices: RMB 120/150 for a 40-minute private lesson.
Weekdays: RMB 30 for 90 min (10am-6pm), RMB 40 for 90 min (6-10pm).
Weekends: RMB 50 for 90 min. Skate rental included.
Opening Hours: Mon-Sat 10am-10pm, Sun 10am-7pm.
Add: B2/F, China World Shopping Mall, 1 Jianguomenwai Dajie, Chaoyang District.
Tel: 6505 5776
6. Sanlitun Village
The rink is relatively small, thus suitable for beginners. Its surface area measures 200 square meters, about the size of a convenience store.
The water fountains in the main plaza have been replaced by this kid-friendly ice rink for the winter.
Prices: RMB 32 (including shoes and RMB 2 for insurance) /90min.
Opening Hours: Daily 10am-10pm. d
Add: 19 Sanlitun Lu, Chaoyang District.
tel: 6417 6110
7. The Ice Zone
This small rink in Shunyi offers skating classes for beginners and intermediates, private lessons, 3-on-3 ice hockey programs, and beginners' hockey for adults and children. Prices: RMB 50 (weekends) and RMB 30 (weekdays) and includes skate rental.
Prices: RMB 150 (CN)/300 (EN) per hour.
Opening Hours: Daily noon-4pm.
Aff: 7 Yuyang Lu, Houshayu, Shunyi District.
Tel: 8046 6092
8. Xiyue Ice Skating
This indoor facility spans 1,000 square meters.
Prices: 90 minutes of ice time (including shoes) costs RMB 35 (weekdays) or RMB 45 (nights and weekends).
Opening Hours: Daily 10am-9.30pm
Add: Xidan Cultural Centre (in 77th Street), Xicheng District.
Tel: 6602 0050
9. Zilongxiang Ice Rink
Prices: RMB 16 per hour for children, RMB 26 for adults.
Opening Hours: Tuesday-Sunday, close on Monday 9am-9pm. N
Add: North gate of Ditan Park, A14 Hepingli Zhongjie, Dongcheng District.
Tel: 6429 161910.
10. Shangmei Rink
Shangmei covers 1,600 square meters and has an elliptic ice field of 900 square meters. Transparent glass surrounds the field and skaters can watch themselves on the big screen.
A computerized monitoring system maintains the temperature of the ice steady at -1 degree Celsius and the indoor environment at 17 degrees. Skates, protective gear, skating clothes and related equipment are available for hire. The rink has a rest area, dressing room and gym.
Address: Basement 4, Xidan Cultural Square, 180 Xidan Beidajie, Xicheng District, Beijing.
Tel: 010-6603 0050
Opening Hours: Monday to Friday
Prices: RMB 25 – RMB 35 /90minAdd on:
Top 10 Beijing Ski Resorts
Add-on
Top 10 Ski Resorts in Beijing
Top 10 Ice Rinks in Beijing
Houhai Winter Ice Skating Rink
How to Visit Great Wall of China in Winter
Top Things to Do in Beijing in the Winter
How to Visit Longqing Gorge Ice Lantern Festival
What to see and do at the temple fairs in Beijing
Snow and Ice at Bird's Nest (National Stadium)
How to Spend Spring Festival in Beijing
How to Spend Christmas Eve in Beijing
Longtan Lake Park Temple Fair
Tip: Hassle-free Beijing Guided Tours
If you don't want to go the do-it-yourself route and prefer the hassle-free escorted tours, here are some options for guided tours to Beijing:
Beijing Winter Tour
Beijing 5 Day Winter Tour Package
Car Rental in Beijing
Beijing Day Tour
Beijing Tour Packages
Great Wall Tour
Beijing Winter Tour
China City Tours
China Tour
Further Readings
---
How to Plan a Trip to Beijing
Best Time to Visit Beijing
Top 10 Attractions in Beijing
Top 10 Tourist Scams Beijing
How to Visit Tiananmen Square
How to Visit Forbidden City
How to Visit Temple of Heaven
How to Visit Summer Palace
How to Visit Ming Tombs
How to Visit the Great Wall of China
How to Visit Shichahai
How to Visit Lama Temple
How to Visit Olympic Sites
Top 10 Markets in Beijing
Top 10 Shopping Malls in Beijing
Beijing Shopping
Wangfujing Snack Street
Qianmen Commercial Street
Beijing Huguosi Street
Any questions, just drop a line.