If you are interested in Beijing tower tour, the CCTV Tower ( Central Radio & TV Tower – a launching tower) in Beijing is a nice place for you to get a higher view of the city. Kindly reminder: this is not the new CCTV Headquarters Building.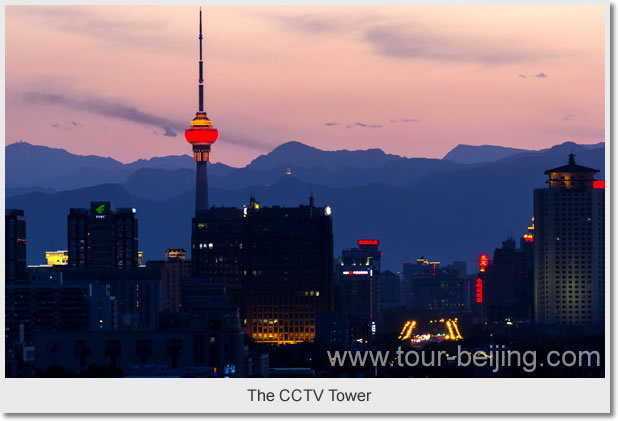 Constructed in 1992, CCTV Tower (Central Radio & TV Tower) is the second tallest structure in Beijing with the height of 405 meters including the tip of its antenna, the third in China and the sixth in the world. It is a member of the World Federation of Great Towers.
Now the Central Television Tower has been turned into a modern and advanced structure with comprehensive functions like transmitting radio signals and TV programs, tourism, restaurant and recreation.
As a visitor, what do you expect from the tower and how to visit this tallest tower in Beijing?
Tip 01: CCTV Tower Tour Itinerary
First you buy the entrance ticket at the ticket office by the tower. After going through security check, enter the main entrance in the middle of the tower seat. Inside the base hall, you have your ticket checked.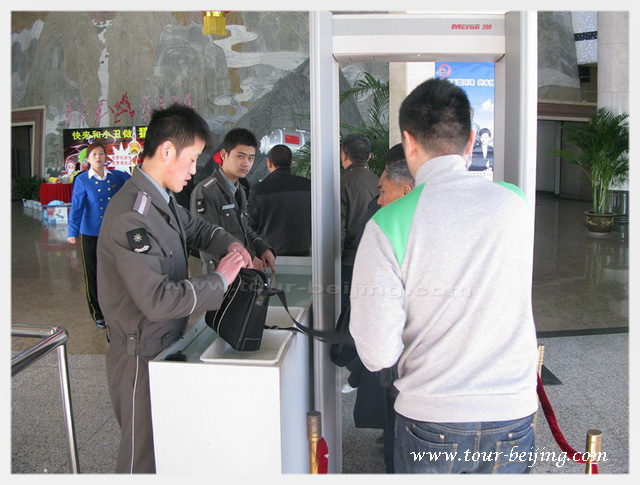 The 22nd floor
A pretty CCTV Tower tour guide will escort you and other visitors. First take elevator directly to the 22nd floor with a height of 238 meters.
The 22nd floor is an open air observation deck, which is said to the largest in the world. You can enjoy the whole view of Beijing.
On a fine day, you can have a clear view of the Western Hills, the Summer Palace, the white Dagoba in Beihai Park, and make out the location of Tiananmen Square and the Forbidden City City。
If you are lucky to have a beautiful day, you are able to see the new CCTV headquarters at a height of 230, designed by Rem Koolhaas in late 2009 and located in the new Central Business District east of Beijing.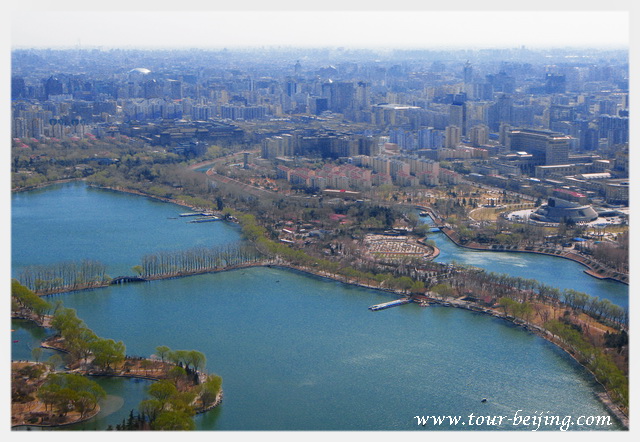 On the 19th Floor
The 225-meter High "TV Culture Hall" on the 19th Floor
Then your tour guide will accompany you to the 19th floor – "TV Culture Hall". The hall is a place connecting audiences to CCTV's past and present.
In the hall, you are immersed in the development of CCTV culture and have a close interaction with CCTV. Get some basic knowledge about the history and development of CCTV. This floor is actually an indoor observation hall, from which you also have bird's-eye view of Beijing.
On the 18th Floor
The 221-meter High Rotating Restaurant on the 18th Floor
If you prefer a romantic buffet on the tower, you just walk down from the 19th floor to the 18th floor – a revolving restaurant, where you can enjoy the rich and mixed buffet of Chinese, Western & Japanese style. One cycle rotating takes 80 minutes.
After lunch or dinner, or you just skip the buffet, go down by elevator to the "culture corridor" 6-meter high above the TV tower seat.
Make yourself familiar with the traditional Beijing culture in the corridor, where you will see many pictures illustrating Beijing history and traditional culture.The whole tower trip usually takes you two hours exclusive of lunch.
Tip 02: Visit the Tower Daytime or Evening?
Daytime or evening visiting makes a world of difference. It all depends on you to choose daytime or evening.
In a clear day, you can see far and have a panoramic view of Beijing. While in the evening, you will see a Beijing resembling a wonderland with lighting all over the city. The tower itself goes red like a giant red lantern. Of course, having dinner on the revolving restaurant is very romantic with a lit Beijing down below.
Tip 03: Entrance Ticket and Buffet Price, and Opening Hours
Entrance Ticket for Tower visit: RMB 90 ( 08:30-22:00, stop selling tickets at 21:30)
Lunch buffet: RMB 168 with complimentary tower visit and ticket for Taipingyang Ocean Park (11:00-14:00, stop ticket selling at 13:00)
Buffet dinner: RMB 298 with complimentary tower visit and ticket for Taipingyang Ocean Park (17:00-22:00, stop ticket selling at 21:00)
Ticket for Ocean Park only: RMB 50 (08:30-22:00, tickets before 21:30)
Tip 04: How to Get there
Address: No.11, the Middle of West 3RD Ring Road, Haidian District, Beijing
Post Code: 100142
TEL: 0086-010-68411964 (customer service), 0080-15101055446
Public Bus:
Take bus Nos. 323, 624,809,811,40,64, Yuntong102,Yuntong 103,Yuntong 201, get off at Hangtian Bridge South stop
Beijing Subway:
Take Subway Line 1, get off at Gongzhufen Station and walk north (The opposite to the west gate of Yuyuantan Park)
Free parking service is provided on condition of having buffet up.
Tip 05: Best Time to Visit the CCTV Tower
1. Avoid a hazy day
2. Avoid public holiday
3. Make sure your body is in good shape
4. Take great care on the open air observation since it is quite windy on the top
Tip 6 : Don't be Confused with CCTV Headquarters Building
CCTV Tower that we are talking about now ( Central Radio & TV Tower ) is different from China Central Television Headquarters Building (New CCTV Tower). The latter is the headquarters of China Central Television.
Rem Koolhaa and Ole Scheerenof OMA were the architects in charge for the building, while Arup provided the complex engineering design.
It stands at 234 metres high and has 54 floors. This New CCTV Tower ( offices) is in the east of Beijing while CCTV Tower ( a launching tower) is in the west of Beijing.
Tip: Hassle-free Beijing Guided Tours
If you don't want to go the do-it-yourself route and prefer the hassle-free escorted tours, here are some options for Beijing guided tours:
Beijing Day Tour
Beijing Tour Packages
Beijing Winter Tour
Beijing Autumn Tour
Great Wall Tour
Car Rental in Beijing
Beijing Tours
China City Tours
China Tour
Further Readings
---
Best Time to Visit Beijing
How to plan a trip to Beijing
Top 10 Attractions in Beijing
How to Visit Forbidden City
How to Visit Temple of Heaven
How to Visit Summer Palace
How to Visit Ming Tombs
How to Visit the Great Wall of China
How to Visit Tiananmen Square
How to Visit Hutongs
How to Visit Olympic Sites
Top 10 Markets in Beijing
Top 10 Shopping Malls in Beijing
Beijing Shopping
Wangfujing Walking Street
Qianmen Commercial Street
Gui Jie ( Ghost Street) Food Street
Any questions, just drop a line.