With the rapid development of the expressways and highways, road tripping has become one of the most favorite ways of traveling across China. The car represents mobility, freedom with a feel of controlling your destinations.
China is a vast country, very drivable since now the roads are excellent. It has countless scenic drives with most of the stellar standouts in the northwest, west and southwest China.
In the past 20 years I have been road-tripping China on and off. But I'm still far from covering all the incredible sightseeing drives across China. Today I'd like to present our version of the 10 most scenic drives in China, an attempt to be helpful in planning your on China road trip. My 10 list will inevitably leave out some of the best.
First of all, I'd like to round up some travel tips for planning your road trip in China.
Trips for Planning a China Road Trip

1) Hire a Vehicle with driver
Hiring a vehicle with driver (or just take a taxi for a short road trip ) is the easiest way to hit on the open road. Self-driving in China is still very much difficult for short-time international visitors.
The driving rules and regulations are quite different from those in your home country. Penalty for traffic violation is high. Almost all the expressways and highways are covered under surveillance cameras.
2) Prepare for the food on the way
Scenic drive cannot guarantee the food quality and very often you don't find any restaurants on route. It is a good idea to prepare in advance some high protein and vitamin snacks, nuts and fruits.
3) Book your hotels on your road trip
Download a hotel booking app on your smart phone and prebook your hotel before you get to the next destination for overnight. In the remote areas or during off tourist season, you may just book your hotel on the spot when you get there. Getting ready for sleeping bags in case you are in the middle of nowhere.
4) Toilets on route
Gas stations are often the only places for you to use toilets. But the toilet general condition is not good, dirty and without any toilet paper. You should always bring your rolls of toilet paper on your China road trip.
5) Plan your road trip
You should plan your China road trip in advance. China is huge and you may do just a section for one time. Even for this section, you need to split your road trip across several days. It is a good idea to keep a loose plan because you never know when fun and interesting opportunities will arise.
 10 of my previous most scenic drives in China
1. Awe-inspiring drive to Guoliang Village
Guoliang Village is located 82km to the northwest of Xinxiang, 90km north of Zhangzhou, easily accessible by highspeed trains from Beijing, Shijianzhang, Wuhan and Guangzhou since Xixiang is on the Beijing – Guangzhou Railway Line.
From Xinxiang, you hire a taxi for a few hours' return road trip to Guoliang Village. In 1972, 13 strong villagers from Guoliang Village wanted to change the situation of inaccessibility to the outside world and started carving a road off the east side of the cliff. The carved tunnel is 12 or 13 feet across, about 15 or 16 feet high and a mile long. The road was opened in 1977.
Check out my another article Guoliang Village Travel Tips for more information.
Praised as one of the 8 road wonders in the world, the tunneled road is now well known as "Long Corridor in the Cliff" or "Precipice Gallery". The east side of the carved road is the picturesque Grand Canyon with Red Steep Cliff. The Grand Canyon is more than 200 meters in height, 500 meters in width and 20km in length. The red rocks are scarlet and upright like knifed and axed. The scenic Grand Canyon is one of the highlights on your road trip to Guoliang Village.
2. Yaxi Expressway: Ya'an to Xichang Highway
Yaxi Expressway is lauded as the most beautiful "Sky Road" in China. Yaxi Expressway starts from Ya'an and ends at Xichang, a section of Beijing-Kunming highway, 240km long and a ladder like road "leading to the sky".
Check out my another article Most Beautiful Sky Road in China for more information.
The "leading to the sky" here has two meanings – 1) The 240km expressway is made of 270 viaducts, an elevated roadway that stretches 240 kilometers, designed to minimize impact on the environment and driving on the numerous viaducts makes people feel like driving in the air; 2) For driving each kilometer, we ascends by 7.5 meters along the expressway. There are also 25 spiral tunnels used to reduce the effect on mountains.
3. S313 Highway: Scenic Drive from Xinduqiao to Danba
It is an incredible 150 km drive along Highway S 313 from Xinduqiao to Danba, morphing from Muya Tibeten area to Jiarong Tibetan area.
From Xinduqiao to Taigong, you need to slow down – this region wants to be savored, not gulped. The road is lined with golden meadows, crystal-clear streams, yellow poplar trees and Tibetan stone houses against the meandering mountains under the canopy of the blue sky and white clouds.
Check out my another articleDrive from Xinduqiao to Danba for more information.
Tagong Town is well known for the same name Tagong Monastery and its surrounding Tagong Grassland that offers great views against the sacred Yala Mountain at 5820m.
For the 87km Bamei Town- Danba road trip, there are two impressive sights – Huiyuan Monastery in Xie De Town ( formerly the ancient Tai Ning City ) of Dawu County in Ganzi Tibetan Autonomous Prefecture and the majestic Yala Snow Mountain at the elevation of 5820m.
4. S217 and S216 Highways: Eye-Popping Drive from Litang to Yading
The Highway S217 runs from Litang to Daocheng (148km), and further stretched to Yading along S216 (115km). The 148km drive from Litang to Doacheng is one of the jaw-dropping drives, going over Rabbit Mountain at the altitude of 4696 meters and passing by the vermilion Buddhist Monastery, the undulating mountains, Tibetan houses and yellow poplar trees and dry riverbeds.
The highway S216 from Daocheng to Yading is surprisingly in good condition, a wide and flat asphalt road with clean iron handrails and clear road signs. The road meanders on the wide and flat valley flanked with fields, meadows, Tibetan houses and undulating hills, all coated with autumn golden hues ( best to drive in autumn ).
Check out my two following articles for more information:
Drive from Litang to Daocheng
Drive from Daocheng to Yading.
5. National Highway 214: Drive from Mangkang to Shangri-la 400km
The National Highway G214 (Yunnan-Tibet Highway) is a hidden gem, 3256 km long starting from Xining, the capital of Qinghai Province to Jinghong, Yunnan Province.
The 400km drive from Mangkang to Shangri-la has stunning views. You need to split the drive across two days. On the first day you drive from Mangkang to Deqin (219km ) and second day from Deqin to Shangri-la (181 km).
Unlike the hyped G318, G214 is quite unknown to the public though it has heart-stopping views with its varied landscapses. G214 connects the headwaters of Yangtze River, Yellow River, Lancang River and Honghe River.
Check out my following two articles for more information:
Drive from Mangkang to Deqin
Drive from Deqin to Shangri-la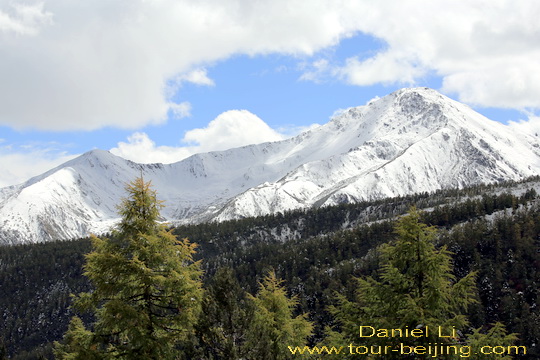 The G214 (Yunnan-Tibet Highway ) from Deqin to Shangri-la is de facto a sightseeing avenue, which cuts through the intoxicating Baimang Snow Mountain ( also known as Baima Snow Mountain). Lying in the mid-section of Hengduan Mountain, Baima Snow Mountain runs from north to south with 20 peaks over 5000 meters and its highest peak at 5430 meters.
6. Tingri to Mt.Everest Base Camp Road Trip 100km
The road trip branching off the main National Highway 318 going to the Mt. Everest Base Camp takes 3 or 4 hours for a 100km mountain road mainly due to the poor and bumpy dirt road.
The road trip is every much challenging. People have to endure endless twists and turns, and hairpin bends. But you will see heart-stopping views – dotted Tibetan settlements, nomadic herdsmen wandering across the wide arid plains, yaks, wild rabbits, wild sheep, dzopkyos (yak-cow hybrids), and awe-inspiring mountain peaks – a paradise on earth!
Check out my another article Tingri to Mt.Everest Base Camp for more information.
Tingri to Mt.Everest Base Camp Travel Tips:
1) Better for a small group using a land cruiser instead of bus tour
2) Ready for Bottled oxygen if you are not confident about your health
3) Water and snacks
4) Sunglass, sunscreen, altitude sickness medicine
5) Good sleep the day before
6) Suggested to stay in Tingri for overnight
7) Alien Travel Permit for Mt.Everest Base Camp
7. Head-spinning drive from Xining to Qinghai Lake 151 km
Qinghai Lake has long been one of the biggest draws in Xining, the capital of Qinghai Province which lies on the northeast of Tibetan Plateau. At the altitude of 3200 meters, Qinghai Lake boasts great charms – Blue sky and water, white clouds and green grassland, and amazing rape flowers, a wonderful summer resort and mesmerizing landscape.
Check out my another article How to Visit Qinghai Lake from Xining for more information.
The 151 km road trip is a scenic drive, passing by massive valleys, alpine meadows, limpid rivers, historical sites and remote towns. There are quite a few scenic attractions and historical sites on route. You can ask your driver to stop at the sites you are interested in.
8. Urumqi to Kanas Lake Loop Road Trip 2000 km
As you know, Xinjiang Uygur Autonomous Region occupies an area of 1.6 million square km with a population 20.95 million, one sixth of China in size, equivalent of 160 "Beijings", an area the size of France, Germany, Spain and the UK combined. Xinjiang has a huge number of unique natural and cultural resources and no one can digest them all.
Check out my following articles for more information:
For more information, check out:
Drive from Urumqi to Burjin
Burjin – Kanas Lake – Jiadengyu
Drive from Jiadengyu to Kelamayi
Drive from Kelamayi to Urumqi
Kanas Lake Natural Reserve is the big draw in the Northern Xinjiang Route. Kanas Lake is classified by UNESCO as "mankind's last piece of pure land. Not just Kanas Lake, you have more to see, to feel, to touch along the semicircle Northern Xinjiang route around the Junggar Basin touring Fuyun, Altay, Burjin, Kelamayi…
9. Lanzhou to Langmusi Road Trip 488 km
For the road trip from Lanzhou to Langmusi 488 km, you may split it into two sections for 2 days – Lanzhou to Xiahe 258 km and Xiahe to Langmusi 230km.
The whole drive distance from Lanzhou to Xiahe County, and on to Labrang Monastery is about 258 km. In between, you pass by Hezheng County and Lingxia Hui Autonomous Prefecture. The 258 km road trip will give you deep impression in terms of both different landforms and cultures unfolded on the road.
Check out my following two articles for more information:
Drive from Lanzhou to Xiahe
Drive from Xiahe to Langmusi
For the 230km road trip, you will drive along the National Highway No.213 passing by Hezuo City, Luqu County, experiencing mesmerizing views of alpine meadows, grasslands, grazing yaks and sheep, and Tibetan living houses, unfolding a "water colour" picture of the pristine life in Gannan Tibetan Autonomous Prefecture.
10. Hohhot to Ejina Qi Return Road Trip 2080 km
The West Inner Mongolia, or Alashan (Alxa) League specifically, is a mysterious place admired by all travelers. With its capital at Bayanhot(Bayanhaote), Alashan (Alxa) League is the largest league prefecture -level region in Inner Mongolia with an area of 270,000 Square km.
It comprises three counties – Alashan Zuoqi (Alxa Left Banner), Alashan Youqi (Alxa Right Banner) and Ejina Qi (Ejina Banner), which are also the largest oasises in Alashan. Numerous striking sights are dotted around these three green lands.
Check out my following articles for more information:
A Glimpse of Badain Jaran Desert
Euphrates Poplar Forests at Ejina Banner
Sunset over Guaishulin
Heicheng Ruins in Ejina Qi
The Hohhot to Ejina Qi ( Ejina Banner), an over-2000 km crazy drive will allow you to pass by Yinshan Mountains and Kubuqi Desert, through Ulan Buh Desert and Badain Jaran Desert.
Badain Jaran Desert is definitely the highlight of the adventurous drive. Badain Jaran Desert boasts the highest stationary dunes in the world (the tallest dune over 450 meters, extending over 5 km in length) and the third the largest desert in China with an area of over 49,000 sq.kilometers.
Tip: Hassle-free China Guided Tours
If you don't want to go the do-it-yourself route and prefer the hassle-free escorted tours, here are some options for China guided tours:
Top China Private Tours
Top China Small Group Tours
Top China Train Tour
Top China Yangtze Cruise Tour
Top China Silk Road Tour
Further Readings
---
Top 10 Places to Visit in China
10 Fascinating Facts about China
How to Pack for your China Trip
Plugs and Sockets in China
China Tour Packages
Learning Useful Chinese Phrases for Travellers
How to Recognise Chinese Currency
Top 10 Travel Experiences in China
10 Most Scenic Roads in China
Top 10 Most Beautiful Mountains in China
Top 10 Most Beautiful Lakes in China
Top 10 Most Beautiful Grasslands in China
Top 10 Most Beautiful Rivers in China
Top 10 most beautiful waterfalls in China
Top 10 Places to See Autumn Leaves in China
Top 10 Most Beautiful Villages in China
Top 10 Old Towns in China
The 10 Most Beautiful Museums in China
Top 10 China Tourist Scams
Top 10 Souvenirs in China
Any questions, just drop a line.