No matter you are in Xining for sightseeing or on business,  having a day trip to Qinghai Lake is a delightful must if you come to Xining for the first time on your Qinghai Tour.
Qinghai Lake is located 151 km west of Xining's city center. It is the largest inland lake and saline lake as well in China with a circumference of 360 km and average depth of 21 meters. Qinghai Lake is formed by Datong Mountain and Riyue Mountain of Qilian Mountain Ranges, and South Mountain in Qinghai and fed by over dozens of rivers and streams.
Qinghai Lake has long been one of the biggest draws in Xining, the capital of Qinghai Province which lies on the northeast of Tibetan Plateau. At the altitude of 3200 meters, Qinghai Lake boasts great charms – Blue sky and water, white clouds and green grassland, and amazing rape flowers, a wonderful summer resort and mesmerizing landscape.
Summer ( July-August ) is the best time to visit Qinghai Lake. September and early October is also a good time to have a glimpse of the lake though most of the grasslands have turned brown.
Then how to go to Qinghai Lake from Xining's city center? Basically you have three ways of transport – taking a public bus, hiring an exclusive car or van, and take a shared car or van.
Bayi Passenger Transport Station ( 八一客运站) has regular buses going to Qinghai Lake – first bus leaves at 6:00am and the last bus  back at 3:30pm. You can easily reach Bayi Bus Station by taking the public buses no.2, 22 and 25.  The bus fare for the single ride from downtown costs RMB 35 and RMB 45 for the return bus ride.
You can hire a taxi or private car at the price of RMB 600. Or you may look for a shared car or van at Bayi Bus Station. Usually you pay RMB 100 for a shared van or RMB 150 for a shared car for a return trip to Qinghai Lake from Xining's city center.
Private or shared car or van gives you much freedom in terms of getting off on the way to Qinghai Lake or back to Xining downtown. There are quite a  few scenic attractions and historical sites on route. You can ask your driver to stop for the site you are interested in, making your day trip more interesting and value-added.
Generally the 151 km overland ride is a scenic drive, passing by massive valleys, alpine meadows, limpid rivers, historical sites and remote towns. Well, follow me to drive into the wonderland of Qinghai Lake in late September.
The 151km ride is mainly composed of three parts: Xining Downtown to Huangyuan County (湟源) 50km; Huangyuan – Daotanghe Town (倒淌河) 50 km and Daotanghe – Qinghai Lake 50 km.
This is Bayi Passenger Transport Station which is located at Kangle (康乐) on East Avenue (东大街), many public bus lines reach the bus station. You should get off at the station of Kangle (康乐) for Bayi Passenger Bus Station.
It is a comfortable drive from Xining to Huangyuan (湟源), along an enclosed expressway. This the toll gate for the expressway.
Duoba Toll Gate and Start your day trip.
Driving along the expressway, accompanied by the mountains and Huangshui River.
On route and accompanied by the mountains and Huangshui River
We finish the first 50 km drive and get to the downtown of Huangyuan County (湟源县). Your driver will stop at the entrance to the ancient Dan Gaer Ancient City (丹噶尔古城) for a brief visit.
Dan Gaer Old Town used to be a commercial center, a hub of the Tangbo Ancient Route ( a minor Silkroad), starting from Tang Dynasty and it reached its prime in Qing Dynasty. Many of the old city's building are still well kept or have been restored.
The entrance to Dan Gaer Ancient Town.  The former Confucian Temple and Primary School in the ancient town. Free  entrance for the old town itself, but there are a few inside pay attractions.
After Dan Gaer Old Town, we continue to start our second leg of the trip from Dan Gaer to Daotanghe Town ( 倒淌河) ( a National Highway). It is an exciting scenic drive! It is a deluxe experience for people living in Beijing pestered by the annoying haze.
We stop by the side of the highway, surrounded by brown meadows, blue sky and white clouds for a while. I ask my driver to take a stereotyped picture by his van.
Snow capped mountains, brown grasslands and glazing sheep
We soon reach Daotanghe Town (倒淌河). We pass by the most essential pay attraction in Daotanghe – a wetland with beautiful landscape.
Daotanghe Wetland with beautiful landscape.
We drive through Daotanghe Town and start our last leg of our day trip from Daotanghe to Qinghai Lake, the last 50 km drive.
Daotanghe Town
Before we get to the edge of Qinghai Lake, we get off at the rape flower fields by the highway. Grape flowers are cash crops for the local farmers. The rape flower seeds are essential eating oils. The best time to see the rape flowers falls on July through August. Today we are lucky to catch the last hues of the rape flowers.
Qinghai Lake is a well developed scenic area rated as AAAAA attraction, the highest grade by China National Tourism Administration. Several areas by the lake are open to visitors: Erlangjian Area, Sand Island, Bird Island and Fishing Harbor. We visit the lake at  Fishing Harbor (entrance fee: RMB 40) instead of the most commercial and well developed Erlangjian Area9 ( Entrance fee: RMB 100 + RMB 140 for cruise on the lake).
The Snow capped mountains with reflections on the lake
Our driver gives us a pleasant surprise by driving up to the hilltop south of Qinghai Lake, easy for us to have a panoramic view of the mesmerizing lake.
The hill dotted with glazing sheep with the backdrop of Qinghai Lake
Qinghai Lake 2
A bird-eye's view of the commercial area – Erlangjian (二郎剑) with numerous restaurants and hotels and the distant view of Qignhai Lake.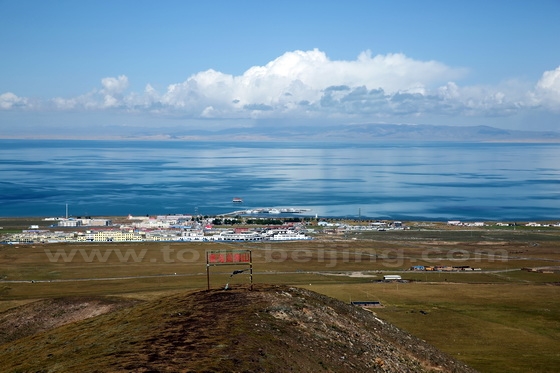 Qinghai lake 3
After two-hour sightseeing around the lake,  we are on our way back satisfied and changed.
Qinghai Lake 4
Further Readings
---
Top 10 Things to Do in Xining
Kumbum Monastery, Xining
Best Place to See Autumn Leaves in Qinghai
Any questions, just drop a line.