Dear Travelers,
We'd like to have the following quick guide to be always updated for the benefit of new visitors coming to Glass Sightseeing Platform in Pinggu, Beijing. If you have any questions or anybody having used the piece finds necessary updates, please leave a message or feedback. Thanks!

______
Your Beijing tour definitely will include the bucket list of Tiananmen Square, Forbidden City, Temple of Heaven, Summer Palace, the Great Wall of China and your list could be a bit longer if you stay in Beijing for a longer time.
Today we'd like to introduce to you the thrilling glass sightseeing platform, which is claimed to be the world's largest glass hanger of this kind, hanging 32.8 metres out from the cliff with a jaw-dropping scenic view.
How to get to the huge cliff glass hanger? How to combine your exciting trip with the surrounding attractions on the day excursion for your long stay vacation in Beijing? We are glad to offer you some useful travel tips in this regard.
Tips 1: ABC of the Glass Sightseeing Platform
The glass sightseeing platform, billed as "Flying Disk/UFO", opened to the public on April 30, 2016. The glass platform hangs 32.8 metres out from the cliff, 11 meters longer than the Grand Canyon Skywalk inside the Grand Canyon National Park in the United States.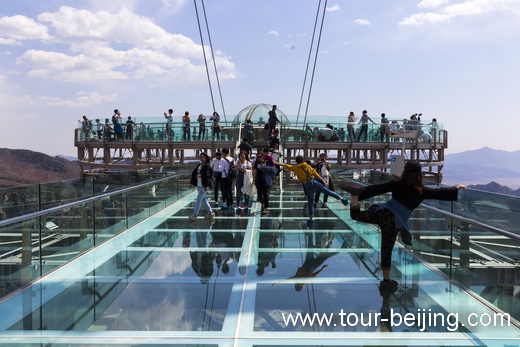 It is claimed to be the largest sightseeing platform of this kind in the world.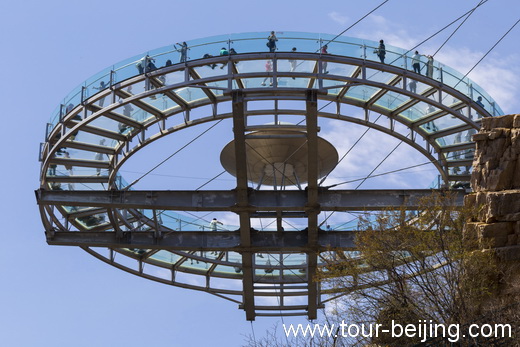 The transparent sightseeing platform is 800 meters above sea level and 400 meters high from the bottom of the cliff, a thriller for visitors who want to experience the excitement walking in the sky.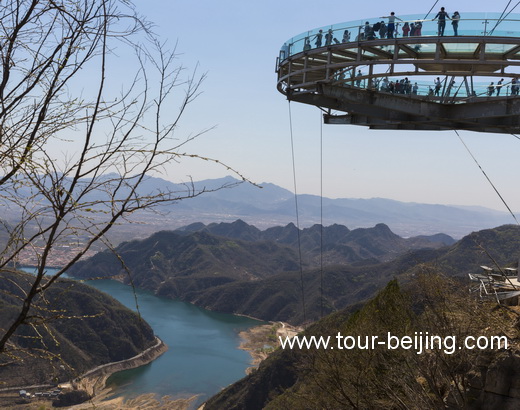 Those who have acrophobia are not recommended to step on the transparent breathtaking glass floor.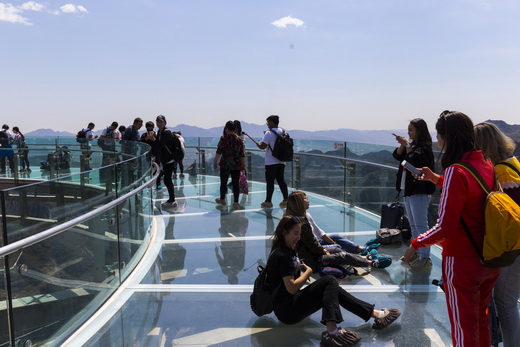 Statistics about the glass platform
Weight: 320 tons; Maximum Load: 150 tons; Maximum theoretical Capacity : 1900 people ( in practice, maximum 200 on the platform for safety reason)
Hanging Distance: 32 meters; Platform Diameter: 26 meters
Taking an area of 415 square meters
Tip 2: Safety
The sightseeing platform is constructed with titanium alloys, which are widely utilized in aeronautical and space fields, but first time for daily life until today in China.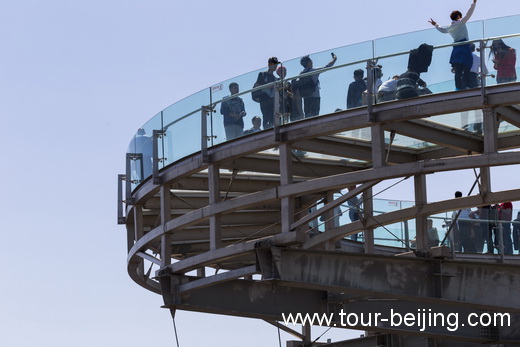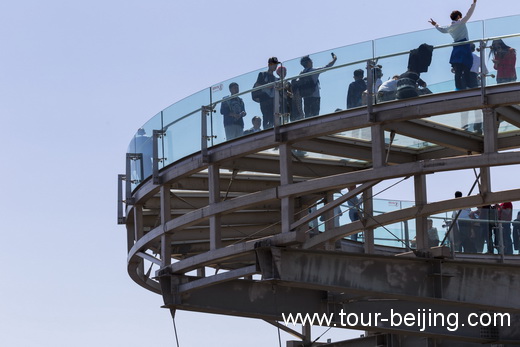 The purpose of using titanium alloys to build this platform is to ensure the safety of all the visitors on the platform.
In practice, maximum 200 people are allowed on the platform for safety reason.
Tip 3: Location
The glass sightseeing platform is hung out from the cliff on the highest peak inside Shilin Gorge (Shilinxia Scenic Area) in Pinggu District, Beijing.
The Shilinxia Scenic Area (石林峡) is a good destination out of Beijing city center to touch the unique stone and rock formations in a 6-km long valley or gorge. "Shilinxia" literally means "stone forest gorge".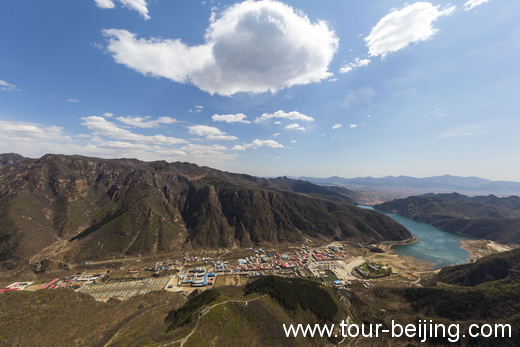 The gorge is located in Diaowo Village at Huangsongyu Township of Pinggu District, about 100km northeast of Beijing city proper.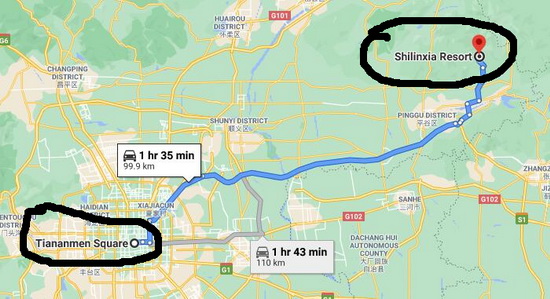 Besides its official name as "Shilinxia Scenic Area", it also has several different names such as "Jingdong Stone Forest Gorge", "Pinggu Stone Forest Gorge" and "Jingdong Stone Canyon".
Address: No. 73 Diao Wo Village, Huangsong Yu Xiang, Pinggu District, Beijing
北京市平谷区黄松峪乡雕窝村73号
Tel: 010-60987678
Tip 4: Entry Fees
Entrance Fee for Shilinxia Scenic Area : 78 RMB
Children under 1.2 meters are free of charge
Entry fee for the glass sightseeing platform inside Shilinxia Scenic Area : 40 RMB
Cable Car (one way): 100 RMB
Opening hours: Monday to Friday: 7:30-16:00 a.m
Saturday and Sunday (holidays) : 7:00-16:30 a.m
Note: closed in winter season
Tip 5: How to get up on to the platform
When arriving at Shixialin Scenic Area, you have two ways to go up on to the glass platform – Walking up or taking the cable up.
It is over one and half hours' strenuous walk from the valley bottom up to the platform. But even if you choose to take cable up, you still need to scramble up for about 20 minutes from the upper cable station before you get to the platform.
Even you use cable car service, you still need to climb up for about 20 minutes before you reach the platform.
Tip 6: How to Get There
To get to the Shilinxia Scenic Area,you may take the public bus 852 ( Bus fare 16 yuan)) from Dongzhimen Transportation Hub for Pinggu District
Arriving at Pinggu District Bus Terminal, then you change for the local bus No.25 ( Bus Fare 5 yuan ) for the Pinggu Stone Forest Gorge or Valley. Bus 25 is quite frequent. Total journey is around 2-2.5hr from Dongzhimen Transport hub.
The bus 25 keeps going the same direction where you come from with bus 852. On the bus 25 you shouldn't worry not to find the drop off 25. The bus takes a while to go there but at the end you will see when you have to get off. You can pay the bus and it costs 5 yuan each person. You just have to drop the money into the box next the bus driver.
On the way back, just take the same 25 bus where you get off. To get off the bus you just have to pay attention when you are back in the city. You will see that and it's the point where almost everybody leaves the bus. But you will recognize also where you have to get off when You see the "Chinese lanterns" on the street light.
You may get off at stations no 7 and this is exactly where the bus hub is to take the bus no. 852. If you miss to get off at stop 7 from bus 25 you shouldn't worry. Just take the next, or the next after. The bus stops really often on that big street. But than of course you have to stay on that street to take the bus 852.
Dongzhimen Transport Hub (东直门交通枢纽) – Pinggu Bus Terminal (平谷汽车站)
Bus No.852
First Bus: 6:30 am; Last Bus: 7:30 pm
Drive Time: 2 hours ( 19 stops )
Bus Fare: 16 yuan
Pinggu Bus Terminal (平谷汽车站)- Pinggu Shilixia Scenic Area ( Glass Sightseeing Platform) 石林峡
Bus No.25
First Bus: 6:30 am; Last Bus: 7:30 pm
Drive Time: Half an hour ( 7 stops )
Bus Fare: 6 yuan
Check out Private Day Tour to Glass Sightseeing Platform.
—————————-
For self-drive, just drive along the Jingping Expressway and get off at Pinggu District and follow the road sign leading to the Shilingxia scenic Area.
Tip 7: Nearby Attractions in Pinggu District
As you know the gorge is located in Diaowo Village. The village itself is an interesting place to explore the suburban life in Beijing, having a bite of the local village food, drinking, barbecuing, fishing and more.
The Shilinxia Scenic Area is only 10km to the north of Jingdong Karst Cave, both of which are part of Pinggu Huangsongyu National Geopark. Many travelers would like to put the two attractions together on a day trip.
More attractions close to the glass sightseeing platform includes:
1) Flying Dragon Valley
2) Bolitai Great Wall
3) Jinhai Lake
4) The Best Place to View Peach Flowers in Beijing
Tip 8: Hassle-Free Private Tour to Visit the Glass Sightseeing Platform
If you don't want go the daunting do-it-yourself-route and prefer an organized hassle-free private tour to visit the glass sightseeing platform, no worry and we have the following options:
Beijing Family Visit Springtime Day Tour
Beijing Family Visit Summer Day Tour
Beijing Family Visit Autumn Day Tour
Car Rental in Beijing
Beijing Day Tour
Beijing Tour Packages
Great Wall Tour
Beijing Winter Tour
Beijing Tour
China City Tours
China Tour
Further Readings
---
Best Time to Visit Beijing
How to plan a trip to Beijing
Top 10 Attractions in Beijing
How to Visit Forbidden City
How to Visit Temple of Heaven
How to Visit Summer Palace
How to Visit Ming Tombs
How to Visit the Great Wall of China
How to Visit Tiananmen Square
How to Visit Hutongs
How to Visit Olympic Sites
Top 10 Markets in Beijing
Top 10 Shopping Malls in Beijing
Beijing Shopping
Wangfujing Night Snack Street
Qianmen Commercial Street
Beijing Huguosi Street
Any questions, just drop a line.
Chinese version of the travel guide: