In the traditional floral symbol of China, peonies are known as the flower of riches and honour. Peony is often considered China's national flower ( though not officially declared ).  Peonies in the city of Luoyang are of-lauded as the most beautiful in China and the peony festival in Luoyang is held annually between April and May.
If you don't have enough time to go to Luoyang to see peonies during Luoyang Peony Festival while travelling in Beijing, you will have a good alternative – Jingshan Peony Festival, the local peony festival in Beijing with its venue in Jingshan Park, just north of the northern exit to Forbidden City. Jingshan Peony Festival lasts from Mid-April to the end of May each year.
Jingshan just sits across the north exit gate to Forbidden City. After finishing your visit to Forbidden City from south to north, you exit from Forbidden City's north gate. Exiting from the northern gate, raising your head, you will see a pavilion with three-layered eaves perched on a hill. The hill is called Jingshan Hill ( Coal Hill or prospect Hill) and the Jingshan Hill with its surrounding area is officially known as Jingshan Park.
There are three gates to Jingshan Park – the Southern Gate ( across Forbidden City ); East Gate and West Gate.  Entry ticket: RMB 2 per person; RMB10 per person during Peony Festival April and May. Opening hours: 6am – 9pm all year round.
The venue for Jingshan Peony Festival is located in the north of Jingshan Park, just to the north of Jingshan Hill, the largest peony garden in Beijing.
The official statics show that there are over twenty thousand peonies with 559 types in the garden. Some of the peonies have long been kept as precious royal types and some of them are from Luoyang and Heze which are nationally famous for their brilliant peonies.
Planing your Beijing tour between Mid-April and May? Don't miss a short side trip to Jingshan Peony Festival if you are a flower enthusiast.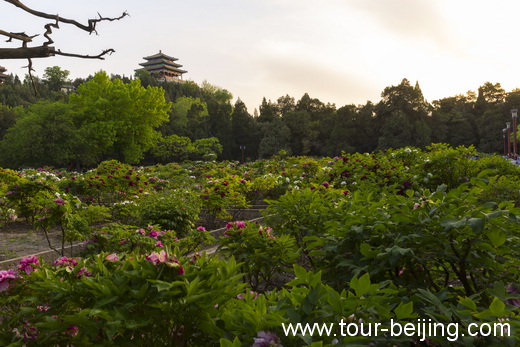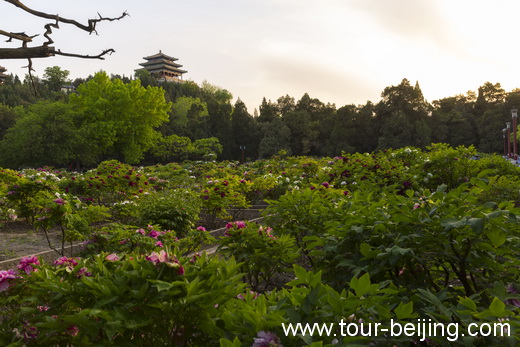 Add on
How too visit Jingshan Park
See the sunrise from the hilltop of Jingshan Park
See the sunset from the hilltop of Jingshan Park
Beijing Bird Watching
Beijing Hot Spring Break
Beijing Spring Tour
Beijing Spring flower Tour
Best Places to See Spring Flowers in Beijing
Top 10 PLaces to See Rapeseed Flowers in Beijing
Best Time to See Plum Blossoms in Beijing
Best Place to See Peach Flowers in Beijing
Best Place to See Peony Flowers in Beijing

Tip: Hassle-free Beijing Guided Tours
If you don't want to go the do-it-yourself route and prefer the hassle-free escorted tours, here are some options for guided tours to Beijing:
Car Rental in Beijing
Beijing Day Tour
Beijing Springtime Tour
Beijing Winter Tour
Beijing Tour Packages
Great Wall Tour
China City Tours
China Tour
Further Readings
---
How to Plan a Trip to Beijing
Top 10 Attractions in Beijing
Top 10 Tourist Scams Beijing
How to Visit Tiananmen Square
How to Visit Forbidden City
How to Visit Temple of Heaven
How to Visit Summer Palace
How to Visit Ming Tombs
How to Visit the Great Wall of China
How to Visit Hutongs
How to Visit Olympic Sites
Top 10 Markets in Beijing
Top 10 Shopping Malls in Beijing
Beijing Shopping
Wangfujing Snack Street
Qianmen Commercial Street
Beijing Huguosi Street
Any questions, just drop a line.