Buddhism is one of the three principal religions around the world. Buddhism first came to China through missionaries from India in the first century of the Common Era during the Chinese Han Dynasty (206 BC -220 AD ).
For various reasons, in the past 2000 years few ancient solid and indomitable civilian and residential architectures have been created and produced in China due to the lack of the gentry class that has generated plenty of the ancient castles well-kept till today in the western countries like UK.
For a glimpse of Chinese ancient architecture, you can come and visit a Buddhist temple in China. China's monasterial class has taken the space left by the lack of gentry class. In fact, Buddhist ideas and practices have shaped Chinese culture in a wide variety of areas, including art, architecture, literature, philosophy, medicine, culture and more.
We've rounded up the Top 10 Temple List and make sure you catch a glimpse of some of the temples unlisted in case you are planning your Beijing tour with an idea to visit some Buddhist temples in Beijing.
For those who want to attend a catholic church service in Beijing, read my another article Catholic Mass Times Beijing for more information.
1. Tanzhe Temple 潭柘寺 (The Oldest Temple in Beijing)
People often use a cliche to describe the long history of Tanzhe Temple – "First came Tanzhe Temple, then Beijing." which was first built in 307 AD in Western Jin Dynasty ( 265 – 316 AD). Its name was changed again and again through Jin, Yuan, Ming and Qing Dynasties.
More than just a famous Buddhist temple in China, Tanzhe Temple is also well-known for its grandeur Chinese architecture and green plants. The temple compound is well-arranged along an axis, which is said to have provided a model for the layout of the Forbidden City.
The temple is perched on a hillside surrounded by nine peaks and composed of various prayer halls, pavilions, courtyards and a group of pagodas dating from the Yuan, Ming and Qing dynasties. It was an imperial temple with high status.
Entrance Fee: RMB 55 per Person
Check out the link Tanzhe Temple for more information
Tel: 010 60862500
How to get there:
By Public Transport:
Take subway line 1 and get off the most western station – Pingguoyuan, then connect public bus 931 for Tanzhe Temple
Bus runs daily 7am-5:30pm, about every 30 minutes. The bus ride time is about 1 hour
By Car:
Drive along National Highway No. 108 (G108) in the west of Beijing. While on the way, it is advisable to notice the placards pointing to Tanzhe Temple.
2. Jietai Temple 戒台寺
Jietaisi literally means "Ordination Terrace Temple" Or "Altar Temple" for buddhist discipline and ordination, now popularly known as Jietai Temple, a combined Chinese and English phrase.
It is one of the well-known buddhist temples in Beijing as well as one of the three most important "Ordination Terrace Temples" in China with other two being Zhaoqing Temple in Hangzhou and Kaiyuan Temple in Quanzhou Fujian Province.
The 1400-year old temple has the most beautiful pine trees in Beijing, an even in China for its old age and unique shapes. There are ten most famous pine tress.
They are Sleeping Dragon Pine Tree, Leisure Pine Tree, Nine Dragon Pine Tree, pagoda Embracing Pine Tree, Sensitive Pine Tree and so on. Beside pine trees, there are also many other ancient trees, like lilacs, peonies etc.
Entrance Fee: RMB 45 Per Person
Check out the link Jietai Temple for more information
Tel: 010-60803428
How to get there:
Public Transport:
Take subway Line 1 and get off at Pingguoyuan, then connect public bus for Jietai Temple
Self-drive:
Drive from Fushi Road and find the National Highway No.108 (G108), drive according to the placard on the highway which points to Jietai Temple.
3. Lama Temple 雍和宫
For many foreign travelers coming to Beijing, Yonghegong (Lama Temple) is a very important attraction just after Forbidden City and Temple of Heaven in the city center.
Yonghegong Lama Temple was originally built as the residence of Emperor Yongzheng when he was still a prince. After he came to the throne (Emperor Yongzheng), he changed his old residence into a temporary palace called "Yonghegong" in 1725. In 1744, his successor, Emperor Qianlong turned the palace into a lama temple. This Tietan Buddhist Lama Temple is still popularly called Yonghegong.
Built along a central axis from north to south, the Lama Temple's compound is mainly composed of six major halls, which make seven courtyards.
The six halls include Yonghe Gate Hall, Yonghegong Hall, Yongyou Hall, Falun Hall, Wanfuge Pavilion and Suicheng Hall. There are also many side buildings built on the both sides of the central axis. Before you visit the six halls and seven courtyards, you will first see the Memorial archway.
How to get there?
Well, taking the subway is highly recommended. You either take subway line 2 or Line 5 and get off at the stop of "Yonghegong", exit from the Exit C.
Entrance Fee: CNY25 per person
Check out the link Lama Temple for more information
Opening Hours: 09:00 – 16:30 ( April – October)
09:00 – 16:00 (November – March)
Follow me into Lama Temple (Yonghegong)
4. Dajue Temple 大觉寺
Also known as Xishan Dajue Temple, it is located at the foot of Yangtai Mountain in Haidian District and originally built in 1068.
Surrounded by pines and orchids and steles inscribed with ancient poetry, and the crystal clear waters of a famous spring that bubbles year round, a visit to the temple makes for a very relaxing day. Dajue Temple is best known for its Yulan trees, planted almost 300 years ago. The finest being the magnolias.
This is a great itinerary for those who hope to escape the noisy life of the metropolis and hide in the tranquil mountains with first-rate accommodation, dining, sports facilities.
There are a number of interesting sights in the immediate vicinity. They include Vulture Peak; the tomb of a Qing prince; Yang Family Garden and Lotus Temple and the Temple of Universal Grace. All are accessible by mountain roads. Minghui Tea House is located in the temple and offers a tea service with Taoist features.
Address: No.9, Dajuesi Road, Beianhe County, Haidian District
Check out the link Dajue Temple for more information
Ticket price: rmb20
Opening Time: 08:30-17:00
Tel: 010-62456163
5. Yunju Temple 云居寺
Yunju Temple, or Cloud Dwelling Temple is located in Fangshan District, about 75km in the west of Beijing. Yunju Temple is well known for its storage of a total of 14,278 well-reserved stone scriptures – Buddhist stone scripture tablets. Yunju Temple was submitted on March 28, 2008 to World Culture convention for approval for being listed as world culture heritage.
All the stone scriptures were carved according to the Canon of Buddhist Writings printed in Tang Dynasty and Qidancang printed in Liao Dynasty (907 -1125). Totally there are 14,278 well-reserved stone inscriptions which were found.
Above an original place just south of Yunju Temple an underground sutra palace was built in 1999 to protect the Buddhist stone scripture tablets. The underground palace is a cellar-like brick and concrete structure. Now the Underground palace houses all the 10082 tablets made in Liao Dynasty (907 -1125), Jin Dynasty (1115 – 1234).
How to get there
By Bus: Take the bus 836 from Tianqiao (天桥) in south of Beijing
Tel: 61389612
Check out the link Stone scriptures in Yunju Temple for more information.
6. Fayuan Temple 法源寺
Fayuan Temple was built in 645 during Tang Dynasty (618 -906), the old est temple within the city proper of Beijing. It is situated at the south of Jiaozi Alley outside the Beijing Xuanwumen District.
It is not only the oldest Buddhist temple, but also the location for the China Buddhism Institution and China Buddhism Library and Relic Centre as well as an important venue for nurturing young monks and Buddhism research.
Fayuan Temple spreads over an area of 6700 m2. Fayuan Temple which consists of 13 halls carefully layout over a huge compound, is the oldest ancient temple buildings in Beijing.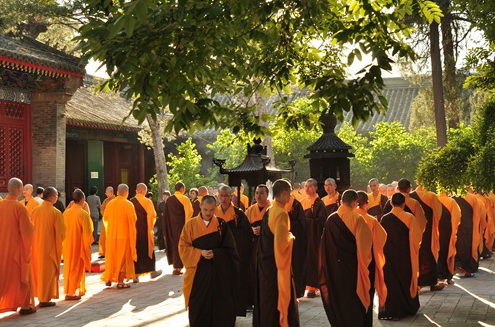 How to get there
Take subway line 4 and get off at the station of Caishiku and exit from the Northwest Exit.
Check out the link Fayuan Temple for more information.
7. Guanghua Temple 广化寺
Guanghua Temple is located on the eastern bank of Shishahai Lake, close to Di'an Gate in Beijing. Built in the Yuan Dynasty (1271 – 1378), it underwent three periods of reconstruction in the 16th century and twice in the 19th century, respectively. The buildings are built along five routes.
Guanghua Temple preserves valuable ancient editions of The Tripitaka Sutra, Dai Nippon Zoku Zokyo and other rare editions of Buddhist sutras. The temple is also the headquarters of the Beijing Buddhist Association.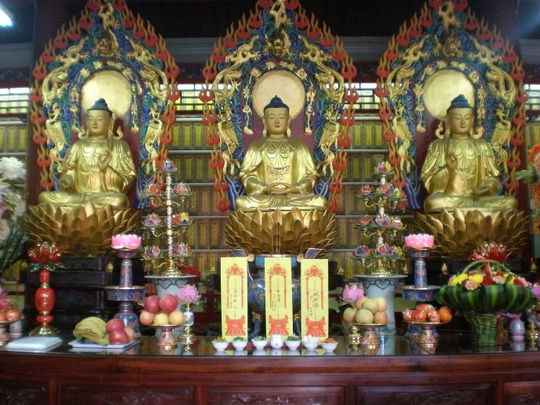 How to get there
Take public buses: Bus no.60, 124. 107 abd get off at the stop pf Gulou.
Check out the link Guanghua Temple for information.
8. White Pagoda Temple 白塔寺
The White Pagoda was built in 1271 during Yuan Dynasty Kublai Khan's reign and owed its beauty to a Nepalese architect. In 1457, the temple was renovated and renamed Miaoying Temple.
White Pagoda Temple was refurbished many times during the Ming and Qing Dynasties. However, the temple except for the White Pagoda was destroyed by fire in 1729.
After 1949, the government took many measures to protect this important historical site. In 1961, State Council listed it as a key national cultural heritage protection site.
There are altogether three Halls in the temple. The first one is exhibits on the history of the temple, as well as a display of several of the priceless Buddhist treasures that were discovered when the Pagoda was being renovated in 1978. The second Hall is an impressive display called the Hall of 10,000 Buddhas.
Add.: No.171, Fuchengmenneidajie, Xicheng District
Check out the link White Pagoda Temple for more information
Tikcet Price: RMB20
Opening Hours: 09:00-16:30
How to get there: Take Bus No. 171, 823, 695, 604,or 42, take off at White Pagoda Stop
9. Fahai Temple 法海寺
Fahai Temple, the ancient and solemn temple is located at the southern foot of the beautiful, serene and secluded Cuiwei Mountain in Moshikou of Shijingshan District of Beijing.
Fahai Temple is noted for its murals, which are represented by the mural painting the auspicious clouds behind the three-life Buddha, the mural painting the Buddhists attending a meeting, the mural behind the shrine painting the three Masters and the mural on the back wall depicting Brahma worshiping the Buddha.
They all adopt the traditional Chinese realistic painting method characterized by fine brush work and close attention in detail. Fine, delicate strokes, meticulous painting and exquisite coloring have made the murals distinguished among murals found in Beijing.
Address: Moshikou, Shijingshan District, Beijing
Check out the link Fahai Temple for more information
Opening Hours: 9:00-17:00 (winter 9:00-16:30)
Tel:8610-88715776
10. 历代帝王庙 Lidai Diwang Miao
Lidai Diwang Miao is a royal temple for devoted to the emperors of the Previous Dynasties, also known as Emperor Worship Temple, it is situated on the inner side of Fucheng Gate in the west of the urban area of Beijng and less than one km from the White Pagoda of Miaoying Temple. The temple was originally completed in 1531 during Ming Dynasty.
The Emperor Worship Temple enshrines 188 spirit tablets of emperors-from the legendary Three Emperors and Five Sovereigns down to the last emperor of the Ming Dynasty (Sizong, reigned 1628-1644). The tablets are enshrined in five rooms of the main hall, known as Jingde Sage-worshipping Hall.
In the rooms on both sides of the hall are enshrined the spirit tablets of 79 meritorious ministers. From the 1930s to the end of the 20th century, the temple was used as a school. It has now been renovated and opened to the public.
Ticket Price: CYN20
Check out the link Emperor Worship Temple for more information.
Opening Time:09:00-16:00
How to get there: Bus No.101,102,103,13,42,409,603,709,812,814,823,846,850
Add on
Top 10 Mosques in Beijing
Catholic Mass Times Beijing
Top 10 Religious Sites in Beijing
Beijing Religion Tour
Tip: Hassle-free Beijing Guided Tours
If you don't want to go the do-it-yourself route and prefer the hassle-free escorted tours, here are some options for guided tours to Beijing:
Car Rental in Beijing
Beijing Day Tour
Beijing Tour Packages
Great Wall Tour
Beijing Winter Tour
Beijing Tours
China City Tours
China Tour
Further Readings
---
How to Plan a Trip to Beijing
Best Time to Visit Beijing
Top 10 Attractions in Beijing
Top 10 Tourist Scams Beijing
How to Visit Tiananmen Square
How to Visit Forbidden City
How to Visit Temple of Heaven
How to Visit Summer Palace
How to Visit Ming Tombs
How to Visit the Great Wall of China
How to Visit Hutongs
How to Visit Olympic Sites
Top 10 Markets in Beijing
Top 10 Shopping Malls in Beijing
Beijing Shopping
Wangfujing Snack Street
Qianmen Commercial Street
Beijing Huguosi Street
Any questions, just drop a line.