Day 01
Arrival at Beijing

On arrival in Beijing, you will be met by our English speaking tour guide and transferred to our centrally located hotel in Beijing. Free for the rest of the day.
Meals: No
Hotel: Yes
After breakfast at your hotel, start your tour with the visit to Tiananmen Square (40 minutes), the largest public square in the world. Located in the heart of Beijing City, it is the site for massive parades and rallies, which is the largest square of this kind in the world. This was the site when in 1949, from a rostrum on Tiananmen (the Gate of Heavenly Peace), Chairman Mao proclaimed the establishment of the People's Republic of China.
Tiananmen Square Travel Tips
For security reason, Tiananmen Square is a fenced square circled by low iron grids with main four entrances – east, west, south and north.
The square is now open to the public till midnight, but all the tourists have to pass a security check before they enter the square. So check points
have been set up at all the entrances leading to the square.
The 40-minute visit allows you to have a glimpse at the outside of Memorial Hall of Chairman Mao, the Monument to the People's Heroes,
the magnificent Great Hall of the People, the National Museum of China, the ancient Zhengyang Gate and Arrow Tower as well as the Tiananmen Tower
which leads to the well-known Forbidden City.
Then move on to the Forbidden City (2 hours), the Chinese imperial palace from the mid-Ming Dynasty to the end of the Qing Dynasty. For almost 500 years, it served as the seat-bed of the Emperors in Ming and Qing Dynasties as well as the ceremonial and political centre of Chinese government.
Forbidden City Important Notice
1. Forbidden City is closed for the entire day every Monday,
except the Chinese national public holidays.
2. Forbidden City Ticketing Purchase is based on real name policy;
3. You need to show your passport to buy your entrance tickets;
4. Free of charge for children under 1.2 meters, each required to be escorted by an adult;
5. There are some exhibits within Forbidden City that require additional tickets to access such as the Treasure Gallery and the Clock and Watch Gallery.
Treasure Gallery : RMB 10;
Clock and Watch Gallery: RMB 10
Forbidden City Opening Hours
April 1st – October 31 ( 8:30 – 17:00 )
Last Entry at 16:10
Tickets sold until 16:00
November 1st – March 31 (8:30 – 16:30)
Last Entry at 15:40
Tickets sold until 15:30
After lunch , continue to visit the Temple of Heaven (1.5 hours), the place where the emperors of Ming and Qing Dynasties worshiped heaven and prayed for peace and harvest. It was first constructed in 1420, the 18th year of the reign of Ming emperor Yongle. It was the place where the emperors of the Ming and Qing dynasties would worship the god of heaven and pray for good harvest. Then back to your hotel in Beijing.
Meals: Hotel breakfast and Chinese Lunch
Hotel: Yes
Temple of Heaven Travel Tips
The park is so huge. You are advised to wear your most comfortable shoes. It's a long walk! For summer time, be ready to bring an umbrella for sun protection, and bottles of water. Inside the huge park, there is a lovely temple complex, which is composed of three main parts – Hall of Prayer for Good Harvests, the Imperial Vault of Heaven and Circular Mound Altar sitting along an axis from south to north.
Don't miss the Cypress Grove. Old cypress trees are worth having a close look. Some of the cypresses are more than 600 years old. Dr Henry Kissinger, when he visited the temple, stated that while the USA could recreate the Temple of Heaven if it desired, it could not create the trees!
Temple of Heaven Opening Hours
The park opens at 6am and closes at 8pm.
The main buildings inside the park:
From March 1 to June 30: 8:00 – 17:30
From July 1 to October 31: 8:- 18:00
From November 1 to February 28: 8:00 – 17:00
Kindly reminder: Through tickets selling is stopped at 16:00

Pick up from your hotel in Beijing around 8:00am and drive to the Mutainyu Great Wall ( 2 hours). The Mutianyu Great Wall is quite famous for its autumn foliage. It has an extremely beautiful natural landscape once you are up on the wall, covered all over by colorful leaves, yellow and red, densely wooded. The some bits of the Mutianyu Great Wall are also overshadowed by green cypresses and red maples, smoke trees,chestnuts and more.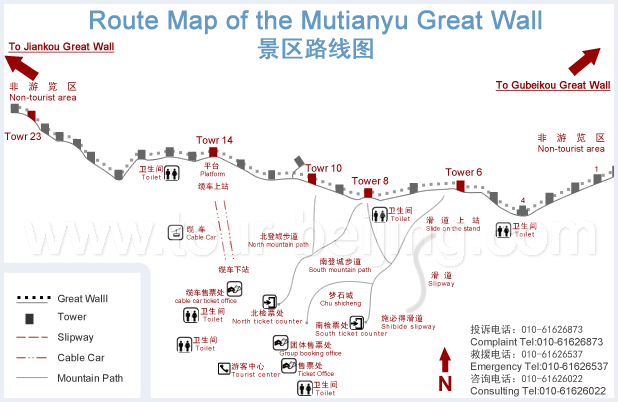 Mutianyu Great Wall Travel Tips
Three Ways to Go up to Mutianyu Great Wall
There are three ways to get onto the Wall. Apart from hiking up on foot, you can choose take cable car or chair lift(Optional).
To get down the wall, you can also take Toboggan slide down(Optional).
When you get off the ferry shuttle bus going from the shuttle bus terminal near the ticketing office, you still need to walk along an accessible stone path (600 meters long ) leading up first to the starting point for chairlift ( or toboggan down ), second to the walking path up to the Wall and last to the starting point for cable car up to the Wall respectively.
So the mostly used Cable Car Station is at the end of the 600-meter stone slope. That said, there are three ways to go up to Mutianyu Great Wall.
1) Taking chairlift to the Great Wall – to the 6th Watchtower ( or where you can take a toboggan down)
2) Walking up the Great Wall along the stone steps (like a mountain hike – 30 minute hike) – to the 10th or 8th Watchtower
3) Taking cable car up to the Great Wall – to the 14th Watchtower
The Most Beautiful Part of Mutianyu Great Wall
The hike from Watchtower No. 14 east up to Watchtower 23 is the most scenic part of Mutianyu Great Wall. Many people would choose to take cable up to Watchtower No.14 and hike east to Watchtower No.23. You may retrace to Watch Tower No.14 and take cable car down the wall, or continue to hike down to Watch Tower No.8 and walk down the wall; or you may continue to hike down to Watch Tower No.6, then either take chairlift down or toboggan down.
Price Information
Cable Car: 100 yuan(single way); 120 yuan (return)
Chairlift or Slide (Toboggan): 100 yuan (single way)
Chairlift + Slide (Toboggan): 120 yuan (return)
Opening Hours:
April to October: 8:00 -17:00
November to March: 8:30-16:30
After visiting the Mutianyu Great Wall, continue to drive to Lady Lee's courtyard home in Diaowo Village ( 1.5 hours ). Driving alongside Huangsongyu Reservoir, you soon enter the picturesque Diaowo Village in Pinggu District of Beijing. The village has 54 households with over 100 villagers. Today you will meet Mrs Li and her husband Mr. Hao in their courtyard home. A few years ago Mrs. Li retired and left the busy downtown Beijing and relocated to her husband birth place for spending the retirement life. Now she eats the vegetables she plants in her front yard and the Geese & Chickens in her back yard, enjoying an organic living and healthy life. You will have a home lunch made by Lady Li.
Saying good-bye to Lady Li, move on to Jinhai Lake ( 1.5 hour ). Lake is situated to the south of the Grand Gold Mount ( well known for producing gold), hence the name of "Jinhai lake" which literally means "Golden Lake". Now Jinhai Lake has been turned into a recreational and sightseeing area including mountain hiking and and lakeside vacationing. Plentiful activities on the lake including yacht, speed boat, self-driving boat, flying umbrella above water, pedalo, rowing boat and many more ( not included in our day trip). Drive along the road around Jinhai Lake, viewing the colorful leaves of persimmon trees, smoke trees,chestnuts and more. Back to your hotel after the autumn excursion.
Meals: Hotel Breakfast and Chinese home lunch
Hotel: Yes
Day 04
Beijing Exit or free on your own
After breakfast, start your morning tour with the visit to the Summer Palace ( 2 hours ), originally a royal garden and a temporary dwelling palace for emperors of Qing Dynasty. It is an imperial garden most completely reserved with richest landscapes and concentrated buildings. The Summer Palace was added to the world cultural heritage list in 1998.
Summer Palace Travel Tips
Normally it takes 2 hours to walk around Summer Palace. Visiting Summer Palace needs a bit strong legs with a lot walking since Summer Palace is huge.
Dress for the hot or cold weather. The summer in Beijing could be humid and close, sometimes extremely hot. Also winter could be very cold. So well prepared for the uncomfortable weather both in winter and summer. You are advised to wear your most comfortable shoes.
Summer Palace presents itself with different views for different seasons. Winter sees people skiing on the Kunming Lake; Spring time finds people breathe under fresh trees and flowers; Summer time often sees Summer Palace in a foggy day like a beautiful "water and mountain" Chinese scroll painting. Autumn is the best time walking around Summer Palace, clear and blue sky with comfortable weather.
Summer Palace even at different times of a day allows you to see the different views under sunrise in the morning and sunset in the later afternoon.
Additional Price Information
1.Children under 1.2m high are free of charge.
2. Taking a boat ride starting from the Marble Boat across the lake to the beautiful 17-Arch Bridge is a fun way to have more stunning views.
Boat Ride: 20 yuan.
Summer Palace Opening Time
High Season (From April 1 to Oct. 31)
Open: 6:30
Tickets stop selling at 18:00;
Close: 20:00
Low Season (From Nov. 1 to Mar. 31 next year)
Open: 7:00
Tickets stop selling at 17:00;
Close: 19:00
Head to the Olympic Green to have an outside look at the Bird's Nest and Water Cube ( half hour ). The stadium hosted the main track and field Football, and final competitions for the 2008 Summer Olympics, as well as the opening and closing ceremonies. Then transfer to airport for departure or free activity on your own.
Then move on to Ditan Park ( 40 minutes) ( Earth Temple which is located north of Beijing city center. Though Earth Temple ( Ditan ) doesn't give us as much historical value as the Temple Heaven, it is a good place to see the fall foliage when the leaves are turning. The trees in the park include Jingko trees, Maple trees and more. The leaves are colouring before they fall off the trees.
After lunch, transfer to airport for departure or free activity on your own.
Meals: Hotel breakfast and Chinese lunch
Hotel: No