4G LTE High Speed Global Travel SIM Card
(Your Best Prepaid SIM Plans for your Mobile Phone in China)
Looking for a prepaid SIM Card for use in China? If you will be traveling to China, and you would like to keep contact with your relatives and friends at your home country through your cell phone, Global Travel SIM Card is your easy sim card solution .
Data Coverage over 70+ countries/destinations including Asia/Europe/America & Oceania/Middle East at only 1 SIM
3-in-1 SIM (Nano SIM Card/Micro SIM Card/Standard SIM Card)
Applicable for all Smartphones, tablets, pocket WIFI devices, support data tethering
Multiple selection of Data Plan to fulfill your needs
SIM Card Plan (Pricing & Selection )
PLAN
TYPE
DATA
EXPIRES
PRICE (CNY)
PRICE(US DOLLAR)
A
5GB of 4G LTE data
and Unlimited 3G data
5 Days
58
8
B
5GB of 4G LTE data
and Unlimited 3G data
7 Days
68
10
C
5GB of 4G LTE data
and Unlimited 3G data
14 Days
105
15
D
8GB of 4G LTE data
and Unlimited 3G data
30 Days
200
20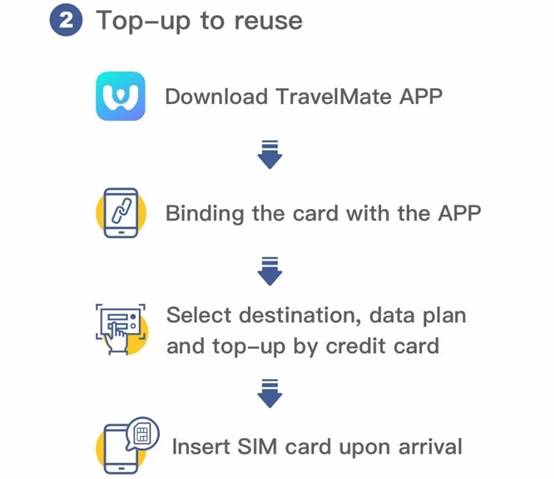 Online Booking
Tour Beijing is the distribution agent for TravelMate which is an authorized distributor of China Unicom; a global channel integrator for selling into international visitor market segments in China.
Reservation Notes
| | |
| --- | --- |
| ● | Personal online booking information below must be provided or book by email info@tour-beijing.com: Full Name, Nationality, Names of Travelers and Copies of your Passports. You are also welcome to call us at 00 86 10 67160201 ext 1006 or 1007 ( 9:00 am - 6:00 pm Monday through Saturday). Tour Beijing will not refund any losses due to missing or incorrect information. |
| ● | Prepayment ( Paypal, credit card payment or wire transfer ). Both RMB and US$ or other hard currencies are acceptable. Your actual mode of payment will be confirmed by your trip advisor. |
| ● | When your booking is confirmed, you will get a confirmation email or call from us, which includes the confirmed detailed information. |
| ● | The cancellation fee is 10% of the total price if your cancellation is made more than 2 working days prior to the scheduled start of the tour. If cancelled less than 2 days, you will pay 100% of total package price. |
Questions
What is the advantage of Global SIM cards?
No contract, no roaming charges, low cost as a local user, prepaid plans budget spending, GSM/WCDMA/LTE networks, works with most smartphones and personal Wi-Fi devices
Where can I buy a SIM card?
Send us an email at info@tour-beijing.com, we will deliver the SIM Card to your hotel in mainland China.
What is China's phone users true identity information registration requirements or "实名制"?
China's phone users true identity information registration requirements is similar to Know-Your-Customer (KYC) regulation adopted by many countries.
The detailed requirements are described in No.25 Decree issued by issued by China Ministry of Industry and Information Technology (MIIT) in 2013. Based on this regulation, all mobile and fixed line phone users are required to provide their true identify information for registration.
All Chinese operators require their authorized distributors or channel partners to provide subscribers' ID or passport information in order to activate telephone or mobile services. Any dealer who claims that he/she does not NEED users' ID or passport information is a direct violation of MIIT's regulation and operators' distribution agreement; if operator finds out such violation, the operator may suspend users' telephone or mobile service. For customer's protection, we highly recommend to follow MIIT's regulation and only purchase SIM cards from operators' authorized dealer.
What is the SIM card validation period?
Valid for 5 – 30 days.
Contact Us
Beijing Call: 67160201 Ext 1006,1007
Chinese cities Call: 010 67160201 Ext 1006,1007
International Call: (+86) 10 67160201 Ext 1006,1007
Fax: (+86) 10 67160150
Email :
Questions & Answers: