Baoguosi Culture Market
"Baoguosi" means Baoguo Temple ( Serving the country Temple ). It was first contructed in the Liao Dynasty (916-1125) in the southern part of downtown Beijing. Baoguo Si was a Buddhist temple. During the Ming Dynasty, it was used to hold a member of the royal family. By the early Qing dynasty, the temple had already been turned into a popular bazaar for books and flowers. So Baoguosi Temple is more like antique marketplace than a temple. But it still keeps the appearance of a temple. It has three halls. Two of the three halls as well as the buildings circling the temple wall are used either as warehouses or showrooms. Now it has expanded to include an antique market, a souvenirs and gifts market, coin markets and a stamp collection market. Traders there also sell miscellaneous items as jade, coins, Buddha statues, old books, calligraphy works, paintings and many more!
This temple antique market is located No.01, Guang'anmenneidajie on the western Liangguang Lu ( Liangguang Ave. ), Xuanwu District. Open 8:30am-5pm. I suggest you visit Baoguosi Culture Market on weekends. There will be more sellers, specially more mobile vendors on the weekend. In fact only on the weekend, these mobile vendors are allowed to sell their stuff on the ground. The big difference between Baoguosi Culture Market and other antique markets is that Baoguosi market is well focused on ancient coins, old ppaper money and old books.
The Decorative archway, 50 meters south of Baoguosi Temple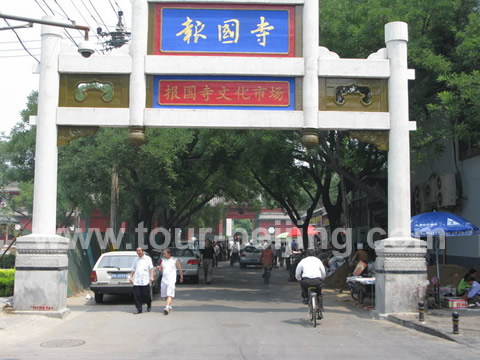 Baoguosi Temple, through the side door, you enter the temple and see the vendors selling stuff
Buyers and sellers
Questions & Answers:

Here is
only for Questions and Answers
. ( For anyone who wants to have an enquiry or customized tour, please email us to

. )