10 Minutes Mutianyu Great Wall Aerial And Mutianyu Great Wall Walking Tour from Beijing Airport

Overview:




Aerial Tour: 10 Minutes over the Mutianyu Great Wall and other scenic spots!
Great Wall Walking Tour: Ride up and down the Mutianyu Great Wall for
a private walking tour
Operates: Daily
Airport Layover Time: 8 - 10 Hours
Departs: Beijing Capital International Airport
Returns: Beijing Capital International Airport
Service: Entrance fees + Private car or van + Private tour guide
Tour Code: BLOT-11
Price:

Click Here
Tour Description
Met by our English-speaking tour guide at Beijing Capital Airport, drive along Jingcheng Expressway about 80km and you will reach Mutianyu Great Wall for your exciting aerial tour. You will take the safe and comfortable
Robinson R44 Helicopter
(4 seats: 1 pilot + 3 passengers) from USA for a 10 minutes aerial tour of flying over the magnificent Mutianyu Great Wall and the other scenic spots. Don't forget to take your camera to shoot the Great Wall from the sky!
Mutianyu Great Wall is less crowded than Badaling Great Wall with picturesque views. Mutianyu Great Wall once worked as the northern barrier defending the capital and the imperial tombs. It is a green section of the great wall in Beijing with vegetation, green pines and cypresses covering 90 per cent of the section.
After the tour, head to the Mutianyu Great Wall. Mutianyu Great Wall is known for its beautiful surroundings - dense woods and rich pastures changing colors with the seasons of the year. Two unique features of this section are the double battlements and branch walls found throughout the area. Hike the Mutianyu Great Wall for 2 hours.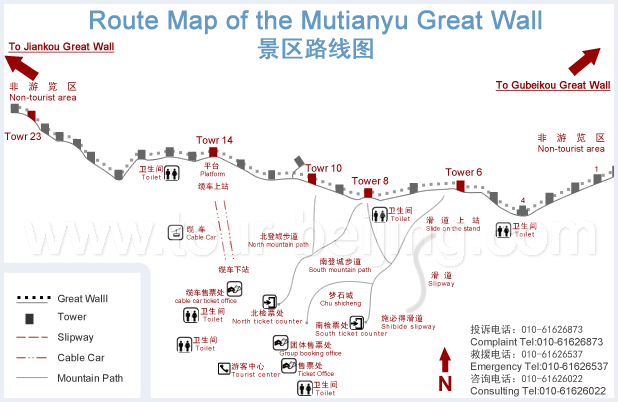 Mutianyu Great Wall Travel Tips
Three Ways to Go up to Mutianyu Great Wall
There are three ways to get onto the Wall. Apart from hiking up on foot, you can choose take cable car or chair lift
(Optional)
.
To get down the wall, you can also take Toboggan slide down
(Optional)
.
When you get off the ferry shuttle bus going from the shuttle bus terminal near the ticketing office, you still need to walk along an accessible stone path (600 meters long ) leading up first to the starting point for chairlift ( or toboggan down ), second to the walking path up to the Wall and last to the starting point for cable car up to the Wall respectively.
So the mostly used Cable Car Station is at the end of the 600-meter stone slope. That said, there are three ways to go up to Mutianyu Great Wall.
1) Taking chairlift to the Great Wall - to
the 6th Watchtower
( or where you can take a toboggan down)
2) Walking up the Great Wall along the stone steps (like a mountain hike - 30 minute hike) - to
the 10th or 8th Watchtower
3) Taking cable car up to the Great Wall - to
the 14th Watchtower
The Most Beautiful Part of Mutianyu Great Wall
The hike from
Watchtower No. 14
east up to
Watchtower 23
is the most scenic part of Mutianyu Great Wall. Many people would choose to take cable up to
Watchtower No.14
and hike east to
Watchtower No.23
. You may retrace to
Watch Tower No.14
and take cable car down the wall, or continue to hike down to
Watch Tower No.8
and walk down the wall; or you may continue to hike down to
Watch Tower No.6
, then either take chairlift down or toboggan down.
Price Information
Cable Car: 100 yuan(single way); 120 yuan (return)
Chairlift or Slide (Toboggan): 100 yuan (single way)
Chairlift + Slide (Toboggan): 120 yuan (return)
Opening Hours:
April to October: 8:00 -17:00
November to March: 8:30-16:30
After the layover tour, return to Beijing Capital Airport for your next destination.
Price without shopping stop
Travelling Party
Tour Cost Per Person
Mar - Nov
Dec - Feb
1 person
$ 599
$ 579
2 persons
$ 315
$ 305
3 persons
$ 239
$ 229
Remark: We provide coat to keep warm during the tours in winter.
Price inclusion:
1.Private air conditioned vehicle
2.10-minute aerial tour
3.Entrance fees as listed
4.English Speaking tour guide
5.The above private transfer is customized for you, your family or your friends exclusively. No other travelers will join in your group.

Price exclusion:
1.Gratuities to drivers and guides
2.Personal Insurance coverage of personal loss, illness or damages incurred during your trip

Travel Tips
1.Wear casually with comfortable sports shoes and pay attention to the climate in Beijing
2.For the regular 10 minutes aerial tour, you need to book 4 days in advance.
3.If you want to cancel your booked flight, please notice us of your cancellation in 48 hours otherwise 10% cancellation fee will be charged.
4.In case of the grounding of helicopters because of force majeure (weather, air-control...)
5.You should participate in a aerial tour based on your health condition. Those travelers are not recommended to take a aerial tour who are either over 60 years old or suffer from from Hear Disease, Hypertension, Cardiovascular and other diseases.
Reservation Notes
●
Personal online booking information below must be provided or book by email :
Full Name, Nationality, Gender, Names of Travelers, Flight No., Arriving Time and Start Date. You are also welcome to call us at 00 86 10 67160201 ext 1006 or 1007 ( 9:00 am - 6:00 pm Monday through Saturday). Tour Beijing will not refund any losses due to missing or incorrect information.
●
All rates on Tour-Beijing.com are subject to reconfirmation from our trip advisors when an actual booking is being made.
●
Child definition: from Age 3 to 11 Years. Contact our trip advisors to check if discount rate is available for your kids. Basically, children under 1.2m in height will get child discount rate, except bus tours.
●
All tours listed on website are all based in English Speaking local guides. For other languages, please contact our trip advisors for new quotations
●
Cash or Prepayment (Paypal, credit card payment, wire transfer, AliPay, WeChat Pay). Both RMB and USD are acceptable. Your actual mode of payment will be confirmed by your trip advisor. Basically, only bus tours (day tour) accept cash payment on the day.
●
When your booking is confirmed, you will get a confirmation email or call from us, which includes the confirmed detailed itinerary with prices.
●
When your booking is confirmed, you will get a confirmation email or call from us, which includes the confirmed detailed itinerary with prices.
●
The cancellation fee: to be confirmed by trip advisor, based on different itineraries and different policies.
●
The schedule can be adjusted by your tour guide due to the actual traffic condition.
●
You are strongly recommended to book this tour at least 35 days in advance to secure the land arrangement involved and avoid the risk of being canceled.
Questions & Answers: