Beijing Capital Airport⇔Mutianyu Great Wall Private Transfer
(Private car or van two-way transfer with driver only)
Overview
Departure:Daily for pre-booked private two-way transfers
Passenger Meeting Point:The International Exit at Terminal 3
or 2, Beijing Capital Airport
Transfer Time:3 hours (Two-Way Transfer Time)
Driver Waiting Time at the Wall:2 Hours
Driver only ( No Tour Guide ):Professional driver assisting you in
ticketing and more
Vehicle:Air-conditioned 4-seat car or 12-seat Van
Booking Code:BLOT-12
Mutianyu Great Wall Layover Private Transfer Service Highlights
1) Hassle-free and comfortable private transfer to Mutianyu Great Wall from and back to Beijing Capital Airport;
2) A Professional driver meeting at the airport and transfering you back to the airport;
3) You are returned safely to Beijing Capital Airport and connect your next flight or continue your trip to Beijing.
4) Two bottles of water per person.
Mutianyu Great Wall Private Transfer Details and Travel Tips
After you disembarking your plane, go to the
Hall for Passport Control and Immigration
for 114-hour visa free registration and get the permit to enter Beijing. Then follow other exiting passengers to take the APM train and get off at the final destination. Then pass through the customs and walk across the luggage claim area where you continue to exit. The whole process takes about 1 - 2 hours.
From the exit, you are kindly requested to look for your driver holding a sign in your name. Our driver will take you to the airport parking and start the hassle-free private transfer from Beijing Capital Airport to Mutianyu Great Wall. The one way transfer takes one and half hours.
Our driver will assist you buying the tickets for Mutianyu Great Wall - entrance tickets, inside ferry shuttle bus and cable car.
Suggested Self-guided Tour of Mutianyu Great Wall
1. At the ticketing box office, you are required to buy a 15 yuan return ticket for the ferry shuttle bus. The 5-minute shuttle ride brings you to the area close to the starting points for Visiting Mutianyu Great Wall.
2. Given your limited time on the Wall ( 2 hours ), we suggest you go up the Wall by taking the cable car, which takes you to
the 14th Watchtower
.
3. The hike from
Watchtower No. 14
west up to
Watchtower No.23
is the most scenic part of Mutianyu Great Wall. Many people would choose to take cable up to
Watchtower No.14
and hike west to
Watchtower No.23
. Then you retrace to
Watch Tower No.14
and take cable car down the Wall.
4. Grab a bite to eat on the 200-meter road leading to the shuttle bus terminal which is lined with restaurants on the left side and vendors on the right side. You have the choices of King Burger, Pizza, and Chinese food and more.
Price Information (Excluded in the private transfer)
Entrance Fee Adults: 45 yuan
Children between 1.2 meters and 1.4 meters in height: 25 yuan
Children less than 1.2 meters in height are free of charge
Cable Car:100 yuan(single way ); 120 yuan ( return )
Opening Hours
April to October: 8:00 -17:00
November to March: 8:30-16:30
At the end of your Mutianyu Great Wall trip, you are kindly requested to meet our driver at the main service building of Mutianyu Great Wall. Our driver will take you to the parking lot for the comfortable return to Beijing Capital Airport and connect your next flight.
Tips and Cancellation Policy about Mutianyu Great Wall Layover Private Transfer
1. This Beijing Capital Airport to Mutianyu Great Wall Private Transfer is mainly designed for those transit passengers who arrive at Beijing Capital Airport ( Terminal 3 or 2 ) with at least 8-hour layover.
2. If you need money change for the cash payment for the entrance tickets or other small items, our driver will assist you cashing your money either at Beijing Capital Airport or at the service building of Mutianyu Great Wall.
3. We will assist you storing your large pieces of luggage at the Left-luggage Counter in T3. Just a kind reminder: Our private car or van doesn't have enough space for storing your checked luggage.
4. Please book online or email us at

at least 3 working days in advance for securing your private transfer. Each participating passenger must
pay 30 USD in advance
. For the balance, please pay on the spot when you are on board.
5.For the balance payment, please be ready for the small sum of cash.
6. Cancellation Policy: Within 48 hours: 50 % of total private transfer price.
7. For more flexible guided Mutianyu Great Wall tour with English tour guide from Beijing Capital Airport, please check out
Mutianyu Great Wall Tour from Beijing Airport
.
Photos of This Private Transfer Service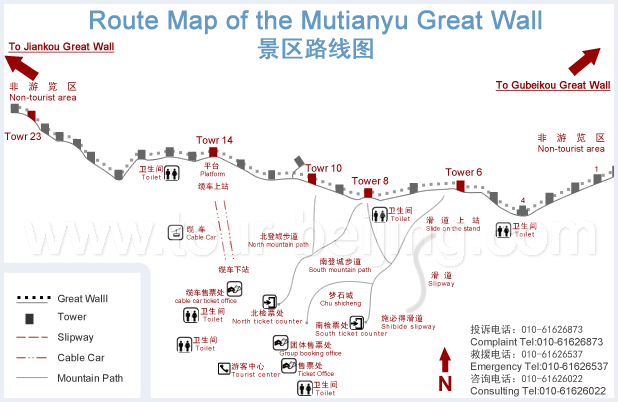 Beijing Capital Airport to Mutianyu Great Wall Two-Way Private Transfer
Price without shopping stop
Travelling Party
Private Transfer Cost Per Person
1 person
$130
2 persons
$65
3 persons
$60
4 - 5 persons
$45
6 - 7 persons
$43
8 - 9 Persons
$39
10 persons and above
$35
Remark: We provide warm coats to keep warm during the tours in winter.
Price inclusion:
1.Air conditioned car or van
2.Driver only ( No Tour Guide)
3.The above private tranfer is customized for you, your family or your friends exclusively. No other travelers will join in your party
Price exclusion:
1.Gratuities to drivers
2.Entrance tickets for the Wall
3.Meals
4.Cable Car or toboggan
5.Travel insurance for your coverage of injury or accident

Reservation Notes
●
Personal online booking information below must be provided or book by email :
Full Name, Nationality, Gender, Names of Travelers, Flight No., Arriving Time and Start Date. You are also welcome to call us at (+86)18611964400 ( 9:00 am - 6:00 pm Monday through Saturday). Tour Beijing will not refund any losses due to missing or incorrect information.
●
All rates on Tour-Beijing.com are subject to reconfirmation from our trip advisors when an actual booking is being made.
●
Child definition: from Age 3 to 11 Years. Contact our trip advisors to check if discount rate is available for your kids. Basically, children under 1.2m in height will get child discount rate, except bus tours.
●
All tours listed on website are all based in English Speaking local guides. For other languages, please contact our trip advisors for new quotations
●
Cash or Prepayment (Paypal, credit card payment, wire transfer, AliPay, WeChat Pay). Both RMB and USD are acceptable. Your actual mode of payment will be confirmed by your trip advisor. Basically, only bus tours (day tour) accept cash payment on the day.
●
When your booking is confirmed, you will get a confirmation email or call from us, which includes the confirmed detailed itinerary with prices.
●
When your booking is confirmed, you will get a confirmation email or call from us, which includes the confirmed detailed itinerary with prices.
●
The cancellation fee: to be confirmed by trip advisor, based on different itineraries and different policies.
●
The schedule can be adjusted by your tour guide due to the actual traffic condition.
●
You are strongly recommended to book this tour at least 35 days in advance to secure the land arrangement involved and avoid the risk of being canceled.
About Us
We are not just a travel website, we are a real and reputable travel agency based in Beijing offering help and advice that a travel website cannot provide. Just send us an email or give us us a call, one of our staffers will be your personal travel consultant. Any problems during your trip? Want to cancel or change your trip? Your travel consultant is a phone call away from getting your problem solved.
International Call: (+86)18611964400
Email :

Company Location
Add: West 2-2, No. 143 Bazhuangzi, Fengtai South Road, Fengtai District, Beijing.
Office Hours:
| | |
| --- | --- |
| Monday | 9AM–6:00PM |
| Tuesday | 9AM–6:00PM |
| Wednesday | 9AM–6:00PM |
| Thursday | 9AM–6:00PM |
| Friday | 9AM–6:00PM |
| Saturday | 9AM–6:00PM |
| Sunday | Closed |
Questions & Answers:

Here is
only for Questions and Answers
. ( For anyone who wants to have an enquiry or customized tour, please email us to

. )