Tingri County, a final springboard for EBC
Plan your Tibet travel? Are you keen on a life long trip to Mount Everest Base Camp in Tibet ( the north base camp or also known as Qomolangma Base Camp? Tingri County is a final springboard for your going to the Mt.Everest Base Camp (EBC).
Tingri County is located 100km to the northwest of Mr.Everest Base Camp. People often choose to stay overnight in Tingri and get recharged before driving to EBC next day.
Tingri County is situated between the city of Shigatse and Zhangmu County ( China's border town adjoining Nepal ). So get to Tingri County, you may first reach Shigatse from where you continue your road trip to Tingri or you may choose to get to Tingri from Zhangmu abutting Nepal.
Shigatse – Lhatse – Tingri Road Trip
Today I have just made a bus road trip to Tingri from Shigatse. Hopefully my Shigatse Tingri road trip report will be helpful in planning your own road trip from Shigatse to Tingri County.
The road from Shigatse to Tingri is a highway officially named Highway No.318, also known as "China Nepal Friendship Road" connecting Lhasa and Kandumandu (passing through Shigatse, Lhatse and Tingri in between). This national highway No.318 starts from Shanghai!
The road distance between Shigatase and Tingri County is 308km. If you drive a land cruiser, the road trip will take about 3 hours, and over 4 hours if you travel on a bus. In the course of the road trip, you will pass by another county – Lhatse County and two mountain passes – Tsola Pass (4700m) 错拉山口 and Gyatsola Pass (5248m)嘉措拉山口 . In general, the road trip is an easy driving experience with beautiful views.
Shigatse – Lhatse 156km
To reach Tingri County, you will first drive by Lhatse County, which is 150km to the southwest of Shigatse. It is a two-lane asphalt road with smooth road surface for most parts. In some areas, the road is a little bumpy.
We are driving over the Tsola Pass (4700m) . This pass is also the dividing line between Shigatse County and Lhatse County.
Numerous colorful Prayer flags hang at the crest of the pass with a plaque inscribed the words" The Chinese Folk Artist County Welcomes you!".
On the way to the downtown of Lhatse County, we come across a fork road. Turning left, you can go visit Sakya Monastery. The monastery is located 25 km southeast of a bridge which is about 127 km west of Shigatse on the road to Tingri. But we continue to drive towards our destination – Tingri County.
At Chawuxiang Village (查务乡) in Lhatse County, we come across the fork: Highway No. 219 leading to Ali Region and the another Highway No.318 leading to Zhangmu County ( also passing by Tingri County). We continue with the Highway No.318.
See the photo I took at the fork in Chawuxiang Town below:
We are approaching the second high pass on the way from Shigatse to Lhatse – Gyatsola Pass (5248m) . This pass is also the dividing line between Lhatse County and Tingri County. Driving through Gyatsola Pass is the highlight of the road trip from Shigatse to Tingri.
Entering Tingri County
Crossing the Gyatsola Pass (5248m), we are within the Tingri County, or particularly in the Mt.Everest (Mount Qomolangma) National Nature Reserve. Prayer flags flutter hanging over the crest of the Gyatsola Pass (5248m)
Around the Gyatsola Pass, on a clear day, you can see not only Qomolangma ( Mt. Everest), but other three over 8000m high mountains – Cho Oyu (8201m)卓奥友峰 , Lhotse (8516m)洛子峰 and Makalu (8463m)马卡鲁峰.
It is quite rare to see four over 8000m high peaks on a highway in the world. The Gyatsola Pass is the gateway to Mt.Everest. On a fine day, you easily spot the crest of the highest peak in the world.
After feasting our eyes on the super landcape of the four over 8000m peaks, we keep on moving towards our Today's final destination – Baibacun ( Baiba Village, or Pelbar ) of Shelkar (Sheger) Town in Tingri. On the way, the snow-covered high peaks still take our breath away.
Baibacun ( Baiba, or Pelbar ) of Shelkar (Shegar) Town in Tingri
Tingri is the lunch pad for going to Mt. Everest, but the jurisdiction of Tingri County is very large with its county seat at Sheger Town ( also known as Shelkar Town). Tingri County is mainly composed of Shegar Town (New Tingri), Gangkar Town (Old Tingri) and Baiba Village (also known as Pelbar, Baibacun, 白坝乡 ).
The Baibacun Village (Pelbar in Shelkar Town) is the most welcome rest stop for recharging before challenging the 100km zigzag road leading to Mr.Everest.
The Baiba Police Station sets up a security checkpoint and foreign visitors should present travel permits. Basically those foreign travelers who would enter Tingri for Mt.Everest need to apply for another travel permit in Shigatse in advance.
Most of the hotels including Gomolangma Hotel ( where we stay ) are located in Baiba Village in Shegar Town of Tingri County, not located in Shegar Town itself in Tingri County. Shegar Town is where Tingri Government is located.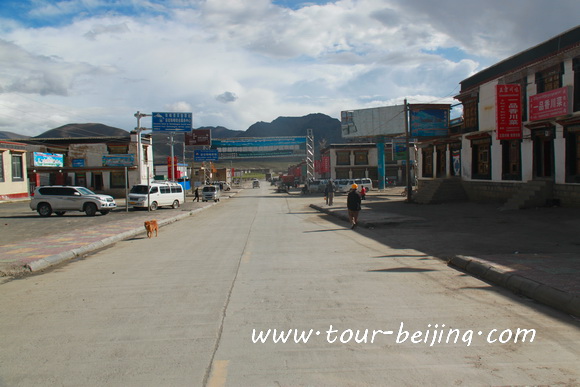 The Baibacun ( Baiba Village) has an only commercial street ( namely the highway 318 passing the villiage) flanked with a few bars and restaurants and several hotels are scattered around it.
We stay at Gomolangma Hotel in Baiba Village of Shegar Town of Tingri County, located close to the commercial street of Baibacun Village.
We get to the hotel at 3:00pm. Later in the afternoon we either take a break at our lodging hotel – Qomolangma Hotel or wander on the only street in the Baiba Township, grabbing some snacks and water, or bottled oxygen for the next day's expedition.
Shigatse Lhatse Tingri Road Trip Tips
1. Apply for Aliens's Travel Permit in Shigatse
2. Be clear of the different place names:
1) Baiba Village (Baibacun, Pelbar)
2) Shegar Town ( Shelkar ) 7km northwest of Baiba Village
3) Gangkar Town (Old Tingri) 60km west of Baiba Village
4) Tingri County
3. Prepare for bottled oxygen for the next day's expedition if you don't feel well.
4. There are daily long-distance buses between Shigatse and Tingri County.
Hassle-free Lhasa & Tibet Guided Tours
If you don't want to go the do-it-yourself route and prefer the hassle-free escorted tours, here are some options for guided tours to Lhasa and Tibet:
Lhasa Tour
Tibet Travel
Lhasa Tibet Group Tour
Lhasa Tibet Private Tour
Beijing Lhasa Tour
Lhasa China Tour
Further Readings
Best Time to Visit Lhasa
Top 10 Attractions in Lhasa
Lhasa Tourist Traps, Tourist Scams Lhasa
Where to stay in Lhasa
Makye Ame Lhasa Restaurant – Your Kitchen in Lhasa
Lhasa Airport, Lhasa Gonggar Airport
Xian Lhasa Flight Experience, Xian Lhasa Flight
Lhasa Railway Station Transportation, Taxi, Public Bus
Get around in Lhasa with Pedicab or Trishaw
lhasa Taxi
Best Places to Take Picture of Potala Palace Lhasa
4-Wheel Drive Trip from Lhasa to Ranwu
Tips for Visiting Drak Yerpa (Tips, Photos & Map)
The Pilgrim Kora in Lhasa, Lhasa Pilgrim circuits
How to Visit Sera Monastery in Lhasa
Beijing Road in Lhasa
Lhasa River in the City of Lhasa (Tips, Photos & Map)
Lhasa Great Mosque, the Mosques in Lhasa
Lhasa Yamdrok-Tso Lake Road Trip
Qushui Bridge in Qushui County, Tibet (Tips, Photos & Map)
Nagarzê County and Scenic Road Trip to Gyantse
Gyantse County and Road Trip to Shigatse
Shigatse Trip (Tips, Photos & Map)
Shigatse Lhatse Tingri Road Trip
Any questions, just drop a line.