On August 25, together with other 24 group members on a 35-seat bus, after 5 hours' bumpy driving for 108km, we successfully reached the Mt.Everest Base North Camp in Tibet ( Qomolangma Base Camp) and saw the unparalleled beauty of the snow-covered peak of Mt.Everest under a clear sky.
I'd like to make a trip report on our exciting trip, which may be helpful for those who have the same dream to view the highest mountain in the world at a shortest distance as a common tourist.
Pelbar (Baibacun) in Tingri is a launch pad for driving to EBC
Basically Tingri County is your starting point to go on with your road trip to Mt.Everest North Base Camp in Tibet. You either drive from Lhasa to Tingri ( via Shigatse ) or from Zhangmu (via Nepal).
We drive all all the way from from Lhasa to Yamdroke Lake, Nagarze, Gyantse, Shigatse and finally Tingri. Of course, Tingri County's jurisdiction is large and you need to choose a specific place to recharge and prepare for the adventure road trip to Mr.Everest Base Camp.
We choose the small township by the side of National Highway G318 known as Pelbar ( Baibacun, or Baiba Township). From the township at the National Highway 318 to the Mt. Everest Base Camp it would take 5 or 6 hours by bus for a 108km mountain road mainly due to the poor and bumpy dirt road, but 3 and half hours for a land cruiser.
Prepare for the adventure road trip
Yesterday (on August 24), we had a very easy schedule starting from Shigatse at 11:00am and arriving at Pelbar (Baiba Township) of Shegar Town in Tingri at 3:00pm. Later in the afternoon we either took a break at our lodging hotel – Qomolangma Hotel or wandered on the only street in the Baiba Township, grabbing some snacks and water, or bottled oxygen for the next day's expedition.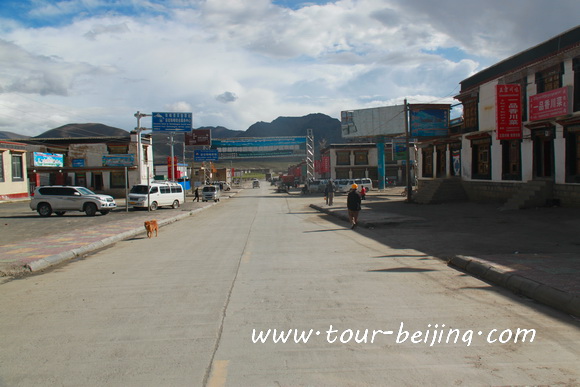 We all agreed to get up early due to the long road trip the next day. To our pleasant surprise, Qomolangma Hotel was very cooperative and ready to provide breakfast or dinner at any time clients demanded. We planned to get up at 4:00am and set the breakfast at 4:30am the next day.
Though in August, in the early morning we all felt a little bit cold because of the day and night temperature difference on the plateau. Some of the tourists had bought bottled oxygen from the shops on the street in the township just in case. Sunglass, sunscreen, sun hats and water were basic for the long and hard road trip at an average sea-level of over 4000m.
Lugongong Police Checkpost in Pelbar
We set off at 5:30am from Qomolangma Hotel in Pelbar Township ( Baiba or Baibacun) in Tingri and it was still a little dark outside.
We left Baiba Township and drove along the National Highway 318 down to the south, then we had to stop for the security check at Lugonggong Police checkpoint. Everybody on the bus must get off and wait in line inside the check building for check one by one.
After we came back from Mt.Everest Base Camp to Baiba Township, we would have to do the same check again. As a foreigner, you must have two permits – Travel Tibet Permit and Alien Travel Permit.
After finishing the security check and we all got on the bus again, and continued to drive about 7km along the National Highway 318, then we saw a signboard pointing to the special road forking from the main asphalt road to Mt.Everest. Now we knew we were about to be on the bumpy road to fulfil our dream.
Embarking on the road to the Mt.Everest North Base Camp
A signboard pointing to the special road forking from the main asphalt road to Mt.Everest Base Camp. Also a huge signboard stands there welcomging all travelers.
The moment we drove on the mountain road, we realized that why the 100km Everest Base Camp Road would take 5 or 6 hours for a bus trip. The dirt road condition was terrible, tough, harsh, bumpy like a washing board with a corrugated surface and some full of dirt holes!
Bumpy like a washing board with a corrugated surface and the road condtions are not good.
Not long we had to stop again to have our entrance tickets checked for Qomolangma (Mt.Everest) Nature Reserve at the checkpoint in the first village on our 100km road trip.
Entrance tickets checked for Qomolangma (Mt.Everest) Nature Reserve: 180 yuan per person.
Two hours' ascent drive to the Gyawula Pass 5210m
Now we began to have about two hours' ascent drive along the rugged dirt road up to the pass – Gyawula Pass (加乌拉山口). Some crazy climbers would get up in small hours and get to the Pass to catch the sunrise over Mt.Everest! We were very lucky that the sky was clear with a fine day.
All of us expected to be on the platform on the Gyawula Pass to see Mt.Everest and other high peaks. For this, we had to endure endless twists and turns, and hairpin bends which elevated us little by little towards the azure sky and the pass.
Just over the Gywula Pass 5210m, there is an open platform for people to park and view the magnificent Mt.Everest and other peaks. All of us were amazed by the view unfolding before us and couldn't belive the beautiful views of the snow mountains were real! It was so beautiful!
At Gyawula Pass (5210m), the entrance of Himalaya, on a find and clear day, you can view the panorama of Himalaya range and see 4 mountains which are over 8000m high, namely Mt. Lhotse (8516m), Mt. Everest (8848m), Mt. Qowowuyag (8201m) and Mt. Mayalu (8463m).
We were busy taking pictures of the fantastic beauty of highest mountains in the world. On a find day, people can clearly see Mt.Everest, and other three over 8000m high peaks, 4 of total 14 over 8000m high peaks in the world.
Drive from Gywula Pass 5210m to Mt.Everest North Base Camp
Now still excited, we started to drive down the pass toward the base. "Hiking up is easy, but hiking down is difficult". We had to drive slowly along the zigzag roads. The scenery was magnificent with solemn Himalayan hillsides framing here and there on the way.
We passed small Tibetan settlements, nomadic herdsmen wandering across the wide arid plains, yaks, wild rabbits, wild sheep, dzopkyos (yak-cow hybrids), and awe-inspiring mountain peaks – a paradise on earth!
Checkpoint at the last Village
The checkpoint at the last Village – Quzong Hamlet (Quzong Village) before we reached Mt.Everest Base Camp, we again had to go through the border check at the checkpost at Quzhong Village, the last village on the way to the base.
The border check at the checkpoint at Quzhong Village, the last village on the way to the base.
Rongbuk Monastery 5154m
After Quzong Village, we drove along the valley leading to Rongbuk Monastery. On the way, we saw some travelers rode bikes to the camp. Rongbuk Monastery is a Tibetan Buddhist monastery of the Nyingma sect. Now there are some nuns and monks living in the temple. The monastery is located by the foot of the Rongbuk Glacier at 5,154m.
It is the highest religious building in the world. Now it provides some basic accommodations for climbers. Rongbuk Monastery is considered as a gateway to Mt. Everest. From this good location you get breathtaking views of the magnificent Mt.Everest.
Tent community (Za-Rombuk)
The Mt.Everrest Base Camp is about 8km south of Rongbuk Monastery. In the middle of the way between the Camp and the Monastery, there is a "Tent Community", also known in the tourist book as "Za-Rombuk". The "tent community" is set up by locals for 6 months of each year.
You can choose a bed, take some blankets, or use blanket yourself and go to sleep. There is no running tape water, but each tent usually takes water from the local snow-melt stream sand has a barrel in the tent. The toilets are the standard squat over a hole in the ground.
The tents in Za-Rombuk seems cozy and warmer, and friendly. Trekkers and leisure travelers share their temporary home. The tents are windproof, spacious. Heating comes from the stove in the middle of the room which burns yak and goat dung.
The Tent community is also a parking lot as well a leisure place for relaxation. We parked our bus in the tent community area. From the "Tent Community", we had to take the local shuttle bus (environment protection bus ) to the real Camp, about 4km south of the Tent Community.
Mt.Everest North Base Camp 5200m
When we reached the Mt.Everest Base camp, everybody again had to go through security check lining up at the small room by the entrance to the base camp. Once inside the compound of the base, people were allowed to ascend a hill to have a clear view of the magnificent Mt.Everest.
Normal tourists were not allowed to go down the hill to climb Mt.Everest. It was not the best time for Mt.Everest climbing, so there were no tents here in the base camp. Now it is in August, not a perfect time for Mt.Everest climbers, so there are no tents in the Qomolangma North Base Camp.
March to Mary, September and October are the best season for Mt.Everest climbing. The Rongbuk river flows through the valley, constituting an amazing view of water, peaks, blue sky…
Tingri Overland to Mt.Everest North Base Camp Travel Tips:
1. Better for a small group using a land cruiser instead of bus tour
2. Ready for Bottled oxygen if you are not confident about your health
3. Water and snacks
4. Sunglass, sunscreen, altitude sickness medicine
5. Good sleep the day before
6. Suggested to stay in Tingri for overnight
7. Alien Travel Permit for Mt.Everest Base Camp
8. Clothes for temperature difference
9. Best time: March, May, September and October
Hassle-free Lhasa & Tibet Guided Tours
If you don't want to go the do-it-yourself route and prefer the hassle-free escorted tours, here are some options for guided tours to Lhasa and Tibet:
Lhasa Tour
Tibet Travel
Lhasa Tibet Group Tour
Lhasa Tibet Private Tour
Beijing Lhasa Tour
Lhasa China Tour
Further Readings
Best Time to Visit Lhasa
Top 10 Attractions in Lhasa
Lhasa Tourist Traps, Tourist Scams Lhasa
Where to stay in Lhasa
Makye Ame Lhasa Restaurant – Your Kitchen in Lhasa
Lhasa Airport, Lhasa Gonggar Airport
Xian Lhasa Flight Experience, Xian Lhasa Flight
Lhasa Railway Station Transportation, Taxi, Public Bus
Get around in Lhasa with Pedicab or Trishaw
lhasa Taxi
Best Places to Take Picture of Potala Palace Lhasa
4-Wheel Drive Trip from Lhasa to Ranwu
Tips for Visiting Drak Yerpa (Tips, Photos & Map)
The Pilgrim Kora in Lhasa, Lhasa Pilgrim circuits
How to Visit Sera Monastery in Lhasa
Beijing Road in Lhasa
Lhasa River in the City of Lhasa (Tips, Photos & Map)
Lhasa Great Mosque, the Mosques in Lhasa
Lhasa Yamdrok-Tso Lake Road Trip
Qushui Bridge in Qushui County, Tibet (Tips, Photos & Map)
Nagarzê County and Scenic Road Trip to Gyantse
Gyantse County and Road Trip to Shigatse
Shigatse Trip (Tips, Photos & Map)
Shigatse Lhatse Tingri Road Trip
Drive from Tingri to Mt.Everest Base Camp
Gangkar Town ( Gangga Town ), Tingri County
Tingri County (Tips, Photos & Maps)
Nyalam Town & Nyalam County (Tips, Photos & Maps)
Zhangmu Port & Zhangmu Town (Tips, Photos & Maps)
Any questions, just drop a line.