by
Plan your Shanghai tour? Shanghai is the most visited city in China with numerous photo opportunities.
If you visit Shanghai for the first time, and look for some guidance and help in locating some photographic locations and subjects such as skyline, architecture, street scenes, everyday life, classical gardening, water town and many more, I'd like to present you my version of Top 10 Sites for Photography in Shanghai.
1. Best Skyline Pictures to be Taken from the Bund
The Bund is the west waterfront of Huangpu River which roughly divides Shanghai into two areas – Puxi ( West of Huangpu River) and Pudong ( the East of Huangpu River).
The Bund has long been the popular site for European and U.S. businesses since the late 19th century, when today's colonial buildings along the Bund were built to accommodate the banks, financial institutions, a major Asian financial center in the past.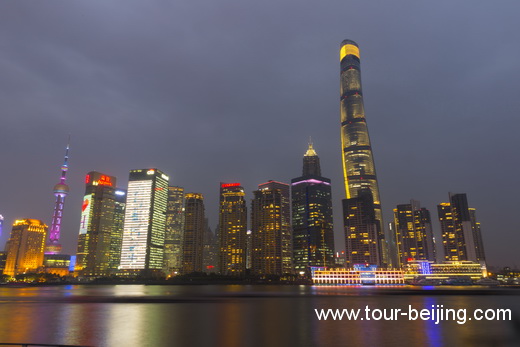 The Bund is a great spot to take the iconic skyline in Shanghai – Pudong skyline. Pudong is a booming zone in just east of Huangpu River. It is awash with trendy and futuristic buildings and skyscrapers, forming a surreal and spectacular skyline in Shanghai if you view it standing on the Bund on the west of the Huangpu River. The skyline is at its best at night with dazzling neon lights and lit cruise ships boating on Huangpu River.
The Bund doesn't only prove to be a perfect place to view the Pudong skyline, it is also a good spot to snap the sunrise and have some candid photos of the locals practicing Taichi and dancing in the early morning.
2. Best Panoramic Photos of Shanghai from the Skyscrapers in Pudong
Pudong's burgeoning phalanx of skyscrapers guarantee you a load of great panoramic pictures of Shanghai. You may ascend WFC (world financial center) , Jin Mao Tower, Oriental Pearl TV Tower and set your camera for wonderful shots.
When you go up in one of the high-rise buildings, you can look in all directions for amazing photo opportunities. If you are up in the evening, you will have a Blade Runner view. Just imagine the huge change taken place in Shanghai in the past 30 years.
3. Best Pictures of the Shanghai Old Town
The metropolitan Shanghai hasn't forgotten its root and old tradition along its 30 years' rapid economic development. Numerous old cultural customs, traditional cuisines, folk art, etc. have been well preserved and even developed.
Shanghai Old Town, south of Yu Yuan Garden, is the best place to shoot the traditional culture in Shanghai with lots of photo-journalistic opportunities, grasping the interesting moments of the community culture and watching a microcosm of Chinese city life.
The Bazaar is the highlight of the old town. You may taste the well-known Nanxiang steamed buns with the fillings of crab, pork, shrimp or chicken and don't forget to record your trip with your camera!
4. Best Images of Classic Gardening at Yu Yuan Garden
After shooting the people and the old town community, move to Yu Garden ( or Yuyuan Garden ) nearby. The Yu Garden is not to be missed for its typical Chinese landscapes and architecture.
If you want to upgrade your garden back home, this place definitely will update you on some practical and aesthetics information on landscaping. Centered by so-called Currow ancient stone, a porous 3.3-m, 5-ton boulder, today, Yu Garden takes an area of 2 hectares, and is sectioned into six areas laid out in the classical China gardening style. Each area is separated from the others by "dragon walls" with undulating gray tiled ridges, each ending in a dragon's head.
5. Best Street Photographs Nanjing Road
Nanjing Road, dubbed as "China's First Commercial Street", is the most well known commercial street in Shanghai including Nanjing East Road and Nanjing West Road. Nanjing East Road ( now a pedestrian only street ) was once the No.01 commercial street in the far east. Nanjing West Road is now the top end business block in Shanghai.
Champs-élysées to Paris is what Nanjing Road to Shanghai. With Metro Line 1, Champs-élysées is linked to Concorde Square while Nanjing Road is connected to Shanghai People's Square by Metro Line 2.
You may take metro line 2 and exit at People's Square and walk to Nanjing East Road or get off at the subway station of Nanjing East Road for an easy amble and then move on to the Bund for a fabulous skyline in Shanghai.
Having a night walk along the pedestrian street allows you to have great night shot – its sparkling and eye-popping neon lights and the sea of people.
6. Best Shots of Shanghainese Shikumen Architectural Style
Shanghai Xintiandi is a place you should not miss. "Xintiandi" literally means "New Heaven and Earth' which refers to a strip of bars,cafes, boutiques and shopping malls based on the former cluster of Shikumen buildings in the center of Shanghai.
The Shikumen buildings were built in 1860s with a blend of Chinese and western style architectures. The western style of brick door frames, roofs and walls go harmoniously with the inside structures of Chinese traditional houses in the Yangtze Delta Area. Now Xintiandi is an all hip hangout.
Shots of Xintiandi's tree-lined streets and modern life look even more fantastic at sunset with the orange sun lights shedding through the tress on to the streets. The night view of Xintiandi is awesome with the lit neon lights.
The Xingye Road is flanked by two storey shikumen buildings at the Xintiandi area.
The Xingye Road is flanked by two storey shikumen buildings at the Xintiandi area.
7. Best Shooting of Former French Concession
Shanghai French Concession was a conceded territory for a French settlement in Shanghai from 1849 until 1943. The French Concession remained largely unchanged during the early decades after 1949 after the new China. Despite re-development over the last few decades, the area retains a distinct character, and is a popular photo destination for shooting the colonial buildings.
The French Concession now include the north-eastern part of today's Xuhui District and the western part of Huangpu District (the former Luwan District), lying in the centre, south, and west of the central urban Shanghai.
The Wukang Mansion is a well-known protected historic apartment building in the former French Concession area of Shanghai. It was designed by the Hungarian-Slovak architect László Hudec and finished in 1924. The building is still in use.
8. Best Photos of the Contemporary Chinese art in Shanghai
50 Moganshan Road in Shanghai (莫干山路50号) or "M50″ is a contemporary art district in Shanghai. This area is home to a thriving community of over a hundred artists whose studios are open to the public.
It is similar to New York's SoHo and Beijing's 798 Art Zone. The art commuinity has become a popular cultural attraction for local and international visitors alike. The studio and gallery are converted from former warehouse complex, offering many photogenic opportunities.
9. Best Candid Snapping of Everyday Shanghai.
Just roam Shanghai and get lost with your camera, keeping away from the must-see tourist spots, and discover Shanghai's everyday life in your own way.
10. Best Shots of the Classical Water Town of Qibao
If you have had enough of the photos of the modern metropolitan Shanghai, Qibao is a good alternative for you to change a taste for a typical China water town.
Qibao Ancient Town is a tiny water town, not far from Shanghai city center and you don't have to go far to visit other water towns like Zhujiajiao Water Town, Zhouzhuang Water Town and Tongli Water Town.
The old town is mainly composed of three stone arch bridges, two canals and 4 major streets and several side lanes. You will see its nook and cranny offers plentiful photo opportunities.
Strolling the markets, wandering the old streets, walking across stone bridges and browsing the snack stands, you will snap a load of candid photos of the lively water town community.
Tips
1) This is a crowded place not for everyone.
2) Watch your bag. There are pick-pockets in the crowded place.
3) Need to bargain to get a good price on some things.
4) Be ready for people watch and see of people.
5) Avoid weekend or China Holiday.
Hassle-free Shanghai Guided Tours
If you don't want to go the do-it-yourself bus route and prefer the hassle-free escorted tours, here are some options for guided tours to Shanghai:
Shanghai Tour
Shanghai Day Tour
Shanghai Multi-Day Tour
Shanghai Evening Tour
Shanghai Cruise Port ( Transfer& Excursions )
Shanghai Beijing Tour
Shanghai Xian Tour
Shanghai Car Rental with Driver
Further Readings
---
Top 10 Attractions in Shanghai
Shanghai's Top 10 Iconic Landmarks
Top 10 Markets in Shanghai
Top 10 Shopping Malls in Shanghai
Top 10 Things to Do at night in Shanghai
Best Places for Autumn Leaves in Shanghai
Top 10 Things to Do in Winter in Shanghai
Top 10 Souvenirs in Shanghai
Top 10 Photo Spots in Shanghai
10 Non-Touristy Things to Do in Shanghai
Any questions, just drop a line.
Tags: 10 Sites To Take The Best Pictures in Shanghai, Best Locations to Take Photos in Shanghai, Best Places to Photo in Shanghai