Along with the Western Qing Tombs, the Easternb Qing Tombs were inscribed on the World Heritage List in 2000. The Eastern and Western Qing Tombs are an imperial mausoleum complex of Qing Dynasty ( 1644 – 1912 ), the last dynasty in Chinese history.
About 135km to the east of Beijing, the Eastern Qing Tombs are located in Zunhua City, Hebei Province. The Eastern Qing  Mausoleum Complex is the largest  extant group of imperial tombs and buildings properly laid out. Here are buried 161 people including five emperors: (Shunzhi, Kangxi, Qianlong, Xianfeng, and Tongzhi), 15 empresses, 136 imperial concubines, three princes, and two princesses of the Qing dynasty.
Among the massive and delicate ancient buildings in the Eastern Qing Tombs, there are over 580 single buildings including the extant widest stone archway, the best preserved 0ver-6000-meter spirit way and the elaborate underground palaces in China.
The Eastern Qing Mausoleum Complex was built after the imperial architectural rules and systems of Ming Dynasty ( 1368 – 1644 ). When you enter the imperial complex, you will first see the stone archway, the largest extant one in China, devoted to the first emperor of Shunzi who ruled over China in Qing Dynasty.
If you are planning your Hebei tour, a day trip to the Eastern Qing Tombs is highly recommended.
The largest extant stone archway in China, 31.35 meters wide and 12.48 meters high.
Just north of the stone archway is the red gate, the grand palace gate where the imperial spirit way of Xiaoling Tomb starts.
The over-6000-meter Spirit Way of Xiaoling Tomb ( for Emperor Shunzi ) is the longest spirit ways in the Eastern Qing Tombs and China as well.
The spirit way meanders from south to north lined with 18 pairs of vivid stone statues of officials, officers and animals.
Walking further north, you will see the Divine Merit Stelae Pavilion with gable and hip roof with multiple eaves. The stelae record the performance of Emperor Shunxi.
The Dragon and Phenix Gate, the Qing pattern archway, comprises 6 stone pillars and 4 sections of glazed walls with three gates, a kind of firy archway.
To the east of Shunzhi's mausoleum are Jingling (Kangxi Emperor) and Huiling (Tongzhi Emperor).
The Jingling Tomb (Kangxi Emperor)
Huiling (Tongzhi Emperor)
To the west of Xiaoling Tomb ( Shunzi ) lie Yuling (Qianlong Emperor), Ding Dongling (Dowager Empress Cixi and Empress Ci'an), and Dingling (Xianfeng Emperor).
Yuling Tomb Exterior (Qianlong Emperor)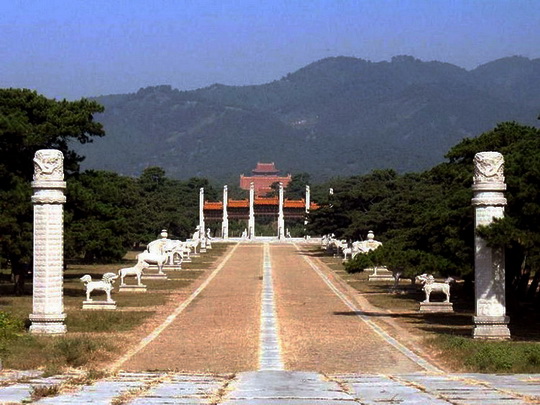 Ding Dongling Tomb Exterior (Dowager Empress Cixi and Empress Ci'an)
Dingling Tomb Exterior (Xianfeng Emperor)
How to Get to Eastern Qing Tombs from Beijing
No direct public buses going from Beijing to the imperial mausoleum complex. Some travellers use the long-distance buses starting from Sihui Long-Distance Bus Station in Beijing, which is opposite to the Exit A of Sihui Station of Subway Line 1, but it is a bit daunting and time consuming, giving that you have to get off at the toll gate, then take a taxi there. So self-drive or hiring a car is highly recommended.
Self-drive or private vehicle ( 130 km driving to the east )
Starting from Dongzhimen, take Airport Expressway — Jingping Expressway (over Pinggu) — Jinjji Expressway (over Jixian) — S302 Xibang Road, and arrive at the ticket office, totally about 130 kilometers. It is about 93 kilometers from Dongzhimen to the exit of the expressway, and 37 kilometers to the ticket office after exiting from the expressway.
Note: On public holidays there are shuttle buses in front of the Xuanwumen Church in Beijing going to the Eastern Qing Tombs.
Hassle-free Beijing Guided Tours
If you don't want to go the do-it-yourself route and prefer the hassle-free escorted tours, here are some options for Beijing guided tours:
Beijing Eastern Qing Tombs Day Tour
Huangyaguan Great Wall and Eastern Qing Tombs Day Tour
Beijing Highlight Day Tour from US$59 P/P
(Tiananmen + Forbidden City + Mutianyu Great Wall)
Beijing Classic City Tour from US$65 P/P
(Tiananmen + Forbidden City + Temple of Heaven + Summer Palace)
Beijing Excursion Tour from US$59 P/P
(Mutianyu Great Wall + Ming Tomb)
Beijing Hutong Highlight Tour from US$59 P/P
( Hutong + Rickshaw)
Mutianyu Great Wall Half Day Tour from US$55 p/p
Hike from Jiankou to Mutianyu Great Wall Day Tour from US$69 p/p
Mutianyu Great Wall Layover Tour from US$65 p/p1
Beijing Highlight Layover Tour from US$75 p/p
Further Readings
---
Best Time to Visit Beijing
How to plan a trip to Beijing
Exterior Scene of the Eastern Qing Tombs
Top 10 Attractions in Beijing
How to Visit Forbidden City
How to Visit Temple of Heaven
How to Visit Summer Palace
How to Visit Ming Tombs
How to Visit the Great Wall of China
How to Visit Tiananmen Square
How to Visit Hutongs
How to Visit Olympic Sites
Top 10 Markets in Beijing
Top 10 Shopping Malls in Beijing
Beijing Shopping
Wangfujing Night Snack Street
Qianmen Commercial Street
Beijing Huguosi Street
Any questions, just drop a line.