Beijing Highlight Private Day Tour
(Your Exclusive English-Speaking Tour Guide and Exclusive Vehicle)
Overview
Attractions: Mutianyue Great Wall, Forbidden City and Tiananmen Square
Pick-up point and time: Your Hotel around 8:00am
Finishing point and time: Your Hotel around 6:00pm
Walking Level: Beginner - intermediate
Vehicle: Your Exclusive Vehicle with free Wi-Fi & Bottled water
Service: Entrance fees + lunch + private tour guide & driver + private car / van
Tour Code: BXIT-F04A
Tour Description
Picked by our tour guide at your hotel in Beijing around 8:00 am. Then head to
Tiananmen Square
(40 minutes), the largest public square of this kind in the world. Located in the heart of Beijing City, it is the site for massive parades and rallies, the largest square of this kind in the world.
This was the site when in 1949, from a rostrum on Tiananmen (the Gate of Heavenly Peace), Chairman Mao proclaimed the establishment of the People's Republic of China.
Tiananmen Square Travel Tips
For security reason, Tiananmen Square is a fenced square circled by low iron grids with main four entrances – east, west, south and north. The square is now open to the public till midnight, but all the tourists have to pass a security check before they enter the square. So check points have been set up at all the entrances leading to the square.
The 40-minute visit allows you to have a glimpse at the outside of Memorial Hall of Chairman Mao, the Monument to the People's Heroes, the magnificent Great Hall of the People, the National Museum of China, the ancient Zhengyang Gate and Arrow Tower as well as the Tiananmen Tower which leads to the well-known Forbidden City.
Then move on to
Forbidden City
( 2 hours ). The Forbidden City is the Chinese imperial palace from the mid-Ming Dynasty to the end of the Qing Dynasty (1644 -1911). For almost 500 years, it served as the seat- bed of the Emperors in Ming and Qing Dynasties as well as the ceremonial and political centre of Chinese government.
People have to enter Forbidden City from its southern gate ( linked to Tiananmen Square) and exit from its northern gate, which is officially set as a one-way south to north travel route.
Forbidden City Important Notice
1.
Forbidden City is closed for the entire day every Monday,
except the Chinese national public holidays.
2. Forbidden City Ticketing Purchase is based on real name policy;
3. You need to show your passport to buy your entrance tickets;
4. Free of charge for children under 1.2 meters, each required to be escorted by an adult;
5. There are some exhibits within Forbidden City that require additional tickets to access such as the Treasure Gallery and the Clock and Watch Gallery.
Treasure Gallery : RMB 10;
Clock and Watch Gallery: RMB 10
Forbidden City Opening Hours
April 1st – October 31 ( 8:30 – 17:00 )
Last Entry at 16:10
Tickets sold until 16:00
November 1st – March 31 (8:30 – 16:30)
Last Entry at 15:40
Tickets sold until 15:30
Lunch will be arranged at
Xinshuangquan Restaurant
which serves traditional Chinese food.
After Chinese lunch, have an excursion to
Mutianyu Great Wall
(hiking about 2 hours), the most beautiful section of the all 5 major sections of the Great Wall around Beijing, less crowded than Badaling Great Wall with picturesque views. Mutianyu Great Wall once worked as the northern barrier defending the capital and the imperial tombs. It is a green section of the great wall in Beijing with vegetation, green pines and cypresses covering 90 per cent of the section.
There are 23 watchtowers on the
Mutianyu Great Wall
snaking the ridge for about 3000 meters. The watch towers at the
Mutianyu Great Wall
are distributed at short intervals. The 23 watch towers are numbered from right (east) to left (west). The 23rd tower is highest point of the
Mutianyu Great Wall
.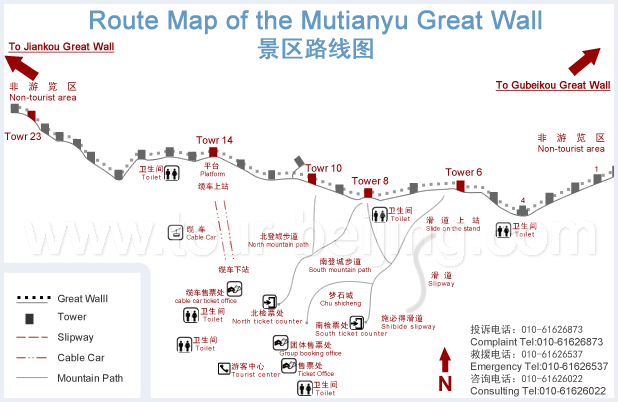 Mutianyu Great Wall Travel Tips
Three Ways to Go up to Mutianyu Great Wall
There are three ways to get onto the Wall. Apart from hiking up on foot, you can choose take cable car or chair lift
(Optional)
.
To get down the wall, you can also take Toboggan slide down
(Optional)
.
When you get off the ferry shuttle bus going from the shuttle bus terminal near the ticketing office, you still need to walk along an accessible stone path (600 meters long ) leading up first to the starting point for chairlift ( or toboggan down ), second to the walking path up to the Wall and last to the starting point for cable car up to the Wall respectively.
So the mostly used Cable Car Station is at the end of the 600-meter stone slope. That said, there are three ways to go up to Mutianyu Great Wall.
1) Taking chairlift to the Great Wall - to
the 6th Watchtower
( or where you can take a toboggan down)
2) Walking up the Great Wall along the stone steps (like a mountain hike - 30 minute hike) - to
the 10th or 8th Watchtower
3) Taking cable car up to the Great Wall - to
the 14th Watchtower
The Most Beautiful Part of Mutianyu Great Wall
The hike from
Watchtower No. 14
east up to
Watchtower 23
is the most scenic part of Mutianyu Great Wall. Many people would choose to take cable up to
Watchtower No.14
and hike east to
Watchtower No.23
. You may retrace to
Watch Tower No.14
and take cable car down the wall, or continue to hike down to
Watch Tower No.8
and walk down the wall; or you may continue to hike down to
Watch Tower No.6
, then either take chairlift down or toboggan down.
Price Information
Cable Car: 100 yuan(single way); 120 yuan (return)
Chairlift or Slide (Toboggan): 100 yuan (single way)
Chairlift + Slide (Toboggan): 120 yuan (return)
Opening Hours:
April to October: 8:00 -17:00
November to March: 8:30-16:30
After the day tour, return to your hotel in Beijing.
Lunch:
Chinese lunch
Just a Kindly Reminder
This tour is designed for your own traveling party and
no other tourists will join you
. So you have much flexibility and freedom. If you have any questions, or want more time for taking photos, just feel free to let your tour guide know. With your personal tour guide, you will have more interaction with the locals which will enrich your travel experience in Beijing. It is a non-shopping private tour and no Hidden Fee!
On the evening before your departure early next morning
, you will get a call to your hotel room or a message at your hotel front counter by your tour guide to reconfirm your next morning's pickup time which is normally set around around 8:00 am.
On the morning of your tour departure date
, our tour guide will go to your hotel ahead of your pick-up time in the lobby, holding a sign with your name. When you come down to the hotel lobby, just look around for the sign to meet our tour guide.
You will have the narratives of local history and culture by your tour guide while you are comfortably sitting in the
air-conditioned vehicle of your exclusive use
and enjoying the views passing by.
Rush hours in Beijing can cause serious traffic jam. We try our best to manage the traffic and keep your schedule.
All tours & transfers are all based in English Speaking local guides. For other languages, please contact our trip advisors for new quotations.
Photos of This Tour
Price without shopping stop
Travelling Party
Tour Cost Per Person
1 person
$245
2 persons
$139
3  persons
$119
4 - 5  persons
$99
6 - 9  Persons
$92
10 persons and above
$79
Price inclusion:
1. Air conditioned vehicle for your own exclusive use
2. Visit to Mutianyu Great Wall, Forbidden City,Tiananmen Square
3. Chinese lunch with soft drinks
4. Exclusive tour guide and driver
5. The above private escorted tour is customized for you, your family or your friends exclusively. No other travelers will join in you.

Price exclusion:
1.Gratuities to drivers and guides
2.Travel insurance for your coverage of injury or accident
3. Cable Car or toboggan

Reservation Notes
●
Personal online booking information below must be provided or book by email :
Full Name, Nationality, Gender, Names of Travelers, Flight No., Arriving Time and Start Date. You are also welcome to call us at (+86)18611964400 ( 9:00 am - 6:00 pm Monday through Saturday). Tour Beijing will not refund any losses due to missing or incorrect information.
●
All rates on Tour-Beijing.com are subject to reconfirmation from our trip advisors when an actual booking is being made.
●
Child definition: from Age 3 to 11 Years. Contact our trip advisors to check if discount rate is available for your kids. Basically, children under 1.2m in height will get child discount rate, except bus tours.
●
All tours listed on website are all based in English Speaking local guides. For other languages, please contact our trip advisors for new quotations
●
Cash or Prepayment (Paypal, credit card payment, wire transfer, AliPay, WeChat Pay). Both RMB and USD are acceptable. Your actual mode of payment will be confirmed by your trip advisor. Basically, only bus tours (day tour) accept cash payment on the day.
●
When your booking is confirmed, you will get a confirmation email or call from us, which includes the confirmed detailed itinerary with prices.
●
When your booking is confirmed, you will get a confirmation email or call from us, which includes the confirmed detailed itinerary with prices.
●
The cancellation fee: to be confirmed by trip advisor, based on different itineraries and different policies.
●
The schedule can be adjusted by your tour guide due to the actual traffic condition.
●
You are strongly recommended to book this tour at least 35 days in advance to secure the land arrangement involved and avoid the risk of being canceled.
About Us
We are not just a travel website, we are a real and reputable travel agency based in Beijing offering help and advice that a travel website cannot provide. Just send us an email or give us us a call, one of our staffers will be your personal travel consultant. Any problems during your trip? Want to cancel or change your trip? Your travel consultant is a phone call away from getting your problem solved.
International Call: (+86)18611964400
Email :

Company Location
Add: West 2-2, No. 143 Bazhuangzi, Fengtai South Road, Fengtai District, Beijing.
Office Hours:
| | |
| --- | --- |
| Monday | 9AM–6:00PM |
| Tuesday | 9AM–6:00PM |
| Wednesday | 9AM–6:00PM |
| Thursday | 9AM–6:00PM |
| Friday | 9AM–6:00PM |
| Saturday | 9AM–6:00PM |
| Sunday | Closed |
Questions & Answers:

Here is
only for Questions and Answers
. ( For anyone who wants to have an enquiry or customized tour, please email us to

. )