The centerpiece of the 2008 Beijing Summer Olympics was the Beijing National Stadium, dubbed as "Birds Nest". It hosted both the opening and closing ceremonies for the Beijing 2008.
Now the Bird's Nest has become one of the most successful post-Olympics legacies, attracting some 20,000 to 30,000 people a day for an exterior glimpse or inside visit.
The stadium is composed of two independent structures, with 50 feet apart: a red concrete seating bowl and the outer steel frame around it. The design of the outer steel frames look like a huge bird's nest, hence the nickname of Beijing National Stadium.
The standout stadium is now one of the hotspots for tourists and photography enthusiasts as well. It is illuminated every night from 8:00 pm to 10:00 pm. The inside flood lighting produces splendidly red and yellow neon lights, turning the whole bird's-nest-shaped structure into a magnificent burning fire.
The best spot to shoot the Birds Nest day or night is on the southeast of the colossal building overlooking a dragon-shaped water system. At night the lit-up stadium has a beautiful reflection on the water, attracting a consistent flow of photography enthusiasts.
Check out How to Visit Bird's Nest and Water Cube for more travel information.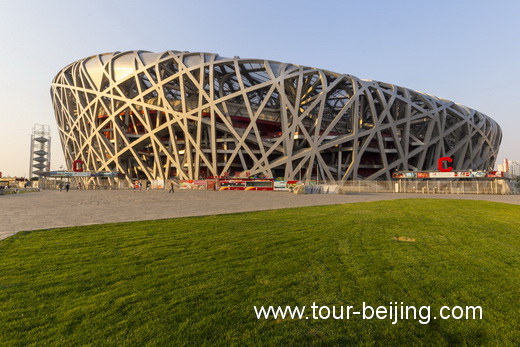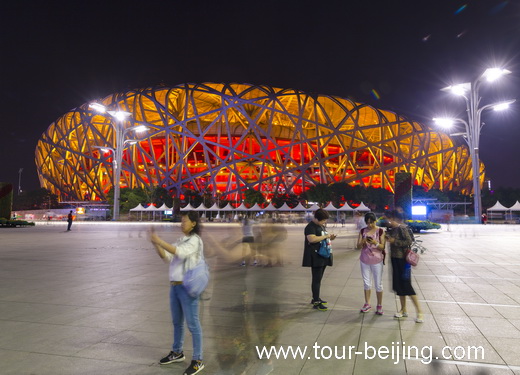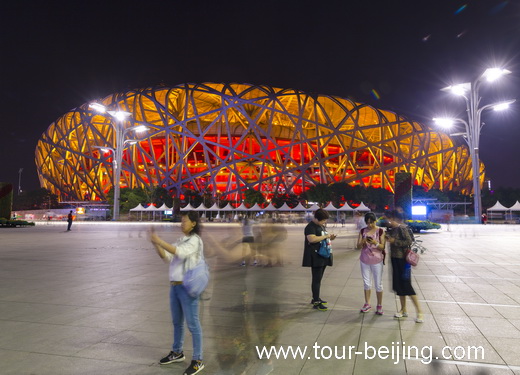 Tip: Hassle-free Beijing Guided Tours
If you don't want to go the do-it-yourself route and prefer the hassle-free escorted tours, here are some options for Beijing guided tours:
Beijing Day Tour
Beijing Tour Packages
Beijing Winter Tour
Beijing Autumn Tour
Great Wall Tour
Car Rental in Beijing
Beijing Tours
China City Tours
China Tour
Further Readings
---
Best Time to Visit Beijing
How to plan a trip to Beijing
Top 10 Attractions in Beijing
How to Visit Forbidden City
How to Visit Temple of Heaven
How to Visit Summer Palace
How to Visit Ming Tombs
How to Visit the Great Wall of China
How to Visit Tiananmen Square
How to Visit Hutongs
How to Visit Olympic Sites
Top 10 Markets in Beijing
Top 10 Shopping Malls in Beijing
Beijing Shopping
Wangfujing Walking Street
Qianmen Commercial Street
Gui Jie ( Ghost Street) Food Street
Any questions, just drop a line.