Huguosi Jie (护国寺街) is an 800-year old commercial street in Beijing, which was originally incubated and formed in Yuan Dynasty (1271-1368). The name of the street "Huguosi" is named after the same name temple – Huguo Temple ("si" literally "temple";"Jie" means "Street").
Huguo Temple was once billed as "The West Temple" in the past against "The East Temple" – Longfu Temple in the east of Beijing. Today Jingang Hall, the only remnant part of Huguo Temple still exists and you can find it just north of Huguosi Hotel and Huguo Xintiandi Mansion on Guguosi Street.
The 600-meter Guguosi Jie is a street full of life – street-front stores, butcher's, groceries, eateries, snack restaurants, hotels, theatre, and old hutong courtyards, a lively authentic daily common life in Beijing. The two most prominent trump cards are Huguosi Snack Flagship Restaurant and Mei Lanfang Former Residence.
A bit tired of your obligatory visit to the so-called must-see sights on the Beijing buck list? Huguosi Street is an interesting option for your Beijing locavore travel to experience the authentic Beijing urban life – eating off the streets, walking the narrow alleys, and having more engagement with the local grass-rooted street life.
How to get there:
It starts from Xinjiekou Dajie in the west and ends at Deshengmen Neidajie in the east. Huguosi Street is easily accessible through subway line 4. You just take subway line 4 and get off at Pinganli Station (平安里) and exit from EXIT B.
Walking a few meters from the Exit B of Pinganli Subway Station,  you will see a massive hotel building with the huge traditional Chinese characters" 護國寺街" (Huguosi Street ) , the western tip of Huguosi Street.  You can walk from the west starting point here to Mei Lanfang Former Residence, the eastern tip of the 600-meter street.
Walking to the east and you will see People's Theatre on your right hand.
The 600-meter stone paved street is flanked densely by food vendors, shops, groceries and more street-front options. It is very much crowded for most of the day.
Hoguosi Hotel is a Beijing local culture themed hotel with exterior and interior decoration featuring Beijing's traditional folk and customs. It has 120 room of various sizes, with street-front rooms bigger than the backstreet-view rooms.
The cozy lobby of Huguosi Hotel with rich traditional Beijing cultural atmosphere and elements.
The spacious standard twin-bed room with street-view in Huguosi Hotel. The interior decor is peppered with strong Beijing traditional elements.
The two-story Huguosi Snack Flagship Restaurant is a time-honored eatery, a chain restaurant well known for its famous Beijing local traditional Xiaochi – the small eats ( snacks), which are all halal food.
Huguosi Snack Flagship Restaurant is located at No.93, Huguosi Street, about 50 meters to the east of Huguosi Hotel. The restaurant starts at 5:30am and closes at 9:00pm. people like to come here all day long, however, the busiest hour is at breakfast.
The restaurant has a big board menu above the counter where you order your food but it is only in Chinese. People line up and wait in turn to order their snacks.
It's always been very crowded due to its fame as the No.01 snack restaurant in Beijing. Huguosi Street is billed as the most famous snack street in Beijing, synonymous with traditional Beijing snacks and breakfast.
Just name some the most famous snacks here. Lvdaguan is made of glutinous millet flour and soybean flour. Nian Gao (glutinous rice cake), Dou Bao (steamed buns with smashed red bean stuffing), Xi Zi Bing (a cake with the Chinese character for 'happiness' on it) and Mian Yu'er (cake shaped like a fish) are some of the most popular foods at the store during big holiday shopping.
Ai Wo Wo, a white glutinous rice cake with a variety of stuffing, Wan Dou Huang, a smooth tasting yellow pea cake, and Jiao Quan, deep-fried crispy flour ring and many more.
The most representative snacks – Lvdaguan (glutinous millet flour and soybean flour); Nian Gao (glutinous rice cake); Ai Wo Wo (a white glutinous rice cake with a variety of stuffing) ans Wan Dou Huang, a smooth tasting yellow pea cake.
The Jingang Hall is the only remaining part of Huguo Temple after which the street gets its name. It was one of the most famous temples in Beijing, originally completed in 1284. The hall is located north of Huguosi Hotel and Huguo Xintiandi.
Opposite Huguosi Snack Restaurant is Old Beijing Noodle restaurant. Have a bowl of Zhajiang Noodle, a typical Beijing noodle made with handpulled wheat noodles served with shredded cucumber and bean sprouts, bright radish, and soybeans. You mix the noodle with chopped vegetables and stir them in the oily brown bean sauce.
A Roast Meat Restaurant. If you are a meat lover, the roast meat restaurant is a good option to feed your stomach.
Yeji Pie Shop, a local home-made pie shop. The Pie Shop offers a wide variety of savoury pies – plain, sweet, salty and some with fillings.
San Pin Xin Flour Shop, selling flour, hand-made noodles and pies.
Huguosi Food Grocery Store, providing foodstuffs including rolls, pies and more food options.
A butcher's shop.
Walking from the west Huguosi Street to the east.
An Internet Bar
A Housekeeping Company
At the eastern tip of Huguosi Street is the former residence of Mei Lanfang. Mei Lanfang(1894 – 1961) was the best known Beijing Opera master ever. A famous singer, actor and dancer of Beijing Opera female role Qing Yi and a key figure in the Chinese theatre.
He was known to have travelled the world, strengthened friendships with the western counterparts of his time, including Charlie Chaplin. During his trip to Hollywood, he was warmly welcomed by Douglas Fairbanks and Mary Pickford.
Come to Huguosi Street when it sparks. All the street and the street-front outlets are brightly lit with beautiful neon lights.
Huguo Xintiandi, a comprehensive building comprising a hotel, a theatre and a number of street-front outlets.
A shop selling braised pork and beef with soy sauce and time-honored soup.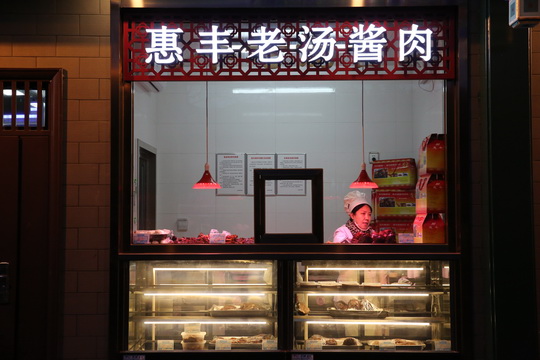 A vegetable and fruit grocery
A Muslin Restaurant
A Meat Pie Restaurant brightly lit.
Add on
Beijing Locavore Day Tour
Top 10 Beijing Attractions
10 Non-Touristy Attractions in Beijing
Tip: Hassle-free Beijing Guided Tours
If you don't want to go the do-it-yourself route and prefer the hassle-free escorted tours, here are some options for Beijing guided tours:
Beijing Day Tour
Beijing Tour Packages
Beijing Winter Tour
Beijing Autumn Tour
Great Wall Tour
Car Rental in Beijing
Beijing Tours
China City Tours
China Tour
Further Readings
---
Best Time to Visit Beijing
How to plan a trip to Beijing
Top 10 Attractions in Beijing
How to Visit Forbidden City
How to Visit Temple of Heaven
How to Visit Summer Palace
How to Visit Ming Tombs
How to Visit the Great Wall of China
How to Visit Tiananmen Square
How to Visit Hutongs
How to Visit Olympic Sites
Top 10 Markets in Beijing
Top 10 Shopping Malls in Beijing
Beijing Shopping
Wangfujing Walking Street
Qianmen Commercial Street
Gui Jie ( Ghost Street) Food Street
Any questions, just drop a line.