If you only have one full day in Beijing and would like to feel, touch and see the essential Beijing, you may check out this quick guide to Beijing one-day itinerary below, our suggested self-guide itinerary to plan your own memorable Beijing Day Tours.
This itinerary takes you for a walk along Beijing axis from south to north and appreciate the harmony of the city design which took its form in Yuan (1279-1368) and Ming ( 1368-1644) Dynasties.
For Beijing airport layover day tours or airport transit short tours, please check out Beijing layover tours.
Temple of Heaven
Get up early and have a bite, and get to the east gate to Temple Heaven by taking the subway line 5 or to the south gate to Temple of Heaven by taking Beijing taxi.
Walking from the south gate ( or east gate ) through the north gate, visit the 500-year-old temple within a huge park, hence the official name for Temple of Heaven: Temple of Heaven Park ( Tiantan Park).
Temple of Heaven was constructed in 1420 AD during the Ming Dynasty as a site for the emperors to offer sacrifices to heaven.

Temple of Heaven is now actually a park. Early in the morning there are a great number of retired people who come here to hang out with friends and do morning exercises, playing Taichi ball, doing ribbon dancing, ballroom dancing, playing cards and dominoes and writing calligraphy with water brush pens on the ground. There are also music and singing…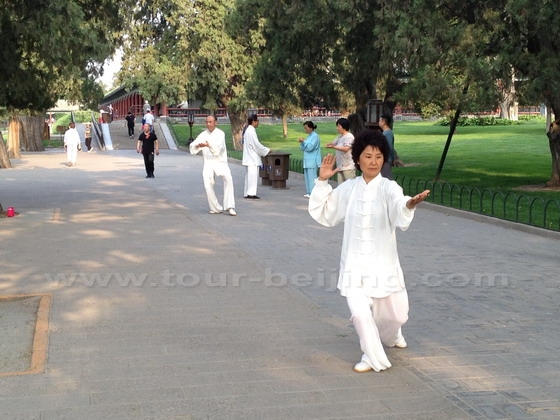 Qianmen and Hutongs
Now you exit from the north gate to the Temple of Heaven and turn left (west) along Tiantan Road for 15 minutes walking, then turn right at Qianmen Street and walk north to Qianmen Pedestrian Street.
Please notice, to get to Qianmen Pedestrian Street, you have to pass over a flyover to the east side of the Church you will see.
Use some time to explore the time-honored Qianmen Pedestrian Street full of shops and restaurants.
Tiananmen Square
After finishing your exploration on Qianmen Street, you head north and pass through Zhengyangmen Tower ( Arrow Tower) and then walk through a Beijing Subway tunnel to Tiananmen Square.
Take a half hour or more time taking pictures and immersing yourself in the center of Beijing or even China.
Walk through an underground tunnel again from Tiananmen Square up to the Gate of Heaven Peace (Tiananmen Tower), where Chairman Mao declared the People's Republic On October 01, 1949. You pass under Mao' Portrait and enter Forbidden City .
Forbidden City
The grandeur imperial palaces for the emperors in Ming and Qing Dynasties. The Forbidden City is a must see highlight for every first time visitor to Beijing.
Be prepared for crowds of people like you visiting this complex. So you go from the south gate to its north gate. Your visit usually will take 2-3 hours.
Jingshan Park ( Jingshan Hill)
Jingshan Park is unmissable for your Beijing Day Tour. Jingshan just sits across the north gate to Forbidden City . After finishing your visit to Forbidden City from south to north, you exit from Forbidden City's north gate.
Walking out of the north gate, you raise your head, you will find a pavilion with three-layered eaves perched on a hill in Jingshan Park, a perfect place to have a panoramic view of Forbidden City and the city of Beijing.
The main road between the north gate area of Forbidden City and the south gate of Jingshan Park is full blocked. To get across to the south gate to Jingshan Park , you just turn left for 20 meters and take the underground pass.
Line up at the ticket window by the gate to Jingshan Park for the tickets: RMB 2 per person. Opening hours: 6am – 8pm all year round.
Beihai Park
After Jingshan Park , you are supposed to walk west to its neighbour – Beihai Park. Beihai Park is very often neglected by many visitors.
Often dubbed as Winter Palace by westerners, Beihai Park is the oldest imperial garden in the world as well as one of the largest in China.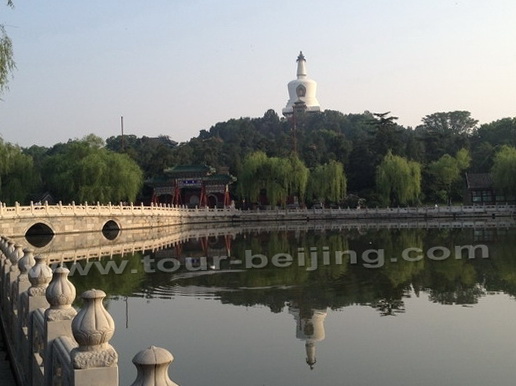 Beihai Park is well-known for its beautiful gardens, the maze in the stone cave, temples and pavilions. Atop the Jade Island in Beihai Park, White Dagoba becomes an important landmark of the city.
Public Bars at Shichahai
After the tour of Beihai Park, you exit from the north gate to Beihai park, then you come to the most famous night hangout in Beijing – Shichahai, where a cluster of bars and restaurants are dotted along the banks of the lake.
If you are fed up with the gentrification in Beijing; if you lose interest in modern Beijing; if you feel sad about the fact that Beijing is becoming less like Beijing; if you want to see a traditional Beijing, and if you try to find a quiet place in the busy Beijing, come to Shichahai! Tired? Have a drink in one of the bars.
Guojie Food Street
Are you hungry? Take a cab to the nearby Guijie, Ghost Street , a 1442-meter long gourmet street, located within Dongzhimennei Dongcheng District, running from the east of Dongzhimen Bridge.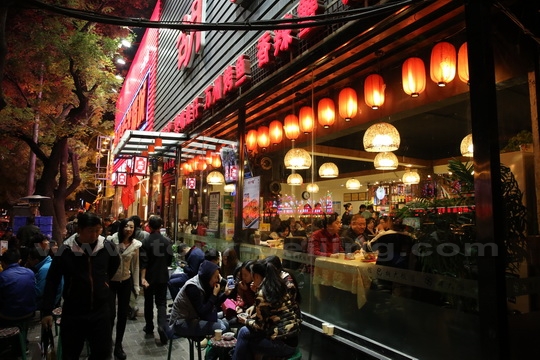 Tip: Hassle-free Beijing Guided Tours
If you don't want to go the do-it-yourself route and prefer the hassle-free escorted tours, here are some options for Beijing guided tours:
Car Rental in Beijing
Beijing Day Tour
Beijing Tour Packages
Beijing Winter Tour
Great Wall Tour
Beijing Tours
China City Tours
China Tour
Further Readings
---
Best Time to Visit Beijing
How to plan a trip to Beijing
Top 10 Attractions in Beijing
How to Visit Forbidden City
How to Visit Temple of Heaven
How to Visit Summer Palace
How to Visit Ming Tombs
How to Visit the Great Wall of China
How to Visit Tiananmen Square
How to Visit Hutongs
How to Visit Olympic Sites
Top 10 Markets in Beijing
Top 10 Shopping Malls in Beijing
Beijing Shopping
Wangfujing Walking Street
Qianmen Commercial Street
Gui Jie ( Ghost Street) Food Street
Any questions, just drop a line.
Chinese version of the travel guide: